13 June 2019
Reading time 3 minutes
Faster, safer, more collaborative
Stefan Lampa leads Kalmar Mobile Solutions towards the next generation of automated mobile equipment.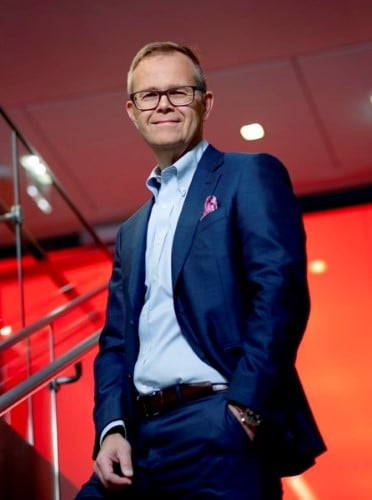 To enhance Kalmar's growth opportunities, Cargotec recently reorganised the company into three strategic business units; Kalmar Mobile Solutions, Kalmar Automation Solutions and Navis. At the same time, Stefan Lampa was appointed President of Kalmar Mobile Solutions and a member of the Cargotec Executive Board.
Lampa (b. 1964) joins Cargotec from KUKA Robotics, where he worked as CEO of KUKA Roboter. He brings to Kalmar wide experience from the world of software systems and robotics and has a proven track record of driving business transformation at technology companies in different markets. Prior to working at KUKA, he was employed by ABB from 1992 to 2015, most recently as head of ABB's Robots & Applications division globally. Previously, Lampa also held several leadership positions in robotics and R&D in Spain, Mexico, the USA and Sweden.
Stefan, over your long international career you have worked in a wide range of positions in robotics and automation. What was the path that brought you to head Kalmar Mobile Solutions?
I guess I'm a bit of a robotics geek, as this is what I have been doing all my life. I've worked in nearly every conceivable capacity in the robotics industry, all the way from manufacturing to R&D, sales and marketing. For the last several years I worked in various general management positions, but with a strong focus on the place where technology and customers meet. I always try to position myself to really understand the industry, market and customer needs and to bring these into the technology. You could say that my job has been to ensure that customers' technology investments bear fruit as much as possible.
What are your impressions of your first few months at Kalmar?
From what I can see so far, Kalmar Mobile Solutions is fantastically well positioned, both in market share and with a very strong recognised brand. We are number one or two in all of our key markets and are making great strides on electrification, so the basic work has already been done, which is wonderful.
The focus and experience I'm looking to bring to the company – and which has already generated a lot of excitement in our teams – is how to "robotise", or automate our offering further. In other words, how do we get to the next generation of driverless or automated solutions faster and more efficiently?
How do you see the cargo handling industry contrasting with other fields in terms of automation readiness?
Automated cranes have obviously been around for decades, with technology that is already very mature, but in other areas of the terminal industry I get the feeling of the robotics business in the 1990s.
Automation is generating a lot of excitement, and customers are beginning to understand what can be done to automate a wider part of the logistics chain. Terminals also struggle with labour shortages, and they need to ensure flawless safety while simultaneously driving towards lower costs and higher productivity. All these factors combine to create the perfect foundation for automation, similarly to what we saw in manufacturing a few decades ago. Put simply, automation enables productivity and safety to be improved hand in hand in a way that is simply not possible for traditional manual operations.
"I've seen so many great things done with technology, but the real value is always in collaboration."
What is your vision for Kalmar Mobile Solutions over the next few years?
The fundamentals are actually quite simple, as it's basically just about combining safety, eco-efficiency and productivity through automation in ways that have not been possible previously. Additionally, I would love to see Kalmar play an active role in developing the whole cargo handling industry on a wider scale. There are still so many inefficiencies in global logistics chains, and smoothing out these delays and handovers between systems is where the real growth potential is in the future. However, it's certainly not an easy task, and it is one that will need to be solved together with other stakeholders and industry players.
As a leader, what are you most passionate about?
Definitely collaboration. Throughout my career, I've seen so many great things done with technology, but the real value is always in collaboration. This is something that we will truly be focusing on, both internally within Kalmar and with our customers. It's a question of how can we build a company-wide culture of collaboration and then move this out to our customers. We need to listen to them not only in a supplier role but trying to move towards a true partnership, where we understand their needs and challenges, while delivering solutions that are based on these needs.
This is also something that we can't do on our own, and we will need strong long-term partner networks of our own. But building this kind of collaboration is something that I've been fortunate to be able to do many times over my career. It's about combining forces with partners and customers to break barriers together and bring customers value that no one thought possible. So this is something I look forward very much to being able to do again at Kalmar.
"We are investing heavily into speeding up the automation of our products, with a modular automation platform for all of our equipment."
What can Kalmar's customers expect from Kalmar Mobile Solutions in the near future?
We are investing heavily into speeding up the automation of our products, with a modular automation platform for all of our equipment. As to which of our next-generation products will be the first to market, I can't say for sure yet, since this is also a challenge I want to throw out to our development teams. The first product range to be announced will be the one that demonstrates the most potential and fastest development, with others to follow soon.
Another thing that I am prepared to pledge to our customers is that we will be dramatically faster in our deliveries. For any project with a time estimate, I am ready to challenge our teams to find a way to cut that delivery time in half.
I do believe that speed is a great way to unlock your thinking on how to do things differently and drive improvement. So if our specified delivery time is "X", I will ask for "X/2" and for the team to come back on ideas for how to make it happen. Because I know it can be done, but the recipe for how to do it might be quite different. But I am sure that 12 months from now, if we ask our customers of their impressions of Kalmar, speed of execution will definitely be something they have noticed.