11 June 2019
Reading time 3 minutes
Defining the future
According to Kalmar's vision, the future is digitalised, with driverless, electrified machines that feature integrated serviceability. Kalmar's Future Generation equipment will be modular, built on a unified platform with common components. A revolutionary new design approach enables higher-density space use at customer sites.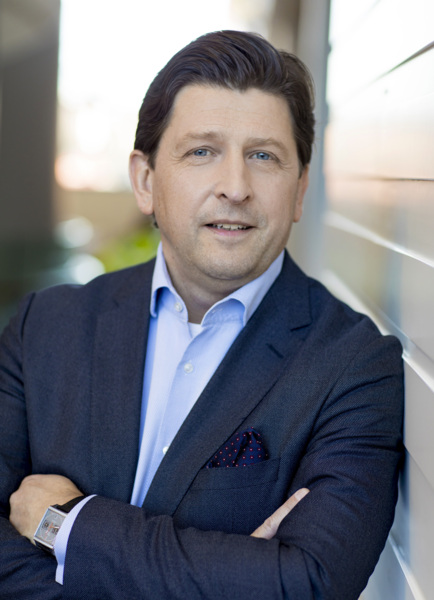 From applied digital solutions, driverless concepts and zero-emission power sources to integrated serviceability, new technologies and innovative industrial design, Kalmar's Future Generation is a bold vision of the future of cargo handling.
The results from the Future Generation development project include a radical new concept for cargo handling equipment. Featuring four-wheel omnidirectional steering, a modular chassis with extensible wheelbase and zero-emission self-charging technology, the concept will dramatically increase the manoeuvrability of container handling machines while enabling more efficient use of space at terminals.
"In our Future Generation vision, we have aimed to harness the latest technology, while designing inspiring and identifiable machines," says Dan Pettersson, Vice President Operations Mobile Solutions, Kalmar. "It's not just about creating a benchmark for the industry, but also evaluating completely novel features and concepts. We wanted to really look into what were the needs of our customers, and what we could do to meet or even exceed those expectations."
Looking ahead together
Customer input has been essential for developing Kalmar's Future Generation vision. Kalmar conducted a worldwide survey that enabled customers to share their thoughts and ideas on the future of cargo and materials handling. This was supplemented by internal workshops and discussions to gain a deeper understanding of real-world needs and operational challenges.
Our Future Generation equipment brings added value to our customers on multiple levels,'' says Dan Pettersson. "To summarize what it's about, we often use the phrase '3 x Zero': Zero emissions at source, zero accidents and zero unplanned stops."
Due to the rapid development of electrification, digitalisation and automation, the container handling industry faces an opportunity for dramatic change that can bring new value for terminals and logistics operators. However, this change will require disruptive development also in the way of working.
"The whole business is changing. With this vision, we want to show what the future looks like and invite our customers on a shared journey to shape the industry together with us," says Pettersson. "It's no longer possible to conduct business with the same rules as we have for the last 70 years. Future Generation encompasses a visualisation of the technologies we believe in for the future, as well as new ways of working, both of which can be expected to have a disruptive impact."
"In our Future Generation vision, we have aimed to harness the latest technology, while designing inspiring and identifiable machines."
New possibilities from electrification
Electrification is one of the most significant changes in the design of next-generation container handling machines. In addition to enabling zero-emissions operations on-site, electrification is a key step on the path towards automation and digital solutions that optimise performance at the level of the entire terminal.
"Electrification offers immediate, tangible benefits in terms of reduced emissions, lower noise levels and easier maintenance," says Dan Pettersson. "However, electrification and automation also open up totally new operational concepts that would not be possible with existing container handling equipment. Once we remove the design constraints imposed by a diesel drivetrain and operator cabin, we have a whole range of new possibilities for improving customers' productivity."
As an example, many container terminals struggle with making optimum use of limited space while facing the pressure of continuously increasing container volumes. With four-wheel steering, Kalmar's highly agile Future Generation machines can operate in a completely new way to enable significantly greater stack densities. This can have a major effect on the performance of the entire terminal.
"We want to invite our customers on a shared journey to shape the industry together with us."
Speed, transparency, optimisation
In the face of accelerating technical development and disruptive business change, how will the container handling business develop over the next years and decades?
Pettersson expects that cargo handling will become more optimised, perhaps adding increased rapid transport of smaller shipments alongside traditional containerised freight. "We are also likely to see faster and shorter direct routes supplementing longer hub-based connections. However, it's certain that real-time tracking of both shipment location and schedules will be increasingly important in the future."
"It's really hard to make exact predictions, but to get some idea of where we are moving, just look at what you expect any time you order something on the Internet," says Pettersson. "Today, you already expect your order to arrive the next morning, so speed and the ability to track shipments transparently are more and more important. This will hold true not only from the consumer perspective, but also in business-to-business transactions. Ultimately, it's the end customers who drive the demand, and this will bring profound changes to the entire integrated logistics chain."