23 March 2022
Reading time 3 minutes
Smart, sustainable upgrades to give your straddles and shuttles a big lift
After years of loyal service, your straddle and shuttle carriers deserve a little extra TLC. Our Kalmar Modernisation Services offering includes a range of smart, cost-effective and sustainable upgrade options that will help you get more from your existing fleet and extend the lifetime of your machines.
We offer a range of upgrade options for straddle and shuttle carriers specifically designed to improve performance, safety and reliability. Upgrading is a smart, cost-effective and sustainable way forward that postpones the need to make large capital investments in new equipment.
By upgrading various subsystems and components, you can reduce the need for maintenance, improve performance and, most importantly, increase safety and reliability by bringing older equipment in line with the latest standards.
Let's take a look at the wide range of upgrades you can take advantage of.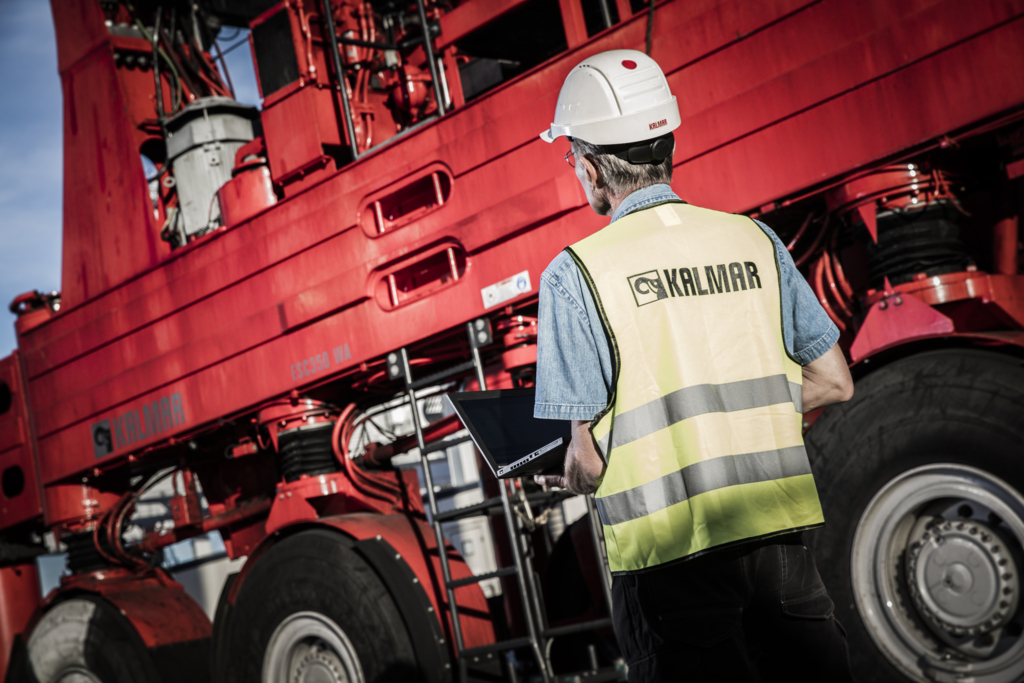 Future-proof your equipment with a PLC upgrade
Some older-generation straddle and shuttle carriers use programmable logic controller (PLC) components that are either already obsolete or soon will be. This puts your equipment at risk of extended downtime because, should a component fail, new parts may be very hard or even impossible to source. We can help to eliminate this issue by not only installing new PLC components but also configuring and testing the system for you.
Keep your shuttle carriers on track with a steering pin upgrade
Neglecting the maintenance of your shuttle carrier's steering system is a safety risk and can cause damage to other components. Upgrading your steering pin to the latest version improves reliability, extends the lifetime of the steering system and makes maintenance procedures such as tightening easier.
Ensure a smooth ride for operators and cargo with a suspension repair kit
Stability and smooth, precise handling are essential for protecting your equipment operators and valuable cargo. Just like any other system, the suspension can be affected by unexpected problems that, if not dealt with quickly, could take your machine out of action for an extended period. With a full spare set of original suspension components available , you can avoid unplanned downtime and be prepared for anything. We can also supply assembly stands for installation.
Give your machines a new lease of life with a remanufactured engine
Renovating the engine is a sustainable, cost-effective way to extend the life of your equipment. After the engine is removed it undergoes a comprehensive inspection to identify which parts can be re-machined and which need replacing with new genuine Kalmar parts. . Your remanufactured engine will perform as well as a brand new unit.
Power up your moves with a rectifier upgrade
A rectifier upgrade will bring your equipment's electrical system in line with the latest standards, reduce maintenance needs and improve reliability. Our upgrade package includes the latest technology specifically designed for mobile equipment and includes a new rectifier, transformer, cabling, finger protection cover and fixings. We can also support you with the needed changes to the equipment's parameter settings and PLC programme.
Cut fuel and maintenance costs, and increase safety, with a tyre pressure monitoring system
Too low or too high tyre pressure can cause excessive tyre wear, meaning tyres need to be replaced earlier, and increased fuel consumption and therefore emissions. Our tyre pressure monitoring system can be integrated with the existing cabin monitor to display the pressure of each individual wheel and warn the operator if the pressure is too high or low, eliminating the need for manual spot checks. The system also limits the driving speed if the tyre pressure is above or below critical limits.
Increase safety and reduce stress for operators with a soft landing system
Collisions with containers can cause stress to operators and extra costs for you. Our soft landing system for straddle and shuttle carrier spreaders uses sensors to measure the distance between the spreader and the container being lifted. The system automatically reduces the spreader speed when it is a set distance from the container, ensuring a smooth, safe lift every time.
You can find out more about our upgrade and modernisation offering by visiting the Kalmar Modernisation Services page on our website.