2 September 2021
Reading time 5 minutes
Stronger, safer, smarter – meet the new-generation Kalmar RTG
More than 30 years after the first Kalmar RTG entered service, the latest generation of this immensely popular platform is ready to set a new benchmark, with hundreds of improvements using the latest technologies. In this article, we take an in-depth look at the new features and functionalities and the benefits they bring.
Lower maintenance, energy efficiency, better productivity – little has changed from the initial philosophy of Kalmar's RTG offering since the first five machines entered service in Dar es Salaam over 30 years ago.
"We've gained a great deal of experience over the years and have been actively gathering feedback from our customers to help optimise our RTG design according to their requirements. The simpler and more modular design incorporates the latest technologies, making it more eco-efficient, reliable and productive as well as easier to operate and maintain," explains Marko Rasinen, Product Manager, Kalmar.
"After a two-and-a-half-year journey involving teams from across the Kalmar organisation we have delivered hundreds of improvements that bring a vast range of benefits to customers," Marko continues.
The new generation comprises five models: the Kalmar AutoRTG, the Kalmar Zero Emission RTG, the Kalmar Hybrid RTG, the Kalmar SmartPower RTG and the Kalmar Classic RTG. All have a stronger, lighter and simpler modular design with intelligent features, creating an even more highly productive and eco-efficient container-handling solution.
Another leap forward in eco-efficiency
Eco-efficiency is a critical requirement for virtually every container terminal today and one of the cornerstones of the Kalmar strategy. Consequently, it is at the core of the design of the new-generation Kalmar RTG: "By optimising structures and components we have reduced the total crane weight by as much as 15 tons, which means our RTG is more eco-efficient to manufacture and operate," Marko highlights. "A lighter crane also means lower wheel loads, so the civil works requirements for terminals are less demanding."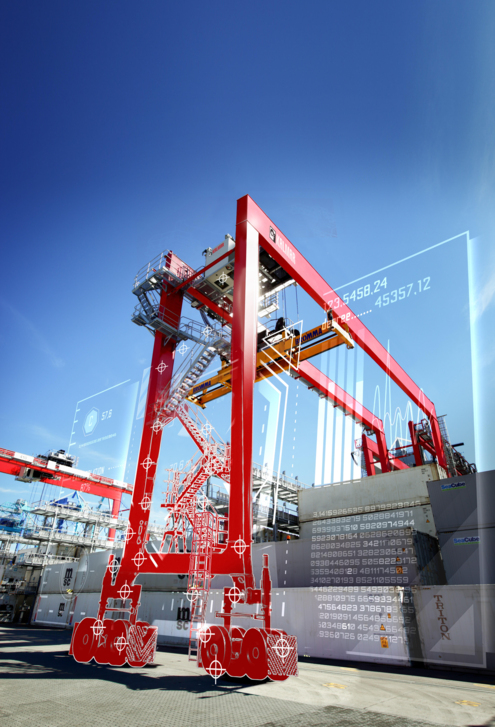 As well as being lighter, the Kalmar RTG is also now shorter, at less than 40 feet (12 metres) in length, providing greater flexibility for operation in narrower stack-changing lanes or denser parking areas. The new-generation offering also includes a 16-wheel gantry option with smaller, more commonly available 14.00x24 tyres.
New optimised power systems deliver more with less. A new peak power management system gives better control over power usage and limits power peaks. "For diesel-powered cranes this means we can use smaller, more eco-efficient 12–13 litre engines, providing a fuel saving of around one litre per hour. For the electrically powered Kalmar Zero Emission RTG it means smaller mains supply components and potentially lower electricity consumption, leading to lower overall costs," says Marko.
The switch to a 480V electrical system from a 400–440V system makes it possible to incorporate smaller motors and drives and get the most from them, further reducing material usage and therefore the CO2 footprint of the manufacturing process.
The final pieces in the eco-efficiency jigsaw are the new electro-mechanical anti-sway system and the introduction of LED lighting. The new mechanical anti-sway system, which allows for faster and more accurate container handling, now has more efficient geometry, meaning less energy is needed to achieve the same damping effect. It also includes an improved control system to optimise energy usage. All lighting is now provided by LEDs, which consume less energy and have a far longer lifetime.
Enhanced performance and usability
For manually operated equipment, a comfortable working environment with well-designed interfaces can have a significant impact on productivity. The new cabin option provides improved visibility and ergonomics, with a chair that can be moved further forward closer to the spreader, longer floor windows and increased legroom. The crane management system's redesigned operator interface is more intuitive and informative, and now follows the same visual guidelines as Kalmar's other crane products.
A new rotating Bromma spreader, designed specifically for intermodal operations, features all-electric operation, significantly lower weight and a proprietary reeved-in design with no headblock, reducing the height and weight of the spreader.
"Performance is also about reliability, so we have made a range of design improvements focused on making our new-generation cranes as reliable as possible," Marko says. "Wire harnesses have been replaced by cables to reduce the risk of problems such as water ingress into junction boxes, and we have introduced cold-weather packages to improve reliability in extremely cold conditions. We have also redesigned the 24V system to provide additional capacity and included an EE cabinet door sensor that alerts the operator if the door has been left open, reducing the risk of malfunctions due to moisture ingress."
Safety remains our number one priority
Maintenance access has been redesigned for the trim, skew and anti-sway machinery as well as for the trolley wheels and drive to make access as easy and safe as possible. "The trim machinery is now located on top of the trolley, and the skew machinery has its own maintenance platform. Individual mechanisms can be locked by technicians using log-out/tag-out switches to ensure safety," Marko says.
Additionally, the fuel tank is now integrated into the power unit, which makes refuelling safer and easier as it can be carried out from ground level, while the new technician interface in the crane management system makes it easier for technicians to troubleshoot issues.
The crane is also safer to operate, with improved visibility from the cabin, a new PLC with improved safety functions and bypasses for safe incident recovery, and better control overloads enabled by the new anti-sway system.
Supporting a gradual transition towards automation
With the launch of the new-generation RTG, Kalmar is introducing a Fleet Technician concept to replace its SmartFleet solution for remote monitoring and reporting. "Fleet Technician online monitoring shows our experts and the customer's users the same screens as the onboard crane management system, so we see exactly what the technicians on the ground are seeing," says Hannes Myllärniemi, Product Manager, Kalmar One, Kalmar Automation Solutions. "Fleet Technician is Kalmar's remote condition monitoring system, or RCMS as many of our customers know it."
"Fleet Technician enables customers to extend their overall system with Kalmar Key open automation interfaces and is also easier to scale for bigger fleet sizes," continues Hannes. "This change will allow customers who operate manual equipment to benefit from Fleet Technician, which is a service that has already been successfully developed for fully automated applications powered by Kalmar One."
Smarter crane solutions that are ready for an automated future
On top of smart power management, the new-generation RTG brings advanced algorithms for anti-sway control and an optimised, modular structure that brings significantly more flexibility in terms of crane height and width. All Kalmar RTGs now include cloud connectivity as standard, allowing customers to take advantage of remote support and services, including the Kalmar Insight performance management tool.
"We offer several levels of RTG automation from pure remote control to automated stack operations and remote-control truck-lane operation. Our RTGs can be delivered automation-ready from the factory and integrated with predefined Kalmar One automation applications," explains Marko.
Kalmar's automation applications cover Automated Straddle Carriers (AutoStrad™), Automatic Stacking Cranes (ASCs), AutoRTGs and Automated Rail-Mounted Gantry Cranes (AutoRMGs). "Kalmar One not only acts as middleware between the terminal operating system (TOS) and the equipment – handling things like routing, traffic management and access control systems seamlessly from one centralised location – but it also includes all the automation functions on board the equipment and in the yard, Hannes explains."
Our RTGs can be delivered automation-ready from the factory and integrated with predefined Kalmar One automation applications
Kalmar has defined a clear blueprint for each of the automation applications it offers and this blueprint includes a standard set of automation products and modules. In practice, an AutoRTG application will include the Kalmar One terminal layer, which contains the centralised server-based software products and modules. These include the Kalmar One Equipment Control System software, user interfaces and exception handling and remote control systems. This layer also acts as the interface to third-party systems via Kalmar Key open automation interfaces.
The Kalmar One yard layer includes the yard-automation components such as access control hardware and systems and interchange area controls. Finally, there is the Kalmar One equipment layer, which includes all onboard automation-related functionalities.
The Kalmar One automation system enables fully automated operations in the stack. For exception handling and any areas where safety requirements dictate that a human operator needs to provide oversight – for example, in RTG truck lane operations – Kalmar AutoRTGs can be controlled from the Kalmar remote control (RC) desk, an ergonomically designed workstation that can also be used with ASCs, Automated Straddle Carriers and AutoRMGs. The Kalmar RC desk can also be used to operate third-party equipment through Kalmar Key interfaces.
A new benchmark for RTG operations
"The new-generation Kalmar RTG redefines the idea that big machines have to be heavy, disconnected and complicated. It is a stronger, safer, smarter platform that enhances terminal performance and makes maintenance easier and more efficient. Finally, it lays the foundations for automated, connected, eco-efficient and future-proof container terminals," concludes Marko.