9 September 2020
Reading time 5 minutes
Ensuring a long and happy life for container-handling equipment
The task of keeping container-handling equipment running smoothly, safely and reliably throughout its operational lifetime becomes a lot easier when you have a solid lifecycle management plan in place. Three of our leading equipment-service experts give us their thoughts on how to get the most of your investment and avoid unpleasant surprises at the same time.
While each and every piece of container-handling equipment we supply rolls out of the factory kitted out according to the customer spec and with the latest-generation designs, systems and components, technology advances at a frighteningly quick pace today. Just like any other piece of machinery, there are always fine-tunings that can be done. Fundamental maintenance tasks need to be performed and, later on, upgrades and modernizations to bring things up to date and boost performance.
Managing costs and mitigating risk
But what, how and when? This is where equipment lifecycle management comes in. "It pays to remember that we're talking about solutions and systems that are moving heavy loads over a period of many years. These are big investments consisting of several subsystems and features that need regular maintenance and periodic fine tuning to maintain optimal performance," says Katri Kokkonen, Manager, Product Support, Kalmar.
Good lifecycle management helps to manage costs and mitigate risks by making sure the right things are done at the right time," explains Hanna Kosunen, Product Portfolio Manager, Kalmar Services.
"If you take something like a ship-to-shore crane or a yard crane with an expected lifespan of 20 to 25 years, on top of the regular preventive maintenance tasks you have to contend with the fact that electrical components and subsystems can become outdated or might require updates due to technology development," says Arttu Rantanen, Director, Automation Retrofits and Modernisation, Kalmar. "Planning for modernisations and upgrades to bring older equipment into the modern age is an important part of good lifecycle management," Arttu continues.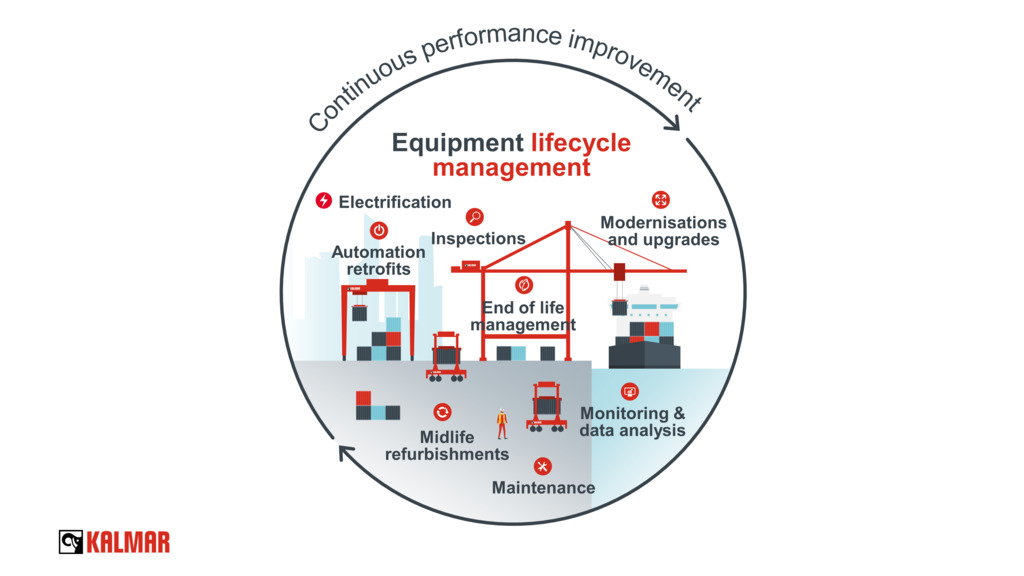 Planning for change
Whenever a customer makes a purchasing decision Kalmar's experts will look at their requirements thoroughly and follow a carefully defined set of specifications. However, operational requirements can change over time, so the ability to adapt quickly is a big advantage for port and terminal operators.
"There is no such thing as the perfect lifecycle management strategy – there are lots of variables to take into consideration when deciding on the best approach, explains Hanna. "Over time a customer's operational requirements might change, or there may be new solutions available that can be used to enhance the performance, safety or eco-efficiency of their existing equipment.". "It's then our job to work with the customer to identify how to build these opportunities into the lifecycle management and plan the optimal time to implement them."
"As well as technological advances, there are also outside influences that will have an impact on the lifecycle management approach, such as new legislation on emissions or noise that requires changes to the equipment," explains Arttu.
A tailored approach for each piece of equipment
Like any good story, the equipment lifecycle has a start, a middle and an end, but how you manage these stages varies hugely depending on the type of equipment, its usage level and how critical it is to the customer's operations. "No two pieces of equipment are the same; the key is to gather as much data as possible to help you make the best possible decisions in each specific case," Arttu says.
"For example, unexpected downtime for operation critical equipment, can have big implications for the customer's business so we recommend planning well in advance for so-called 'midlife' modernisations and refurbishments to mitigate the risk of unplanned outages," Arttu says.
One example of how Kalmar is helping its shuttle and straddle carrier customers to better manage the lifecycle of their equipment is our mid-life refurbishment service package. "Based on the machine service history and our expertise we put together a convenient package that includes inspections, refurbishment work, parts, project management and functional testing," highlights Katri. "In this way we help customers manage and even extend the service life of the equipment in the most cost-effective way possible."
Kalmar also offers a lifecycle inspection service for RTGs, which provides a fact-based overview of a crane's condition. It includes a thorough review of the equipment's main systems, critical-system part availability, overall productivity and safety as well as eco-efficiency.
Enhancing equipment performance with upgrades
"We're constantly developing new features for equipment that can be delivered as retrofit upgrades to help customers improve performance, increase safety and comply with the latest legislation, Hanna explains. "Such changes require a lifecycle management approach that goes beyond maintenance to take into account continuous performance improvement.
For equipment with a long lifecycle, the opportunity to bring equipment up to date in a timely manner is critical. "For example, with local emissions legislation becoming increasingly strict, upgrading yard cranes with a more eco-efficient powertrain is a far more cost-effective option than having to invest in new equipment," Arttu points out. "And when it comes to electrification and automating your equipment, things get more complex. You need a reliable partner on your side to help identify the approach that will bring maximum benefits for minimum cost."
"We also provide a range of different automation retrofits for manually operated equipment such as RTGs," Arttu explains. Automation can be introduced in phases in both brownfield and greenfield terminals. With our step by step approach, customers can progress along their automation journey from remote control to full automation block by block, at a pace that matches their business needs."
Leveraging the power of data
The foundations of any good lifecycle management approach are rock-solid planning and timely execution, and the more information available the stronger these foundations are.
"The key is to have a well-defined process and a solid maintenance strategy in place, to keep costs down and maximise equipment availability," says Hanna. "It's about combining lots of different sources of information – for example visual inspection checklists, regulatory inspections and connectivity-based monitoring solutions – to build a complete picture of the status of the machine," Hanna continues.
Monitoring and data analysis tools such as Kalmar Insight – a performance management tool that gives you an easy-to-use overview of your whole fleet by aggregating data from multiple sources – make it easier to gain value from data. The tool enables you to take action based on real-time information such as operating hours, moves per equipment, fuel consumption and alerts.
"The more information you have available and the more up to date it is, the easier it is for you to make decisions about your equipment's lifecycle management," Arttu explains. "Even smaller terminals have several pieces of equipment in operation, all with different subsystems and components. And modern automated terminals are complex operations where you also have software and IT infrastructure in the mix. The more you know about what is going on, the better you can keep costs under control, maintain safe operations and put in place plans for timely upgrades to improve performance in the future," Arttu concludes.