25 November 2020
Reading time 3 minutes
Kalmar's journey to electrification is boosted by partnerships
Kalmar is moving to a full electrically powered portfolio by 2021. The company's electrification strategy will continue strong from there once that goal is achieved. Soon, even hydraulics may be relegated to the past.
As Kalmar moves to full electrification, collaboration with several other companies to share ideas and test novel solutions is a strong component to achieving its goals. One good example is Kalmar's partnership with Cascade Drives, a startup that has developed an electromechanical actuator to replace hydraulic actuators that can handle shock loads and recover energy while it operates.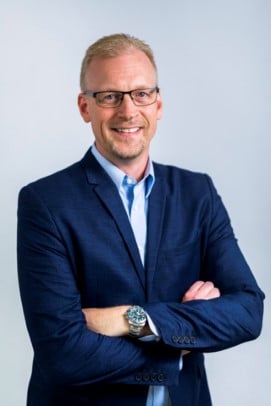 "The idea for the electromechanical actuator developed by Cascade Drives stems from technology originally designed to generate energy from sea waves," explains Jonas Disman, Kalmar's R&D Director, Counterbalanced Container Handler Division.
"We recently embarked on a journey together to test this technology on our empty container handlers. It is still early days, but we are seeing that this technology could also be applied to our other equipment as well," he adds.
Partnering pushes the needle forward
As a part of Cargotec, Kalmar is committed to the UN Global Compact which outlines science-based targets aligned with limiting global temperature rises to 1.5°C above pre-industrial levels.
"Electrification – especially in mobile equipment – is a major factor in reaching these climate ambitions," says Lasse Eriksson, VP Technology at Kalmar.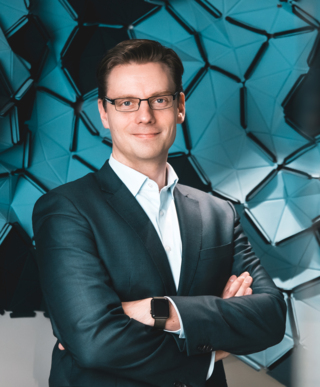 "Our ambitions are bold, but we have a strong track record of introducing industry first electrification solutions. We've been doing it for decades – our forklifts, for instance, have been electrically powered for 40 years," Eriksson notes.
Eriksson points out that collaboration with other industry players supports Kalmar in creating technology that helps its customers comply with – and often exceed – energy, environmental and safety regulations.
"We have partnerships with leading companies in their fields, such as Bosch Rexroth with whom we are developing fully electric versions of our reachstacker and heavy forklift solutions," Eriksson says.
Partnerships with startups like Cascade Drives, in turn, help Kalmar explore ideas that may push the needle forward in novel ways.
"With Cascade Drives' technology, we may indeed succeed in replacing conventional hydraulic systems altogether in our electrically powered equipment," Eriksson suggests.
Eriksson lists several promising benefits that Cascade Drives' technology could offer Kalmar customers: One is an all-electric load handling system that improves overall efficiency where there is no conversion of energy from one form to another – and lower energy consumption contributes to lower operating costs. Getting rid of hydraulics also eliminates the risk of hydraulic oil leaks.
"Greater efficiency also means a smaller battery size, which translates into a financial benefit by lowering purchase prices. All this translates into a better overall cost of ownership for our customers," he underlines.
Superior load and speed ratios and energy recovery
Kristian Floresjö, CEO of Cascade Drives, doesn't disguise his enthusiasm when speaking of the partnership with Kalmar.
"When it comes to electrification, we see Kalmar as a frontrunner. We are excited about this opportunity to collaborate with such a skilled and strong market player. Their empty container handlers provide us a perfect opportunity for testing our technology in action," he says.
Floresjö explains that Cascade Drives' electromechanical linear actuators are made for heavy-duty applications, combining notable speed and load ratio.
"The technology offers superior efficiency, which directly leads to higher productivity. Our solution also reduces energy consumption, which means customers can scale down their use of battery power packs, or alternatively extend operating hours," he says.
"Moreover, replacing hydraulic actuators with our electromechanical solution decreases the need for maintenance because our system is not pressurized – pressurized systems always require regular maintenance, otherwise, they will start to leak over time," Floresjö comments.
Kalmar's eco-efficiency ambitions define their partnerships
2021 marks a considerable milestone for Kalmar as its entire portfolio becomes available as electrically powered.
Disman affirms that the partnership with Cascade Drives ties in seamlessly with Kalmar's electrification journey and eco-efficiency ambitions:
"Our goal is to set the industry standards higher and boost eco-efficiency across our industry. In our partnership with Cascade drives, we aim to obtain proof of that concept by early 2022. If the technology lives up to the expectations we have from simulations, it could end up being an industry game changer," Disman says.
Floresjö notes that the first step is demonstrating the technology's key advantages.
"We will first look at productivity and energy recovery since we are going to lift containers with a much higher speed than what is traditionally achieved – and the greater the distance of lowering containers, the more energy we can regenerate," he explains.
"We make the greatest contribution towards mitigating climate change through our product offering. We are eager to see how Cascade Drives' technology works in practise," Eriksson concurs.