21 April 2020
Reading time 3 minutes
Passionate professionals for challenging times
In these difficult days, the cargo industry continues to operate as an essential service to provide needed goods. As an industry leader, the Kalmar team has quickly and deftly adapted to this challenging situation by applying their professionalism and expertise to develop innovative solutions for specific problems that are crucial to a world in the midst of a pandemic.
What makes this possible are the people who are the Kalmar team. They are passionate about what they do, enjoy their work and find satisfaction in collaborating with their colleagues to deliver the goods. They stay focused and optimistic even in the most difficult of times.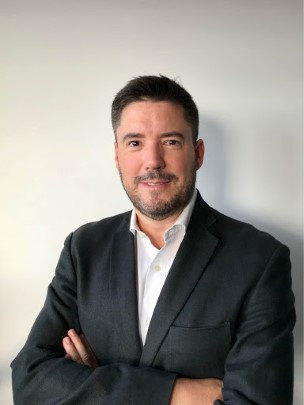 Eduardo Fernández, Sales Manager at Kalmar Spain, has over 20 years experience in Management, Business Development and Strategic Planning, most of it in the heavy and industrial machinery sector. He feels that the current world situation is unprecedented and he is extremely proud of his team.
"I left my office on Friday thinking I'll be back on Monday as usual, but now we've had several weeks like this," he says. Even with his outstanding team, Fernández says he is surprised by how quickly and easily they've adapted to, for example, teleworking. "Maybe some years ago it wouldn't have been possible to make such fast changes, but now it has been quite easy and smooth," he says.
Handling customer needs from home
Normally, Fernández would be traveling all around Spain to meet Kalmar customers. His job requires being in constant touch with current and potential customers, finding the right solutions for their needs. "It's work that never really ends! Once you know what the customer needs, you look to what that requires -- new machines, repair work, service and spare parts."
Fernandez sticks to his routine, but now he does it without leaving home. He has turned one of the rooms in his house into an improvised base of operations. "This makes the job harder. Every arrangement is more complicated because the rest of the team are also working at home, trying to juggle their professional and personal life," he explains. "It would be normal to find someone in the office from 9:00 to 17:00, but that doesn't apply in the current situation. I myself have to make my schedule more flexible".
Working through the pandemic together
Because of the coronavirus crisis, most of the Kalmar focus is now on service solutions and less on machine solutions. "One of the most frequent services currently is machine sanitation," explains Fernández. Ensuring the safety of the dock workers has always been a Kalmar priority, so avoiding coronavirus infections is a vital part of the job.
Nevertheless, regular logistics continues, but with some limitations. The state of emergency declared in Spain has paralysed most of the economy except for essential industries. As an indispensable link in the supply chain, Kalmar is still delivering machines. "We need authorisation for everything, which requires documentation and takes more time," he explains.
"My motivation is the same as it's always been - I like to help people solve their problems."
A strong spirit in hard times
Fernández continues to bring his usual dedication to his job: "My motivation is the same as it's always been -- I like to help people solve their problems." He adds, "In some ways, this new situation makes everything even more challenging. So my motivation increases".
What Fernandez likes best and finds most rewarding about his job is the commitment and readiness of each link in the Kalmar team chain. "Every department is focused on providing the best solution to each customer in each situation, from sales to services, finance, management, and production."
For Eduardo Fernandez, with his over two decades of experience in this field, that is what differentiates Kalmar from other companies in the industry. It is a distinction unrivalled in these current very challenging circumstances.