11 March 2020
Reading time 3 minutes
Kalmar maintenance boosts productivity at MSC Valencia
Flawless maintenance work is indispensable to peak productivity. Keeping your machines in pristine condition and having the ability to detect problems before they arise, and repair any unexpected breakdowns in the blink of an eye, are all essential for this business. MSC Terminal Valencia knows this and has chosen Kalmar innovative solutions to get the job done expertly.
Kalmar's maintenance contract for mobile equipment is helping MSC Terminal Valencia to achieve its productivity objectives. The eight technicians comprising the Kalmar On-Call Service Team in the field make sure MSCTV operations run seamlessly, keeping downtime to a minimum.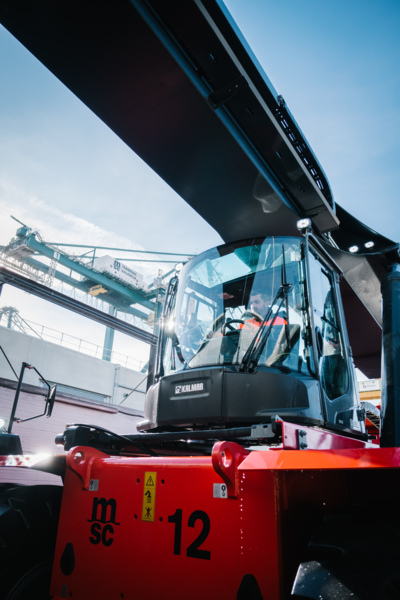 Along with keeping the machinery humming, the health and safety of its workers are a priority at Valencia. The wellbeing of the dock workers is a top concern for MSCTV, who has entrusted Kalmar knowledge to fit their machines with the best ergonomics and safety features available. In making worker health and safety a top concern, Valencia has a workforce to reach optimum productivity.
Top maintenance for top productivity
"Together with Kalmar, we are improving the planning of maintenance work to increase productivity and reduce breakdowns in a critical work environment," says David Taberner, Maintenance Engineer at MSC Terminal Valencia. As he explains, the MSCTV maintenance section is a key function and plays a major role in the company's strategy and success.
Thanks to Kalmar solutions, MSCTV is able to adapt the machines to the special needs of operations in Valencia. "The Port of Valencia has very specific characteristics compared to other ports, and they adapt the machines to these precise requirements," says Taberner.
Moreover, for Taberner, it's not only about the outstanding solutions Kalmar provides. "I would highlight their local team, which is very adaptative and flexible. They have helped us to reach great productivity in the short time we've been working together. Having a skilled team of experts makes the work much easier," he emphasizes.
"Together with Kalmar, we are improving the planning of maintenance work to increase productivity and reduce breakdowns in a critical work environment."
Deep understanding of MSCTV needs
"A good example of how far we are able to customize our solutions and tailor them to the needs of each client, is the development at Kalmar Spain of an additional screen in the cabin of each reachstacker that displays clear and precise instructions for dock workers based on a request from our MSCTV client for the best safety and operational conditions for handling the reachstackers. The result has been a drastic reduction in operational incidents and a significant increase in the productivity of our equipment compared to those of our competitors," says Eduardo Fernández, Kalmar Sales Representative.
Dock workers' safety and health are in reliable hands as both companies take common steps to achieve this end. Javier Berzosa, Kalmar On-Call Maintenance, comments on the improvement in communication with MSCTV, "Since we arrived, we've achieved better and more fluid dialogue. Now, our prevention service, together with MSCTV, is getting great feedback. Every 15 days we meet and share the latest information."
The Kalmar Reachstacker is fully customizable and can be fitted with any options the customer requires. Berzosa's team has done an excellent job adapting it to the workers' needs. "Listening to worker's preferences, we have made a more compact, ergonomic, air-conditioned, and sun-protected cabin. It's perfectly suited to Valencia's weather," he says.
In addition, Kalmar has also adjusted the machines' controls to the Valencia workers' requests. Every joystick and button are placed just where they prefer. In this way, they don't lose time or patience adjusting to the new controls. "The point is to know the workers' specific wishes and needs, so our machines are not left idling in a corner, but working as many hours as possible," says Berzosa.
Speedy solutions keep the machines rolling
Along with the reduction in equipment downtime, Kalmar services is helping MSCTV to resolve unexpected breakdowns faster, which is vital to higher productivity. Antonio Vitoria, MSCTV Warehouse Supervisor, says that he uses Kalmar MyParts, an online tool where you can buy spare parts, which optimizes your time.
"It allows you to check the delivery time and to see the stock available in other warehouses in Europe. The parts always arrive in good time, and if there's any loss of delivery notices or bills, they handle it quickly," he says. This is just one of the many ways Kalmar solutions aim to succeed in their main target: improving your business productivity.