10 July 2019
Reading time 3 minutes
Broekman Logistics on the move
Kalmar's eco efficient reachstackers are helping supply chain provider Broekman Logistics increase efficiency and reduce costs as well as supporting its medium and long term business objectives.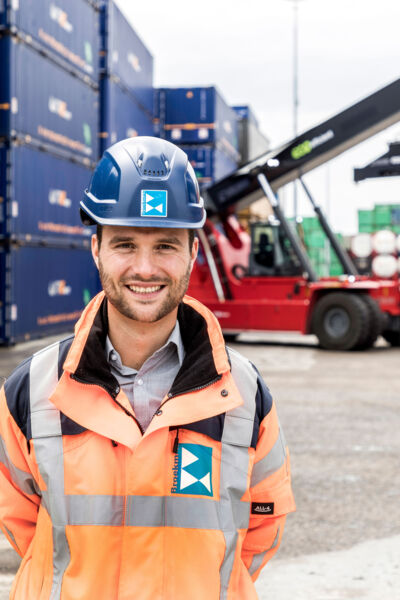 Broekman Logistics is a full service logistics company supporting ocean, road, rail, air and multimodal transport. Headquartered in Rotterdam, it offers value added logistics and value added services such as warehousing and door-to-door distribution on a worldwide basis.
The company specialises in processing and storing complex, heavy or dangerous products and transporting them in the most efficient way. It employs more than 800 people in the Netherlands, Belgium, the Czech Republic, Poland, India, Singapore and China.
"Broekman Distriport in Rotterdam - one of our three breakbulk terminals - used to handle a low volume of containers, but we are transitioning into a multi-purpose terminal so we needed additional reachstackers," explains Taco Post, operations manager Broekman Logistics. "Our objective for the terminal is to have an equal split of business between containers and breakbulk."
Eco Reachstackers can reduce fuel consumption by up to 40%
The company needed a solution that would reduce its fuel consumption and CO2 emissions without compromising on productivity, which is vital in ensuring that it continues to deliver the high level of service demanded by its customers.
Broekman Logistics was already using a Gloria reachstacker before it decided to purchase five Eco Reachstackers in 2018 for use at Broekman Distriport.
"We were previously consuming between 22 and 26 litres of fuels per hour," explains Post. "The Eco Reachstackers have enabled us to reduce this to between 16 and 18 litres per hour and we are confident that even further reductions are possible."
This lower fuel consumption is a major operational costing saving as well as an important step in helping Broekman Logistics achieve its sustainability targets. In 2014 the company produced 4600 metric tons of CO2 emissions – it has set a target of reducing that figure by 10% by 2020.
In comparison to older machines, the Eco Reachstackers can reduce fuel consumption by up to 40% and by up to 25% compared to more recent machines, cutting fuel costs and emissions while matching the productivity levels of machines with much larger engines.
"We have not had a single malfunction since we started using the service."
Kalmar Insight makes sense of data
Eco Reachstackers also includes driver training and connectivity to Kalmar Insight, a fleet performance management tool for cargo handling operations.
"The Kalmar Insight system enables us to review the moves our machines make on a daily basis, minimising non-billable moves as well as enabling us to monitor our fuel usage and CO2 emissions, giving us complete visibility over our reachstacker operations," says Post.
The system also helps Broekman Logistics optimise productivity by highlighting excess fuel consumption, data that can be used to educate its drivers as to the most efficient way of operating the machines.
"In addition, it has further increased the reliability of our reachstacker fleet – we have not had a single malfunction since we started using the service," says Post, observing that Broekman Logistics has a long term plan to electrify its entire fleet of terminal machines.