13 December 2016
Reading time 3 minutes
Comfortable in the driver's seat
Reinier Marskamp has been driving a Kalmar vehicle for over a decade.
When he works the morning shift, Reinier Marskamp gets to the Barge Terminal Tilburg (BTT) at 4.30 in the morning, inspects his Kalmar DRF450 reachstacker, checking the tires and making sure there are no damages, and then gets ready for a full day of work.
By the time he gets off work in the afternoon, he and his five colleagues have moved 1,200-1,500 containers and it's time for the night shift to take over, and do the same.
The BTT terminal is a feeder terminal to the Port of Rotterdam, the largest port in Europe and the world's busiest port. The crew works with a rolling schedule where they work five days followed by two days off and then work seven days. Saturdays are half days, and on Sundays they work a three-hour shift, before their days off. Markskamp also plans the workload for the teams.
"We get seven ships here every day and we have six Kalmar machines. I've worked at the BTT for twenty years and for fifteen of them, I have been operating a Kalmar truck," Marskamp says.
His current truck is the DRF450, which he knows like the back of his hand.
"It's a nice machine," he says.
If there's one thing Marskamp truly appreciates, it's the way the cabin is designed.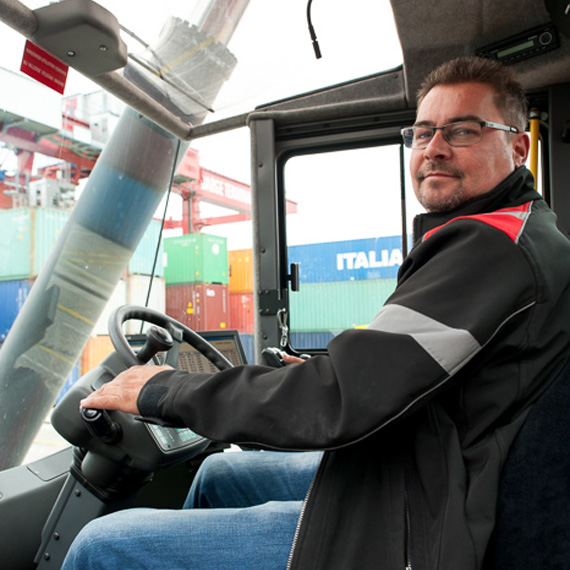 Reinier Marskamp knows his truck like the back of his hand.
"I like how you can move the cabin to the front of the vehicle to improve visibility, but the most important part of the vehicle, for a drive, is the chair," he says.
"When you spend eight, nine hours inside it, the chair becomes very important. The ergonomics are very important. When the drivers' backs stay in shape, the chairs also become cheaper, since there are fewer sick days."
In January, Marskamp will get behind the wheel of a new vehicle, the Generation Gloria reachstacker. He had the opportunity earlier to test the Gloria for a day, so he knows just what to look forward to.
"The new cabin is good. The seat is better, the back support is better, it's just very comfortable. Also, the driver can adjust everything so that the steering wheel, chair, and instruments are exactly the way we want them. The new one also has more electronics but it'll take us 18 months to really know all the benefits," he says.
Just like in the morning, Marskamp inspects his reachstacker at the end of his shift before signing off and handing the reachstacker over to his colleague. After all, the containers don't move themselves.