12 July 2022
Reading time 3 minutes
Powering the electric forklift switch
Mikael Andersson, Product Manager and Henrik Johansson, Sales Support Manager for Kalmar forklift trucks outline the key considerations when moving to electric forklift operations.
Increasingly strict legislation, investor demands, and local requirements are among the main factors driving the transition to more eco-efficient cargo handling.
Since the end of last year, every piece of equipment in the Kalmar range has been available in an electrically powered version - including an electric heavy forklift suitable for use in a range of environments from ports to factories.
More than one-third of Kalmar forklifts in Europe are now electrically powered and there are in excess of 5500 electric forklifts operating in 75 countries across the world. These are primarily light vehicles with lifting capacity ranging from 5-9 tons powered by lead-acid and lithium-ion batteries, but there is also increasing interest in lithium-ion powered electric heavy forklifts with lifting capacity of up to 33 tons.


Multiple applications
"These machines are suitable for a wide range of applications and operating conditions," explains Mikael Andersson during a recent webinar on opportunities for electric forklift trucks. "Performance and productivity is comparable to diesel powered machines."
In terms of specific industry segments, forestry and timber companies are leading the switch to electric machines for handling sawmill products and waste.
The smaller trucks are designed for both indoor and outdoor operations, while the medium and large machines are mainly used outdoors. Electric machines are especially well suited for paper handling since they don't produce any harmful emissions and support a clean working environment.
"In the metal handling sector there is an increasing focus on operations that do not use fossil fuels and our machines improve the sustainability of the supply chain," says Andersson.
For customers involved in concrete production, Henrik Johansson observes that the machines can be supplied with either pneumatic or super-elastic tyres to ensure delicate products such as tiles are not damaged when being moved across uneven surfaces.


Operational implications
But while customers appreciate the importance of working towards a zero-emission future, they also need to understand what the switch to electric vehicles means in terms of infrastructure requirements including charging facilities, shift patterns, and total cost of ownership.
Kalmar's infrastructure solution envisages sustainable electricity being generated and supplied to the site where the machines are used. In addition to power outlets, customers also need to consider the need to store energy.
Charging facilities can be provided indoors for smaller forklifts, but for the larger machines outdoor charging points will be required. These facilities can be used to charge other types of equipment including terminal tractors and reachstackers.
"We work with each client to find the most cost effective solution for their operation, taking into account running hours, shift patterns, and local conditions," says Johansson.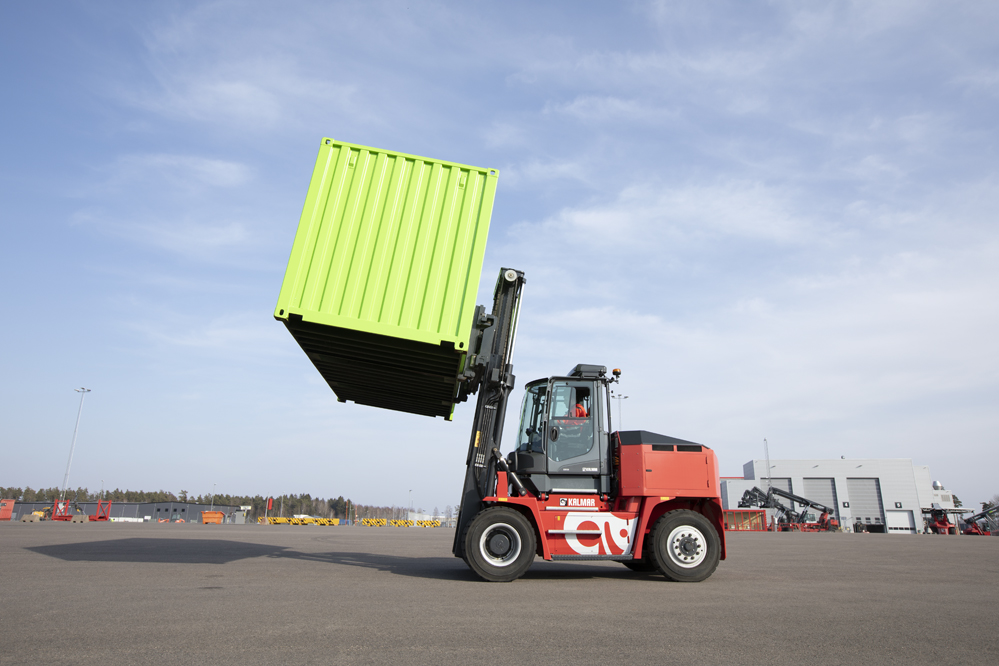 Service savings
When considering operating costs, it is important to note that the electric machines do not have many of the components of a diesel powered vehicle that need to be serviced/replaced regularly.
"For instance, they don't require oil filter changes, catalysers or diesel particle filters," says Andersson.
In terms of emissions, the diesel combustion process emits 2.64kg of CO2 for every litre of fuel consumed, which equates to approximately 40 tons of CO2 emissions per year for the average forklift truck.
"To produce the same output as a litre of diesel, an electric machine requires approximately 3kWh of electricity," explains Andersson. "So over the course of a year our average machine will consume approximately 45,000kWH of electricity, but will produce zero emissions."
Johansson acknowledges that the purchase price of an electric forklift truck is higher than its diesel equivalent, but adds that lower fuel and maintenance costs produce a significantly lower total cost of ownership.
Operators also express a preference for driving electric machines, noting that they are quieter and produce fewer vibrations and that the absence of exhaust fumes produces a healthier working environment.
"Customers who wish to test drive the machines can do so at our Innovation Centre in Ljungby, Sweden," adds Johansson. "There are also electric machines available through our global network of sales partners and dealers."