30 June 2022
Reading time 0 minutes
​​TOC Europe 2022 - Kalmar at the forefront of the new era of sustainable cargo handling
The weather could not have been better at the TOC Europe event at the Ahoy in Rotterdam in mid-June. After two years of Covid-19 restrictions, the event gathered together more than two hundred exhibitors and thousands of guests specialising in cargo handling and logistics technology.
Rotterdam is a perfect venue for the fair, with the busiest port in Europe and the third largest worldwide after Shanghai and Singapore. To put the size of the Port of Rotterdam into perspective, the distance from the bottom of the port to the open sea equals the entire crossing of the Baltic Sea from Helsinki to Tallinn.
It was great to see in Ahoy how important it was again for industry professionals to be able to meet each other face to face. As necessary, cargo handling professionals were able to update their knowledge of industry developments. Kalmar was one of the most prominent exhibitors at the event, and its stand was practically fully packed. Kalmar's theme at the fair was New Era of the Logistics, and all the elements and materials of the company's stand were sustainable and renewable.
"The event brought together so many people across our industry as one family and it was wonderful to see and feel the positive feeling among the participants after three long years of pandemic," says Maija Eklöf, VP Marketing and Communications, Kalmar.
Customers demand a new level of sustainability
According to guests at the fair, the current development keywords are electrification, robotisation, and digitalisation.
Pressure to increase the environmental friendliness of cargo handling will come front, among other things, a change in attitudes, tightening environmental legislation around the world and, especially in Europe, EU environmental policy and the goal of significantly reducing greenhouse gas emissions by 2050.
Logistics companies have become increasingly important to finding solutions to reduce emissions. On the one hand, there is growing global pressure from regulators, and on the other hand, shareholders in the most significant international freight and cargo handling companies expect companies to reduce their emissions.
"We are, as Kalmar, a key element of the global supply chain industry", explains Michel van Roozendaal, President, Kalmar as of 1st July.
"That allows us the choice of what we eat and where we buy our goods. Consumers want choice; and global trade allows for that choice. However, these same consumers are increasingly sensitive to the environmental impact of that choice; they do not want to feel guilty because of a heavy carbon footprint when they import goods or foods from far-away countries. The whole supply chain industry understands that and is working to become more sustainable. We as Kalmar are contributing to this goal and doing our part on that sustainable journey".
"We are, as Kalmar, a key element of the global supply chain industry."
Now that all major customers have announced their environmental goals, interest in electric and robotic solutions has grown dramatically.
"When big companies like Maersk, for example, outline that 70 percent of emissions must be cut by 2030, then clearly the pressure to renew the technology used is strong," said Antti Kaunonen, President, Kalmar Automation Solutions, who is starting his well deserved retirement on 1st July.
"In California, for example, the state legislature is proposing to ban new gas-fueled cars by 2035." According to Kaunonen, many large companies in the logistics business are not waiting for new legislation to make changes, deciding themselves on emissions cuts.
"In addition, they are now cutting emissions beyond what lawmakers worldwide are demanding."
Kalmar is now working in an exemplary manner to respond effectively to the global need to cut emissions from cargo handling, thus easing the requirements for, among other things, port operators to increase the environmental friendliness of freight transport.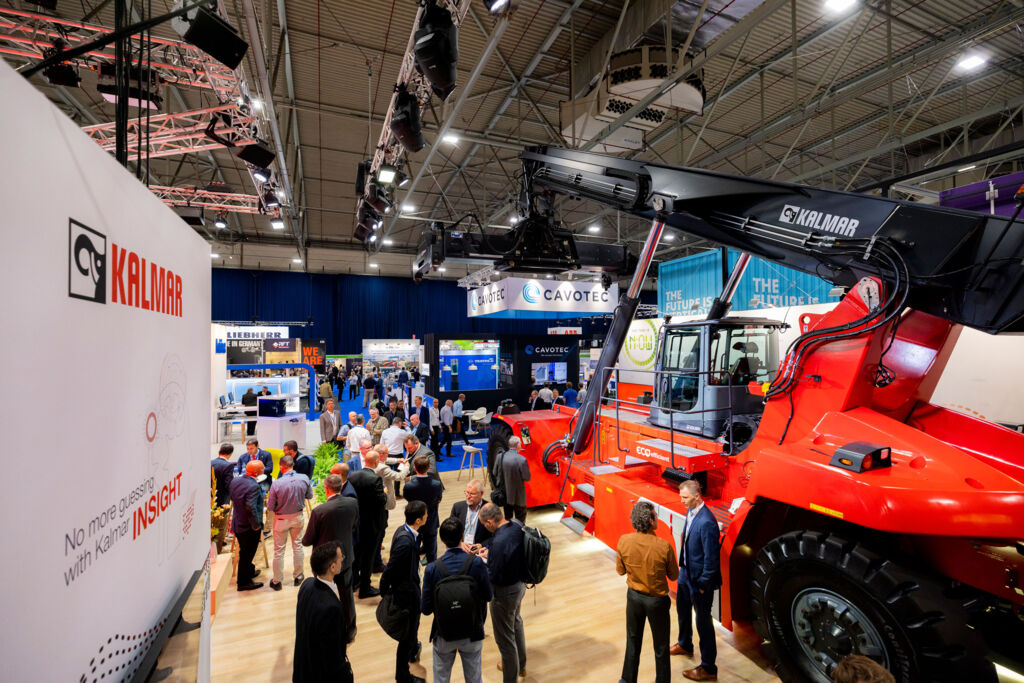 Kalmar products are for operators who value quality
"I understand port operators and cargo handling companies now want this change," says Jan Grinwis, Director of Equipment and Engineering at AD Ports Group in the United Arab Emirates. According to Grinwis, saving the environment is becoming increasingly important, and new technology will make further emission reductions possible in the logistics sector.
"Kalmar's products are not cheap, but their quality is outstanding. The company's products are especially suitable for operators who value quality," he says.
The catchword is environment
Kalmar is a pioneer in the electrification of cargo handling technology. Its entire product portfolio is now electrified, so there was plenty of interest in its products. Kalmar showed off a new Electric Reachstacker displayed at its booth that attracted a great deal of interest from the audience. Many visitors especially appreciated the machine's adaptability with a lifting capacity of up to 45 tons to different operating needs and conditions.
"Kalmar's new electronic solutions will make it easier for port operators to operate more efficiently, flexibly, and more feasibly."
Mechanical Engineer Brian Gafa of Malta's Freeport Terminals Limited, Malta's Marsaxlokk, said Kalmar's new electronic solutions will make it easier for port operators to operate more efficiently, flexibly, and more feasibly.
"It's crucial to port operators to reach new environmental requirements," Gafa said when visiting Kalmar's stand.
Among other innovations, Kalmar also presented the Kalmar Ottawa T2E+ Electric Terminal tractor and electric and hybrid shuttle and straddle carriers, roadmaps for eco-efficient terminal design, and eco-driving training solutions. Robotic Portfolio, Kalmar Insight, and Kalmar EcoFlex were also demonstrated. Kalmar takes its responsibilities very seriously. The company offers the most comprehensive range of cargo handling solutions and services for ports, terminals, distribution centers, and the heavy industry.
The public was also interested in Kalmar's pioneering development work in robotic cargo handling and automation of port operations. In recent years, Kalmar's fundamental goal has been to meet its customers' changing needs and bring onto the market systems that integrate the various aspects of cargo handling into a seamlessly integrated whole.