22 March 2022
Reading time 3 minutes
Why use a shunt truck instead of a road truck?
Utilising a shunt truck (also known as terminal tractor) in distribution and logistics can increase your safety and productivity considerably.
Worldwide, many customers in various sectors are still using road trucks to move trailers rather than terminal tractors (shunt trucks). However, there are definite benefits in using a terminal tractor, especially in distribution and logistics.
Terminal tractors are, first of all, more efficient, which is evidenced by their excellent mobility. Kalmar's terminal tractors have a wheelbase of less than 3 metres and a turning radius of less than 6 metres. In comparison, an ordinary road tractor has a turning radius of about 7 metres.
With improved manoeuvrability, the driver of a Kalmar terminal tractor can handle a curve or a narrow corner smoothly without requiring repeated reversing, which is a real time saver.
Various time savings with Terminal Tractor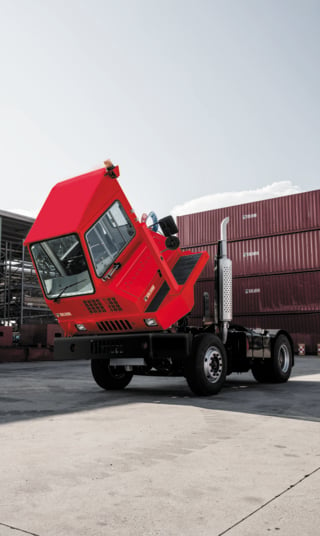 In the design of the Kalmar Terminal Tractor, one feature in particular stands out: the rear sliding door that is unique in the industry. The design allows the driver to connect the trailer's air and electrical cables quickly and safely on the work platform through the rear sliding door.
In this way, unnecessary movement inside and outside the cab can be avoided, saving time and eliminating the potential risks that come with frequent entering and exiting the cab. In addition, the design of the rear sliding door provides an emergency exit in the case an unexpected situation arises.
Lifting the trailer – easy peasy
The fifth-wheel automatic hydraulic lifting system can raise the trailer directly through the handle in the cabin, with the entire operation taking only a few seconds. In comparison, the driver of a road tractor would need to stand next to the trailer and use a manual crank to raise it. A manual crank requires more time and effort; it also opens the door to potential risk due to the trailer's poor side visibility.


The terminal tractor's specific design features can dramatically increase overall efficiency, enabling the tractor to operate 3-5 times faster in a single operation than road tractors.
Cab design maximises safety and comfort
The cab design is also different in Kalmar's terminal tractor where safety comes first. The one-person cabin design gives the driver greater visibility in all directions which allows for precise positioning when in operation.
Anti-skid surfaces have been used on all standing work surfaces on the Kalmar Terminal Tractor, which is coated with cautionary yellow colour to highlight the safe work areas. At the same time, 3-point access support is available at each climbing point to ensure a safe operating environment for the customer's personnel.
Built for heavy duty 24/7 operations
The chassis is bolted together for maximum flexibility and strength and the cabin – as well as the front and rear axles – is specifically designed for heavy duty use. Kalmar Terminal Tractor's strength is far greater than that of conventional road tractors, with a working lifetime that is 2-3 times longer than that of road tractors.
And just what makes it so powerful? The Kalmar terminal tractor is equipped with a Cummins 6.7L engine, as well as an Allison gearbox which features low rev and high torque.
The traction performance is comparable to the high-powered 10-13L engine of a road tractor, reducing the average fuel consumption by up to 30%. This means in essence that the Kalmar Terminal Tractor moves the same amount of trailer loaded goods faster and with less fuel consumption.
Pound for pound, a Kalmar Terminal Tractor is the best choice for efficiency, safety, lifetime cost and availability – a truly game changing workhorse for all businesses using container terminals and factories.