15 March 2022
Reading time 2 minutes
Innovation drives Kalmar far ahead in its eco-efficiency journey
Electrification of cargo handling operations shows considerable potential for improved eco-efficiency and productivity. Kalmar and Cascade Drives cooperate on new energy-saving technology.
Kalmar accelerates its green agenda through a successful proof-of-concept project with startup company Cascade Drives. The 15-month collaboration explored the use of electromechanical actuators, replacing hydraulic components in operational vehicles. The results show significant energy savings in cargo handling.
Lasse Eriksson, VP of Technology at Kalmar says, "Any percentage of energy usage we can erase with technological improvements moves us in the right direction. In this regard, our project with Cascade Drives has been a major success."
The collaboration reflects Kalmar's ambition to encourage innovation and co-create promising sustainable solutions in the industry.
"We can't develop every part of a functional eco-efficient system ourselves. Partnering with innovative companies is essential for finding the solutions that make sense on a bigger scale," Eriksson adds.
Electrification is a win-win for sustainability and performance
Testing the novel technology with Kalmar Empty Container Handlers has successfully demonstrated the value of the innovation.
"We are very impressed by the actuators. The technology improves lifting and lowering speeds, uses less energy to operate, and reduces the associated costs while boosting total productivity," explains Jonas Disman, Head of R&D at Kalmar.
The lifting function of the empty container handlers demands speed and power, as well as an 18-meter lifting range, making them optimal candidates for a proof-of-concept study.
"If the technology works here, it can work for other functions in all Kalmar equipment. Now that we have the results, we are excited to see where we can develop and apply these kinds of actuators further," Disman emphasises.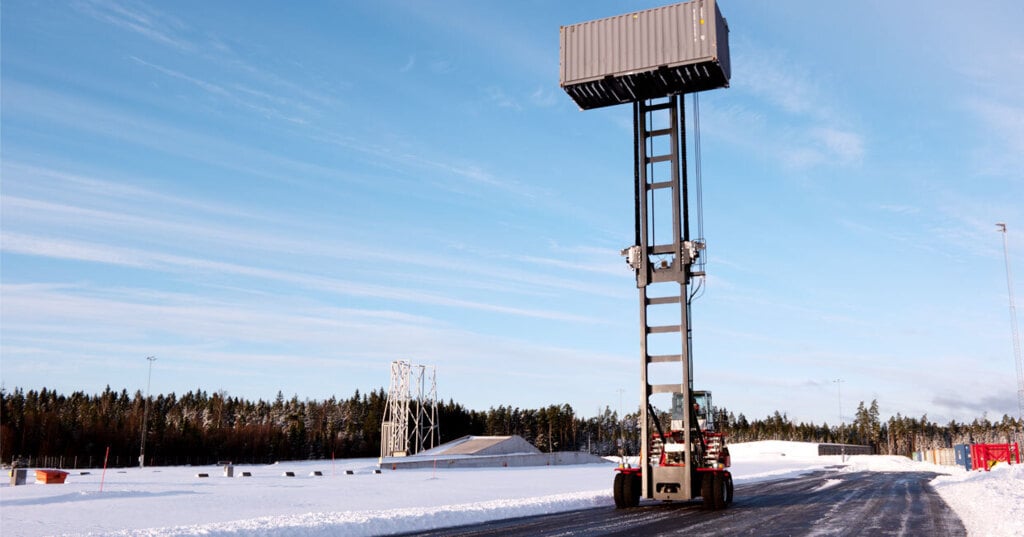 An important step for Cascade Drives
The collaboration with Kalmar gave startup Cascade Drives its first opportunity to test the innovation outside the laboratory. It turned out to be a vital step in moving the technology from concept to commercial use.
"Before the project with Kalmar, we had done all the needed laboratory testing. The next step in determining the technology's readiness was putting the actuators into a real-world setting," says Kristian Floresjö, CEO of Cascade Drives.
A second major goal of the project was to show the safety of using electrically powered vehicles in high lifting applications.
"We wanted to see that using our technology would carry no added risks to the work. We are very satisfied with the results," Floresjö says.
Fruitful collaboration
The research with Cascade Drives has resulted in remarkable outcomes in eco-efficiency and productivity.
"We proved that we can achieve more than 60% savings in energy consumption in lifting and lowering functions, and 20% savings in the total energy of a drive cycle," notes Disman.
Both Kalmar and Cascade Drives are pleased with the results thus far and are excited about working together in the future on other development and innovation projects.
"We are impressed by how the project played out. We had a tight schedule, but with effective collaboration and joint effort, we were able to achieve our goal and get the results we are now seeing," concludes Floresjö.