11 February 2021
Reading time 3 minutes
Top-quality care for Kalmar hybrid straddle and shuttle carriers
A little like thoroughbred racehorses, hybrid straddle and shuttle carriers need specialised maintenance to keep them performing at their best. Kalmar Hybrid Service delivers this all-important care and attention.
In the drive to cut emissions, fuel consumption and noise, terminals the world over are increasingly opting for hybrid over traditional diesel-powered drivelines for their horizontal transportation operations.
Kalmar hybrid straddle and shuttle carriers have been delivering the goods since their launch in 2013, with almost 350 units sold to date. "Our proven hybrid offering is now becoming the go-to for many customers ordering new straddles or shuttles," says Mikko Nurmela, R&D Manager, Kalmar. "Provided that the machine is maintained correctly, the lifespan is the same as a traditional well maintained diesel-electric unit. This is why it's important that customers have the opportunity to benefit from our knowledge and experience with hybrid drivelines in terms of maintenance," Mikko continues.
What makes a hybrid different?
It's possible that you might have your own example of hybrid technology sitting on your driveway – your car. Although hybrid straddle and shuttle carriers are far bigger and more complex, the principle is still the same: batteries are combined with a combustion engine to reduce fuel consumption.
In hybrid straddles and shuttles there's also a regenerative energy system that converts energy from deceleration and spreader lowering into electrical power, which is then stored in the battery system. Hybrid cars feature the same kind of system.
"Because hybrid machines are based on lithium-ion (Li-ion) battery technology, maintaining them in the optimal way requires expertise and knowledge," explains Teemu Tapio, Manager, Contract Management, Kalmar. "Just like with diesel-electric machines, proper maintenance minimises safety risks and fire hazards and maximises operational availability, so regular inspections are important. This is why we offer the Kalmar Hybrid Service," Teemu continues.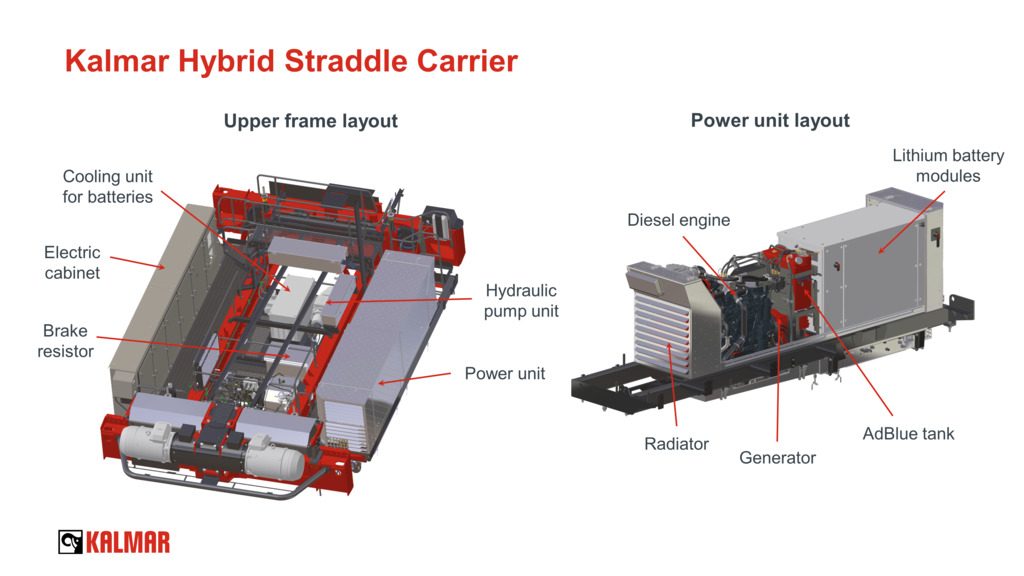 Holistic servicing for your thoroughbred machines
Kalmar Hybrid Service is a holistic solution that takes the entire hybrid system into account to ensure reliability and availability for the lifetime of the equipment. This means specialised preventive maintenance and condition monitoring as well as any necessary corrective actions.
"One of the biggest issues with hybrid machines is unnecessary repair or replacement of battery modules, which can be expensive and time consuming. Without the right specialist knowledge it can be easy to assume that any problems with a hybrid straddle or shuttle driveline are related to the battery, which often isn't the case," says Mikko.
With the Kalmar Hybrid Service Kalmar's highly trained specialists ensure every machine is inspected, diagnosed and maintained correctly and in the most cost-effective way possible. This includes removing and recycling battery modules in the extremely rare event that this is necessary.
"Storing and maintaining battery modules not only requires a lot of effort and extensive specialist knowledge, it's also expensive," highlights Teemu. "With this service we're helping our customers to avoid the need to maintain their own stocks of spare modules."
Comprehensive support available to all hybrid customers
The service is available to all our customers. It can be delivered as a part of a service contract with a fixed price, as an extended battery module warranty with a monthly fee, or as a separately quoted on-call service for customers without a service contract. Naturally, for machines still under warranty the service is delivered according to the individual warranty specifications.
"With hybrid straddles and shuttles surging in popularity we want to make sure that every Kalmar customer can get the most from their machines for their entire operational lifespan," says Mikko. With our help customers can take advantage of the deep knowledge and experience we have as an original equipment manufacturer to make sure their equipment runs as smoothly, safely and eco-efficiently as it did on the day it was taken into use."