27 September 2021
Reading time 3 minutes
Kalmar partners with CRIntermodal in China to develop rail container transport
As China's inland cities grow, export-oriented manufacturing is relocating to inland areas, while driving the development of intermodal transportation strategy. China's Belt and Road Initiative (BRI) has increased the demand for an intermodal transport system along this important trade route as well as the need for rail container transportation.
A land port focusing on intermodal transport
The concept of a land port, or a hub, puts intermodal transport at its core. It combines multiple transit and interconnection of containers between roads, railways and seas for efficient and cost-effective transportation.
CRIntermodal is the first joint Sino-foreign rail transportation venture in China. It is responsible for the construction and operation of national railway container terminals, and will build railway container logistics centres in 18 cities in China. CRIntermodel Kunming Terminal was officially put into operation in 2006. Strategically located in the Kunming railway hub, it is the largest container logistics centre in Yunnan Province and the Yunnan-Guizhou Plateau Area.
The unique 24/7 site service with an emphasis on close customer relations guarantees high productivity.
CRIntermodel Kunming Terminal occupies an area of 82.6 hectares, with a storage capacity of 20,000 TEU and an annual throughput of 1.6 million TEU. It can operate 200 trains simultaneously, making it the most efficient railway freight yard in China today. It is also an important element in the international logistics system of Yunnan's bridgehead strategy for South Asia and Southeast Asia.
Kalmar reachstacker is a star of railway transport
Efficiency, network coverage, service stability, safety and environmental concerns are the drivers behind the development of China's cargo transport market. In 1995, the first Kalmar reachstackers were delivered to five hub cities on China's rail transport system, and during the past years, the total number has risen to over 500 reachstackers in operation in rail transport in the country.
"There are nine Kalmar Reachstackers in our terminal, which went into operation between 2013 and 2020. We predominantly use reachstackers to move containers, which is ideal for use in railway freight yards because of its high operating efficiency, low fuel consumption and operating agility," says Wang Wei, supervisor of the Technology and Equipment Department at CRIntermodal Kunming Terminal.
At railway intermodal terminals, strict timetables must be followed to ensure smooth and punctual departure of container trains. During the busy hours of loading and unloading, Kalmar reachstackers are continuously in operation.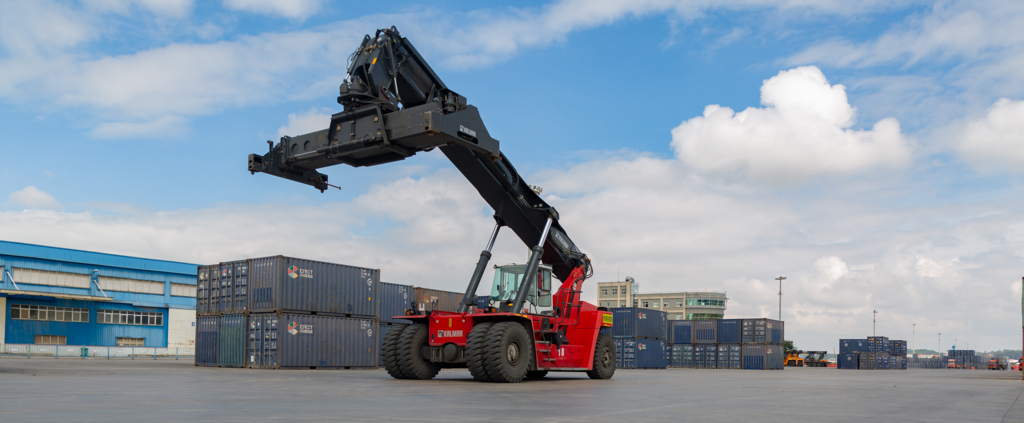 On-site services guarantee high productivity
The vast network of railway transportation requires fast, high-quality, timely and effective services. Kalmar's authorised dealer has set up a service site in CRIntermodel Kunming Terminal with six senior service technicians providing excellent maintenance and after-sales services for the terminal. The unique 24/7 site service with an emphasis on close customer relations guarantees high productivity at CRIntermodal.
"The panoramic visibility from the cabin helps when operating the reachstacker and improves overall safety for our drivers."
Safety is the top priority
The Kalmar Reachstackers are fitted with the Essential cabin, which is ergonomically designed to enhance driver comfort and operability, reduce fatigue and improve safe operations.
Shi Aijia, a driver from CRIntermodel Kunming Terminal Operations Department says: ''The Kalmar reachstacker is user-friendly. The panoramic visibility from the cabin helps when operating the reachstacker while improving overall safety of our drivers."
In addition, particularly for railway operations, the Kalmar reachstacker can also offer anti-imbalance, inching functions, personnel identification, automatic collision avoidance and auxiliary brake systems. Customised safety solutions can be tailored according to customer needs to further raise operational safety.
30 years of striving for excellence
Since Kalmar established its global reachstacker division in the 1980s, it has accrued more than 30 years of manufacturing and technological experience with several generations of products and the delivery of more than 15,000 reachstackers globally. With that expertise under its belt, the Kalmar reachstacker provides the highest technical and performance standards.
"In addition, I feel that Kalmar reachstackers offer sensitive and reactive spreader controls that perform well. It is a very responsive machine. Especially with the new joystick, all functions can be done in one place. It is very convenient and it greatly improves my productivity," Shi Aijia concludes.