22 April 2021
Reading time 0 minutes
The Kalmar AutoStrad™ Application – enhanced flexibility for your terminal
At our webinar in March, Lucia Ramos, Product Manager, Horizontal Transportation at Kalmar, took participants on a guided tour of the new updates to the Kalmar AutoStrad™ Application. In this article we take a closer look at these exciting new features, which bring even greater flexibility to terminal operations.
Powered by the flexible and scalable Kalmar One open automation system, the Kalmar Automated Straddle Carrier application featuring the Kalmar AutoStrad™ is our proven solution for automating quay, stack and landside operations with a single equipment type.
"It's vital that any automated terminal system has built-in flexibility to support daily operational needs, and this means building in onboard and offboard solutions for auto-recovery, as well as providing the right tools for manual intervention when it's needed," Lucia explains.
Smart safety at the core
Kalmar's Smart Safety solution uses a safety-rated geofencing system, which means physical fencing is no longer needed to segregate interchange areas shared by terminal staff and automated equipment. Using geofencing also reduces the size of safety buffer zones. "This enables flexible area segregation, allowing efficient use of the valuable space within the terminal, and makes it easy to adapt the system according to local operational use cases," says Lucia.
The Kalmar Smart Safety solution meets all applicable safety standards in the US, Europe and Australia and is third-party approved by the classification society DNV.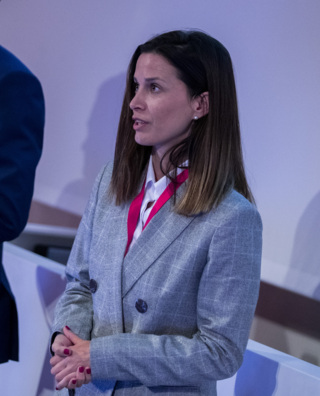 Fully automated backreach and portal operations
Kalmar is currently the only provider of AutoStrad™-type equipment that can offer fully automated operations in the backreach and portal areas with advanced features and has been delivering these types of projects for many years.
"With Smart Safety there is no need to add any additional infrastructure such as fencing inside the automated zone, and our AutoStrad™ application offers advanced features like twin and tandem formations for both loading and discharge operations," Lucia explains. "Our backreach lane management can stack containers to the same height as the AutoStrad™ equipment respecting the loading sequence, which helps to avoid STS idling by increasing the container buffer. We also support a standard open interface between the STS control system and Kalmar One automation system, and our intelligent routing accounts for hatch cover and STS spreader positions."
An extra layer of flexibility in the yard
The Kalmar AutoStrad™ application includes a range of key features designed to bring even greater flexibility and efficiency to yard operations by reducing delays and congestion while making optimal use of both space and equipment.
"We can offer efficient parking and temporary positions to reduce delays and congestion, as well as fleet-optimisation features so that schedulers can assign exactly the right amount of equipment to the right jobs. Our application also has the flexibility to react quickly to changing situations in the yard, modifications to the yard layout and even changes in the weather to ensure safe operation at all times," explains Lucia.
Automated truck handling completes the operational flow
Kalmar automated truck handling (ATH) uses a truck-lane laser measurement system that pinpoints the exact locations of the truck trailers' twistlocks and chassis, and then automatically feeds the measured target to the lifting equipment, be that a crane or a straddle carrier.
"With this functionality, we can offer fully automated container pick and place complemented with exception handling from a remote console. Our application is fully configurable to accommodate different truck grid layouts, chassis configurations and local operational use cases," Lucia points out.
Safe, direct reefer rack operations
Thanks to Kalmar's Smart Safety solution, interchange zones for transferring containers from automated to manual equipment for placing in the rack can now be safely eliminated, removing another layer of complexity from the operational flow. "We are able to pick and place containers in racks directly, and the reefer mechanics and other personnel can safely remain in the racks while the automated straddle carriers are operating, so resource flexibility is increased," continues Lucia.
Flexible remote exception handling
Exceptions are an inescapable part of any automated terminal setup, and Kalmar's answer is the ergonomically designed Kalmar Remote Console. "The console supports multiple equipment types and every aspect has been ergonomically designed to maximise comfort and support improved operator productivity. It can be located on-site or even remotely, which is a distinct advantage given the restrictions in place to help address the ongoing global Covid pandemic," Lucia explains.
Maximising equipment availability with battery energy management
"The battery management functionality for fully electric automated machines needs to guarantee not only that the equipment is available for the entire operational shift, but also that the battery lifetime is optimised," says Lucia.
"With Kalmar FastCharge™, terminals can optimise AutoStrad™ performance and energy consumption by closely integrating charging into the operative job execution. This is done through opportunistic charging at strategically located charging stations along the machines' working routes or in maintenance areas," Lucia concludes.
Interested in finding out more about the Kalmar AutoStrad™ application?
Register now to watch the full webinar today!