22 January 2021
Reading time 3 minutes
Reachstackers keep SŽ-Tovorni Promet rolling
The Slovenian state railway's intermodal transport provider has cited Kalmar reachstackers as a key component in its strategy to expand its business across central Europe.
SŽ-Tovorni Promet is responsible for the transport of intermodal shipments on domestic and international routes. Part of the Slovenske Železnice group, it provides comprehensive logistics services, such as devising interoperable trains and the manipulation of individual interchangeable units, in accompanied and unaccompanied combined transports across three container terminals at Maribor Tezno, Celje and Ljubljana Moste.
In addition to its domestic business, the company provides rail transport services in Austria and Croatia.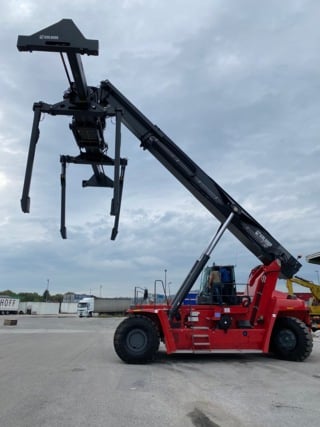 Roman Bricelj, head of the container terminal at Ljubljana Moste, explains that SŽ-Tovorni Promet's objective is to become one of the leading railway operators in the region. "Modern rolling stock and transhipment mechanisation, such as Kalmar reachstackers, is one of the prerequisites for achieving this goal," he says.
The company recently acquired a Gloria reachstacker DRG450-60C5 to be used at the inland container terminal in Celje. The new machine will be used for transhipment of containers and semi-trailers transported by train.
"We decided to purchase this reachstacker because we had only one other machine at our disposal at the container terminal," says Bricelj. "Having a second machine has enabled us to increase our capacity at the terminal and improve operational availability."
Maintenance for long-term support
The new machine was supplied with Kalmar Insight and a Kalmar Essential Care service contract. "The maintenance contract is of great importance to us as our reachstacker fleet consists solely of Kalmar machines," says Bricelj. "It ensures long-term, reliable support for our reachstackers."
SŽ-Tovorni Promet works closely with Slovenian service company Tagros, which is a 100% subsidiary of Cargotec, as Kalmar Austria. Kalmar Austria is responsible for the distribution of Kalmar products and service and spare parts supplies, as well as supporting partners, dealers and importers. In addition to Austria, the sales area includes the Czech Republic, Slovakia, Hungary, Romania, Bulgaria, Slovenia, Croatia, Bosnia-Herzegovina, Serbia, Montenegro, Macedonia and Albania.
Kalmar machines play a vital role in helping the company achieve its business targets
Sandi Rojc, Tagros Managing Director, explains that the company's three inland container terminals move approximately 125kTEU annually using seven Kalmar reachstackers and one terminal tractor across the three locations.
"We have been providing servicing support to SŽ-Tovorni Promet since 1994," he says. "They appreciate access to reliable equipment and prompt service."
Specifically designed for container handling
Gernot Steinbauer, area sales manager at Kalmar Austria with responsibility for sales of new and used Kalmar equipment, observes that while the contract with SŽ-Tovorni Promet stipulates a response time of 48 hours, in practice, the company responds within 24 hours and is also available on weekends and during holidays.
Bricelj says the main reason for choosing Kalmar machines is because the company is one of a very few in the European market that is able to offer machines specifically designed for container handling.
"The machines have proven to be reliable and have become an important part of our business," he says. "We are also very pleased to have an authorised service company in Slovenia to support us with maintenance."
He adds that Kalmar machines play a vital role in helping the company achieve its business targets by enabling it to perform all the functions required in today's logistics services market when it comes to manipulating interoperable units.
"With the purchase of this latest machine, SŽ-Tovorni Promet is well equipped to address the challenges that await it in the future," concludes Bricelj.