14 October 2020
Reading time 3 minutes
Kalmar's empty container handler with a checker device delivers efficiency, speed and safety
12 Empty container handlers for 370,000 TEU turnover per year
Super empty container handlers with a container checker protection system accelerate handling
HCS Hamburger Container Service GmbH, founded in 1978, operates the largest terminal independent container depot in Hamburg. Spread over 125,000 square metres, the depot profile includes the storage, cleaning and repair of empty containers, where large quantities of up to 14,500 TEU are stored on the extensive site in the Neuhof district. The container stock of large shipping companies is stored and managed at HCS: ninety percent of the boxes go by road, but rail and inland waterway vessels are also used by the 70-strong team. Various single-wagon transports and three block trains with 50 containers each go across the country every week.
In order to store and retrieve 1,000 containers and flat racks per day, high performance empty container handlers are used that can work up to 3,000 hours per year. Twelve empty container handlers and empty container reachstackers are in use.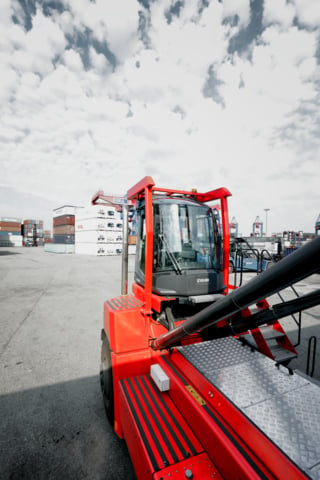 Dr. Roland Karnbach, Managing Director at HCS, pays close attention to the latest developments in technology, environmental compatibility and ergonomics. Kalmar has become a preferred supplier with three DCG100-45 ED 7/6 empty container handlers with a lifting height of 18,500 mm for handling up to 2 over 5 containers or stacking 7 plus 1 containers. The complex and technically sound development and implementation of the container checker protection system, a mechanical locking of the mast and spreader for inspecting the container from the underside, came about at the suggestion of Dr. Karnbach.
In February 2020, Kalmar delivered two new DCG100 empty container handlers. They are equipped with the container checker protection system developed by HCS. The system consists of two hydraulic powered mechanical blocking units with dual safety sensors that effectively prevent the spreader from lowering during the checking process. All driving, steering and mast movements on the empty container handlers are blocked for the duration of the checking process. Dr Karnbach and his team would like to develop the system to be safer, faster and more reliable, and the Kalmar team did just that. The automatic blocking system is activated now in less than 10 seconds, which is faster compared to other solutions. HCS operates two shifts from 6:00 a.m. to 8:30 p.m. daily that demands the utmost from its fleet.
That is why Tobias Zink, Sales Manager for Kalmar Terminal Business, working with customers, has put together an extensive list of comfort and safety features for the new 43 tonne heavy Kalmar empty container handler DCG100 (10 tonne lift capacity:
- Kalmar ECC; Electronic Controlled Climate system with powerful air-condition and cabin fine air filter
- Isringhausen 6830KA driver's seat with air suspension and heating
- A4 writing pad including reading lamp
- Efficient sun blinds on the front and roof windows
- 12/24 volt voltage converter with sockets in the driver's cab
- Radio with MP3, CD and bluetooth
- 12 x LED-lamps, mounted on cab roof, mast, mudguards and spreader (Hella Powerbeam)
- Reversing camera system in the counterweight, incl. 7-in cabin colour monitor in the cabin
- Engine pre-heating incl. cabin heating
- Acoustic warning signal when reversing
- Anti-slip coating on the tanks and fenders
- Compressed air horn
- Kalmar Insight; connectivity software tool for remote fleet management
- Automatic telescoping 20´- 40´ incl. 30´ stop of the spreader
- Safe container checker protection system
- Central lubrication system for the basic machine - Increased mast inclination / tilt (+4 deg / -5 deg)
- Solid rubber tyres from Continental SC20 range in dimension 14.00x24".
Empty container handler technology in detail
Empty container handlers have a complex requirement profile: lifting two to more than six in twin lift mode 2x20ft, 2x30ft and 2x40ft and in single lift mode 1x45ft, 1x48ft or 1x53ft of ISO containers, reefers and tanks at heights of up to 18 m, visibility for the driver, lighting. Traffic lights to indicate the twist lock, headlights and a particularly torsion-resistant lift mast for quick work cycles are features of all Kalmar empty container handlers. The empty container handlers are designed for work in all weather conditions, including at night when visibility is restricted.
The air-conditioned comfort cab EGO is mounted high on the rear counterweight, giving excellent all-round visibility of the 7m long machine and 20ft or 40ft wide of the containers. The DCG100 offers 10,000 kg lifting force µ at 1,220 mm LSP and is equipped with the latest emission approval EU stage V engine from Volvo, TAD-881-VE (Power 185 kW / Torque 1.160 Nm) and a Dana power shift transmission equipped with lock-up and the most modern Kessler front axle.
A one-piece welded chassis made of strong steel profiles with crossbars at the front and rear forms the extremely stable and well-balanced frame. This chassis construction guarantees greater torsional rigidity and a more even distribution of tension. The fuel and hydraulic tanks are hung separately.
The Kalmar side spreader extends hydraulically from 20ft to 40ft, with a large integrated sideshift +/- 600 mm and floating twist locks, each with 250 mm mechanical side leveling (pile slope). Safety barriers and lowering monitoring sensors ensure safe container handling. The load-sensing hydraulic system is both smart and efficient, has power-on-demand variable piston pumps for fast lifting, precise stacking and smooth steering. The hydraulics guarantee a great performance, high working speeds with low energy consumption and safe handling. Regulated pumps for the servo and braking system that work independently of one another ensure safe and efficient work. HCS chose Kalmar's unique ergonomic EGO joystick controls for improved functionality over conventional levers.
Using the Kalmar Insight fleet management system, customers and manufacturers can follow the machine's performance data online at any time, plan maintenance intervals and react quickly to any error messages.