26 August 2020
Reading time 5 minutes
A heritage of eco-efficiency in large container handling equipment
In many areas of logistics and cargo handling, the transformation towards electrification has only just begun. Kalmar's journey on this road started already half a century ago.
Eco-efficiency is the future of cargo and material handling, with new and more advanced technologies helping us do more with less. As ports and terminals around the world move towards improved energy efficiency and reduced emissions, electrification is the latest trend sweeping across the industry. Kalmar has a long heritage of eco-efficient and electrically powered solutions, with expertise in yard crane electrification extending back to the 1970s.
Over the years, Kalmar has invested heavily in developing electric, diesel-electric and hybrid solutions for cargo-handling equipment, and the company was one of the forerunners in hybrid technology over a decade ago. The development started from heavier, mains-powered cranes, and it has expanded step-by-step to cover the whole offering with an overall goal of an all-electric future. Also in mobile solutions, Kalmar was the first to introduce the light electric forklift in 1979, and today we are close to having also the entire mobile equipment portfolio available as electrically powered versions.
Here are some of the milestones on this continuous journey: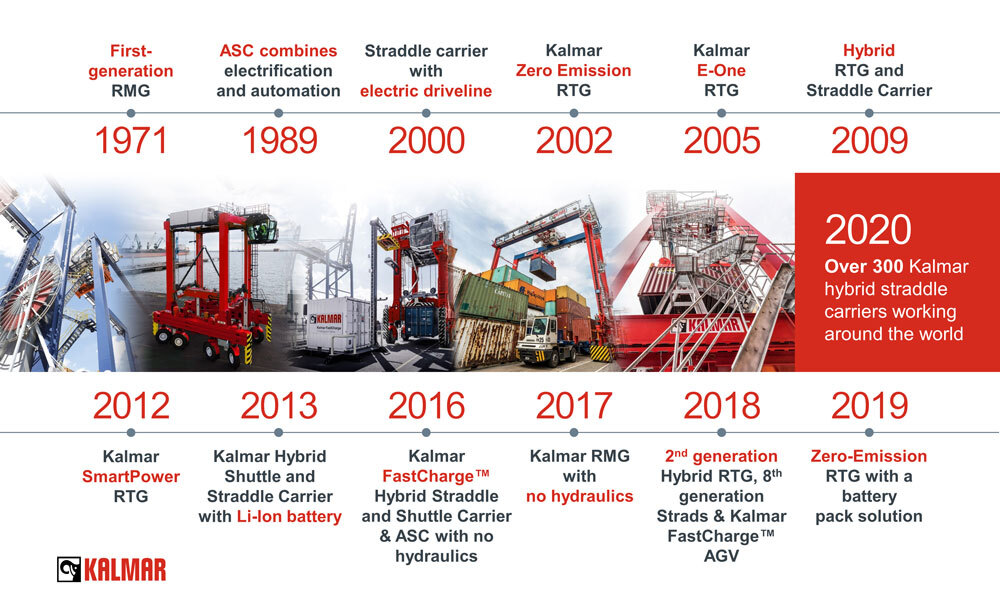 1971: First-generation RMGs
The early 1970s saw the introduction of the first Rail-Mounted Gantry Cranes (RMG) for container yards. The cranes were developed by a company called Nelcon that subsequently became part of Kalmar.
"RMGs have always been mains-powered, so they were able to bypass the usual step of diesel-powered operation," notes Mikko Asikainen, Product Manager, ASC & RMG, Kalmar. "In the 1970s, when these machines were first introduced, having a fully electric large yard crane was a very advanced concept, and the cranes were quite eco-efficient by design."
1989: ASCs combine electrification and automation
The next major advance in eco-efficient yard cranes came with the development of the Automated Stacking Crane in the late 1980s. The first ASCs were delivered by Nelcon in 1989. Like RMGs, ASCs are mains-powered by default, offering significant benefits in eco-efficiency compared to diesel-powered solutions.
2000: Straddle carrier with electric driveline
Kalmar's first electric-powered horizontal transportation machines were introduced as far back as 2000. The Kalmar Diesel-Electric Straddle Carrier featured an electric driveline that was extended in 2003 to electric hoist operation on the seventh generation of Kalmar Straddle Carriers.
2002: Kalmar Zero Emission RTG
In 2002, Kalmar delivered the world's first mains-powered Rubber-Tyred Gantry Crane (RTG) in Oslo, Norway. "One of the key benefits of the electric RTG in addition to energy and emission savings is minimal noise compared to diesel-electric solutions," says Marko Rasinen, Product Manager, RTG, Kalmar. "As a result, the first-ever zero-emission RTG was uniquely suited to the Port of Oslo, which is located right in the middle of the city centre."
2005: Kalmar E-One RTG
In 2005, Kalmar launched the Kalmar E-One RTG, which was the first RTG without any hydraulics. "Being able to omit the hydraulics enables significantly better energy efficiency in addition to promoting the overall eco-efficiency of operations with fewer fluids to be handled in maintenance. A few years later, in 2009, we introduced the next-generation E-One2, with an option for a Variable Speed Generator for even lower fuel consumption," says Marko Rasinen.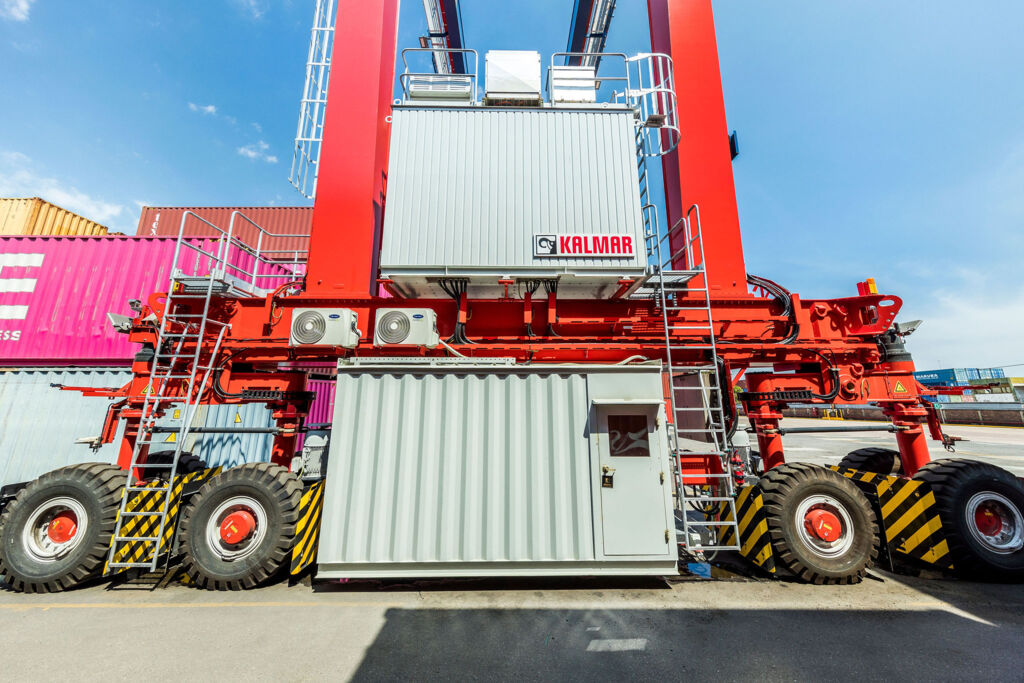 2009: Hybrid RTGs and Straddle Carriers
The end of the decade marked another milestone in eco-efficiency with the first hybrid technology deployed in heavy container handling equipment. In 2009, the first-generation Kalmar Hybrid RTGs and Hybrid Straddle Carriers were launched, using supercapacitors for short-term storage of electrical energy.
"We had already begun formulating our vision of a hybrid straddle carrier a couple of years earlier in 2007," says Mikko Nurmela, R&D Manager, Electrics, Kalmar. "Kalmar has always had the vision of adopting the most advanced solutions for eco-efficiency as soon as it's technically possible. In the early 2000s, supercapacitors were the technology of choice for providing an energy boost to support a smaller diesel generator set. With today's Lithium-Ion battery technology, we are able to reach even greater energy savings than with the supercapacitors of a decade ago."
2012: Kalmar SmartPower RTG
In 2012, Kalmar launched the SmartPower RTG, featuring an intelligent power management system that enabled the use of a smaller diesel generator with considerably lower fuel consumption and emissions than a traditional RTG.
"The idea behind the SmartPower concept is that the crane can flexibly optimise its operating speeds," explains Marko Rasinen. "This enables the crane to work with a smaller, more eco-efficient generator without compromising productivity."
2013: Kalmar Hybrid Shuttle and Straddle Carriers with Li-Ion batteries
In the early 2010s, Lithium-Ion battery technology had developed sufficiently to surpass the earlier supercapacitors as the optimum choice for short-term storage of electrical energy in hybrid-powered equipment. In 2013, the first Hybrid Shuttle and Straddle Carriers with Li-Ion batteries were introduced.
2016: Kalmar FastCharge™ Hybrid Straddle and Shuttle Carriers
In 2016, Kalmar announced the next pioneering innovation in container handling equipment with the Kalmar FastCharge concept. FastCharge is a cost-efficient, safe and scalable solution that eliminates the need for battery swapping while also cutting emissions. Kalmar FastCharge straddle and shuttle carriers can use opportunity charging at strategically located charging stations, avoiding any disruption to horizontal transport operations.
"The options for equipment electrification have progressed continuously from supercapacitors and hybrid machines to Li-Ion batteries and FastCharge systems," says Mikko Nurmela. "Every new generation of technology enables better and more eco-efficient solutions."
In 2016, Kalmar ASCs also became available as all-electric without any hydraulics. The following year, Kalmar RMGs saw the same updates with modern electric drive systems and energy-efficient components.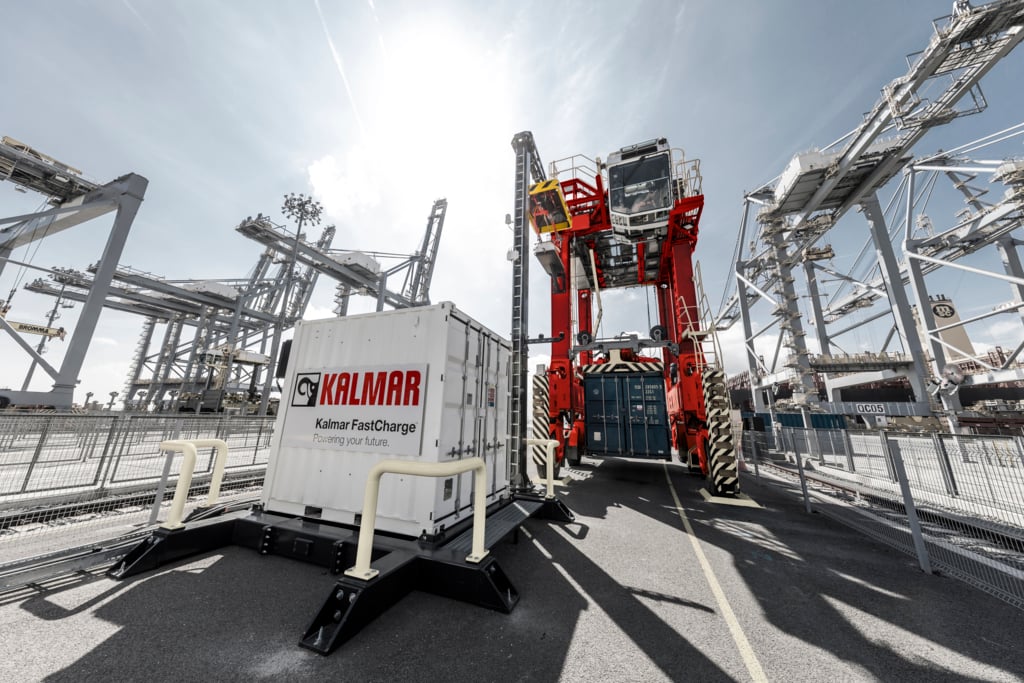 2018–2020: Electrification becomes the future
2018 saw the launch of the second-generation Kalmar Hybrid RTG as well as the latest (8th generation) Kalmar Straddle Carrier with new electrical components for harsh environments. Further extending the range of all-electric horizontal transportation equipment, Kalmar also launched the new eco-efficient Kalmar FastCharge AGV based on its proven automation platform.
In 2019, Zero-Emission RTGs received a major update with the release of a battery pack solution for stack changes and running auxiliary loads without any diesel generator on board.
As of 2020, Kalmar has over 300 hybrid straddle carriers working at all kinds of terminals around the world. Automation has become a primary driver for eco-efficiency, as it holds significant potential for improving energy efficiency in container handling.
Future trends
In the upcoming years, the measurability of eco-efficiency is expected to become increasingly important. "It's no longer enough just to state that our products are more eco-efficient than before," says Mikko Asikainen. "As ports and terminals adopt increasingly stringent eco-efficiency targets, solution providers and equipment manufacturers will need to gather real-time data to measure and demonstrate the energy efficiency of their systems."
Currently, there is a wide range of options for terminal equipment electrification. The choice of the best solution is not always simple, but expert services such as Kalmar's Terminal Design Services can support customers in choosing the optimum solution for their needs.
Mikko Nurmela estimates that terminal-level energy optimisation will be the next step in developing eco-efficiency at terminals. "Our large-scale power pack solutions are close to factory production. When combined with terminal automation, local energy storage will enable completely new ways of managing the energy usage of a terminal on a system level."
Looking back on nearly five decades of leadership in eco-efficiency, Kalmar's experts remain inspired by the future. "It's always been a question of having people with a commitment to doing things better in the right positions throughout the company," says Marko Rasinen. "In today's market, eco-efficiency brings competitive advantage, but it's also something personal that we work towards in our jobs every day."