9 May 2018
Reading time 3 minutes
Electrically powered terminal tractor set to energise US market
The launch of an electrically powered terminal tractor to the US market is the latest step in Kalmar's drive to offer a range of products that addresses growing customer demand for eco-efficiency as well as functionality.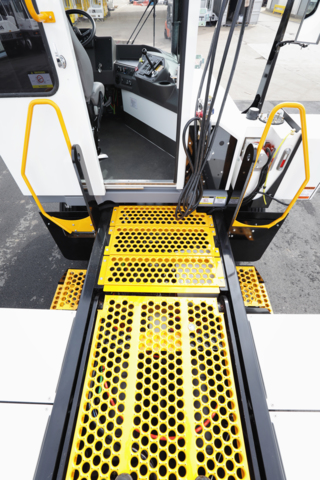 The range of work environments for which customers are demanding electrically powered vehicles is continually expanding. Kalmar has been working on the development of electrically powered machines for more than 30 years, continuously pushing the boundaries of the technology to develop products that offer similar operational capabilities to diesel powered machines but without the emissions.
As with its other electric-powered machines, Kalmar's new terminal tractor has been developed to offer a clean alternative for any application where a diesel powered machine is currently used without the need for the customer to compromise on performance or productivity.
This is one of the key initiatives across the Kalmar product offering, says Gina Lopez, VP Terminal Tractors. "We see the sustainability megatrend rapidly accelerating and we want to have a comprehensive set of solutions that meet this customer need."
This is the first commercial electrically powered terminal tractor offering from Kalmar, she explains. "Though we have been working in the hybrid and electric sector with development projects for more than a decade, we now have a product offering that has performed in a variety of rigorous terminal tractor applications."
More use equals quicker payback
Running costs and payback period vary by application and operation – the cost of electricity is an obvious factor in this calculation – but in simple terms, the more the tractor is used the quicker the payback. Having access to a renewable power source such as solar will considerably increase the return for the customer.
Feedback from operators who have tested the electric terminal tractor is that it is quieter than the diesel equivalent and the absence of exhaust fumes makes for a cleaner working environment. They have also found the electric motor to be very responsive since it effectively delivers on-demand power.
The machine was introduced to Kalmar dealers at a dealer meeting in early May and Lopez says there is considerable enthusiasm for the new terminal tractor's potential in a number of different environments.
Market is picking up especially in the US
"Port customers - where emissions regulations have been tightened – are an obvious market," she says. "But we also see increasing opportunities with long-standing distribution customers. We believe the electric terminal tractor product offering will open up new markets for us not only geographically but also with new applications. Customers with their own power generation capability are especially interesting."
US customers in particular are increasingly demanding more environmentally friendly machines and the Californian ports have taken a lead in this respect by setting a target of having fully electric fleets by 2030.
The US Environmental Protection Agency (EPA) has established a ports initiative to 'develop and implement environmentally sustainable port strategies [to] identify opportunities and find solutions to create healthy air quality in communities and reduce climate risk, while supporting jobs and the economy'.
Funding has been made available to support the replacement of diesel non-road engines, equipment or vehicles used in handling of cargo, including at ports or airports.
While the US has been at the forefront of promoting eco-efficient solutions for environments such as container ports, Lopez says the company also sees opportunities in other markets where noise and pollution concerns have accelerated customer interest.
"This is the first step in electrifying a comprehensive terminal tractor product offering that will lay the foundation for its roll-out across the portfolio," concludes Lopez.