22 May 2018
Reading time 4 minutes
Are you ready to be fully electric by 2021?
Last week, Kalmar announced that our full offering will be available as electrically powered versions by 2021. Why have we taken such a leap with our entire product portfolio? Because the industry demand is there, and it's growing much faster than anyone could have anticipated only a few years ago.
Right now, the strongest demand for all-electric container and material handling solutions is coming from forward-looking customers in several different markets. Simultaneously, the development of these solutions is accelerated by numerous regional and state initiatives around the world, many of which – such as those in California – are highly ambitious and are being implemented very rapidly. The world's leading suppliers of engine and driveline technology have taken notice, and they have been eager to partner with Kalmar and other equipment manufacturers while investing rapidly in electrification.
The future is electric
The future is electric, for machines of all sizes. Diesel-electric hybrids served admirably as an interim solution in boosting eco-efficiency, but they will soon be surpassed by electrically powered models in both performance and economy. Today, we are still busy installing the latest-generation Stage 5 diesel engines in container handling equipment, but these will be some of the last diesels we will install on new equipment, anywhere.
So, what will this really change? Pretty much everything.
The shift to electric will have major implications for the infrastructure of cargo and material handling operations. Moving to electrically powered equipment will require careful planning to minimise the impact on operations, and the end result should obviously be the same level of performance – or better – than with diesel-powered solutions. The switch will also bring about a major shift in the competences required for maintenance of the equipment.
Whichever direction the development takes, some kind of power and charging infrastructure will be needed. This affects not only the technical systems at the customer site, but even the entire operating model. Battery technology is developing so fast that for this reason alone operators may find it appealing to move towards performance-based solutions that leave the responsibility of managing the infrastructure with a trusted partner, instead of having to invest in the technology themselves.
Rertofit made easy
One of the great things of the shift to electric driveline technology is that it can also enable upgrades to existing fleets. With modular, futureproof design, it will be possible to retrofit diesel-powered equipment that is still in the middle of its lifespan to fully electric drive. At Kalmar, we have been leading the development in electrifying container and material handling equipment for more than a decade, so we have a lot of experience in this discussion and can help our customers work through the challenges and opportunities that electrification presents.
It's still a beginning
Despite its great potential, going electric is only one step in a larger future roadmap. Automated and driverless systems are the ongoing next phase in the evolution of cargo and material handling, but electrification forms the basis for their adoption too. Likewise, the transformation brought about by digitalisation is a reality today. We already have close to 5,000 mobile equipment machines connected around the world, providing data that helps our customers improve their terminal performance and service offering. Yet we are still only scratching the surface of the value that we can offer over the years to come.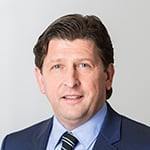 The electric future is coming so fast that the discussion of how and when to accomplish this transformation needs to start now. In three years, we will look back at 2018 and see a moment when the industry took a decisive step in a new direction. What will the field look like then? Most importantly, how can we, and our customers, prepare for this journey – right now?
Dan Pettersson
Senior Vice President, Mobile Equipment, Kalmar