14 November 2017
Reading time 3 minutes
Kalmar adds muscle to electric forklift range
The spectrum of work environments where customers are demanding electric powered vehicles is steadily growing. Kalmar has responded to this need by extending its range of fully electric forklift trucks.
Kalmar has an excellent track record in electric forklift truck development stemming from the 1980s. Until now, the focus has been on machines with a 5-9 ton lift capacity, but advances in battery technology have facilitated the introduction of medium-range forklifts with a lifting capacity of up to 18 tons suitable for both indoor and outdoor use.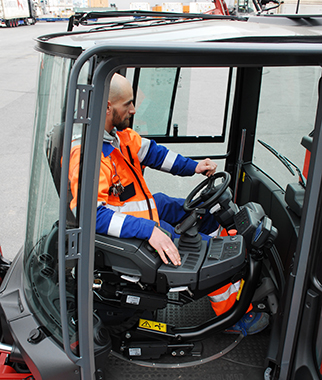 The new, fully-electric ECG90-180 forklift trucks have been developed to offer an alternative for any application where the customer is currently using a diesel powered forklift without compromising performance or productivity, as David Malmström, Business Development Manager Kalmar Forklift Trucks, explains.
"We have experienced increased demand across our customer base for electric powered vehicles. Customer feedback on the 5-9 ton machines shows companies operating in the paper and wood industries find them particularly useful as they tend to have large indoor warehouses where a quiet, emission-free machine is more suitable."
Environmental factors driving the demand
The new medium-range fully electric forklifts compare very favourably to their diesel equivalent in terms of running costs, especially in markets where energy prices are relatively low and stable. Bans on the use of diesel vehicles, which a number of US states are planning to introduce, are likely to further boost interest.
"Demand is based on environmental factors, such as removing emissions, as well a need for a machine that can be used inside without affecting the work environment for employees or creating emissions that could contaminate the goods being handled. The latter is a major consideration for food and pharmaceutical companies in particular," says Malmström.
Fast payback time
While the upfront cost of the electric powered machine is a little higher than the diesel equivalent - mainly because of the cost of the batteries – Kalmar estimates that on the basis of 2,500 operating hours per year, payback can be achieved within 24 months.
Payback can be achieved within 24 months.
"Many of our customers run their machines for more than 2,500 hours per year. Running costs in terms of electricity charges compared to the costs of fuel and maintenance for diesel machines are around 50% lower due to the fewer components and fluids that need to be changed," says Malmström.
The new machines also enhance the operator experience as they are almost completely noise-free. The electric engine allows the operator to adjust the accelerator speed to suit the application, and since it delivers full torque almost immediately, it moves more quickly initially and is, therefore, more productive for applications such as pallet loading where the machine moves relatively small distances in each direction.
The first customers for Kalmar's new fully electric medium-range forklifts will take delivery of their machines in early 2018