24 January 2017
Reading time 3 minutes
K-Motion exceeds customer expectations
K-Motion is playing a vital role in maximizing container transfer efficiency at New Zealand's largest port with impressive reductions in fuel costs and equipping stevedores to meet future volume growth.
Quality Marshalling is a stevedoring contractor owned by The Port of Tauranga, New Zealand's largest port by volume of cargo with 954,000 TEU and 18 million tonnes of general import/export cargo handled in the last fiscal year.
The company is contracted to The Port of Tauranga, KiwiRail and Fonterra to manage the container transfer site at Tauranga Container Terminal, a 24/7 operation that strips and loads containers at the rail sidings within the terminal. Quality Marshalling completed 307,000 container lifts over the last 12 months.
Quality Marshalling is also contracted to Timaru Container Terminal at Prime Port Timaru to manage terminal operations including receivables & dispatch and vessel discharge/loading. The Timaru terminal handled 84,000 TEU in the last fiscal year.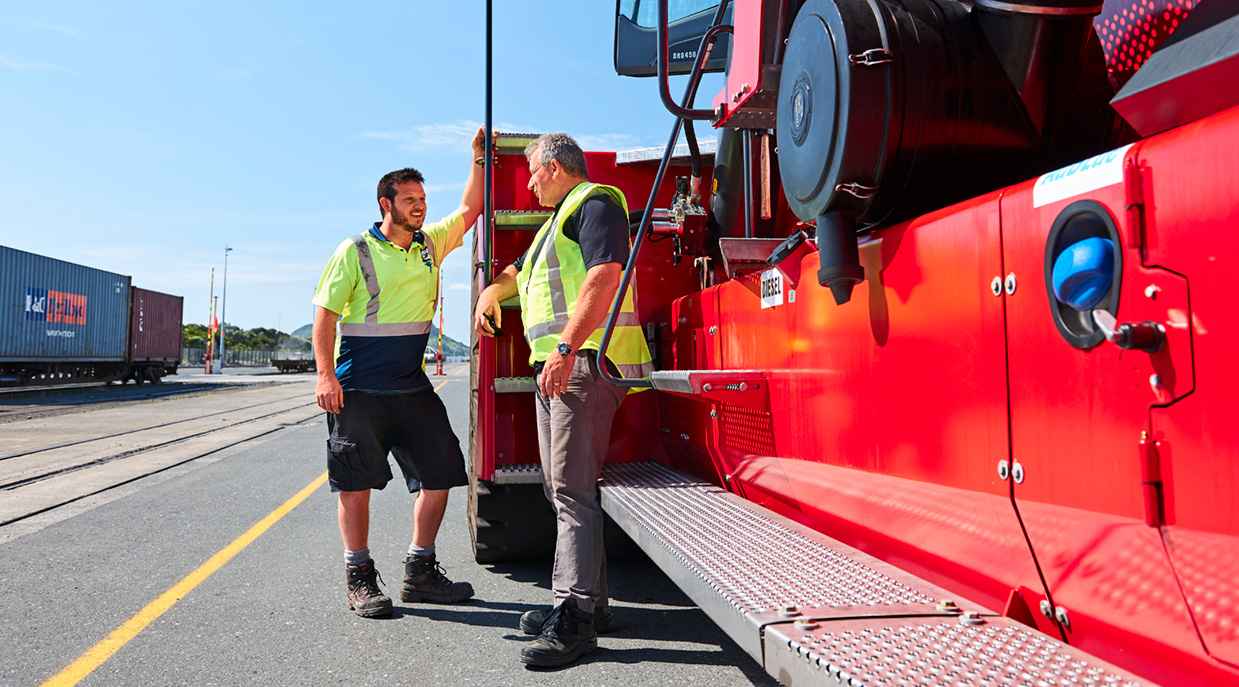 Future growth capacity
Following the completion of a $350m (€230m), five year investment programme, The Port of Tauranga has the capacity to continue to grow freight volumes for the foreseeable future and relieve constraints emerging elsewhere in New Zealand's port infrastructure.
"We need to ensure that our machinery is safe, efficient and reliable in order to meet service and timeline expectations set by the ever expanding container terminal," explains Shayne Jenkins, General Manager, Quality Marshalling. Dredging to deepen and widen the port's shipping channels means The Port of Tauranga is the only port in New Zealand capable of accommodating Maersk E Class vessels, the first of which, Aotea Maersk, berthed on 4 October 2016.
In February 2016, Quality Marshalling placed an order with Kalmar's New Zealand regional dealership AB Equipment for two Kalmar Gloria reachstackers equipped with the new K-Motion drive train system.
"We have been using Kalmar equipment for the last two years and we have an established relationship with AB Equipment, so when we heard about the new reachstackers with K-Motion technology and deliverable benefits, we were immediately interested," says Jenkins.
Quality Marshalling operates two DRT450 reachstackers and a DCF 100 empty container handler at Timaru. Kalmar machines in use at The Port of Tauranga include a DRT450 reachstacker, a DRG450 reachstacker and a number of Ottawa terminal tractors.
Fuel monitoring retrofit
Ian Price, Business Development Manager, Mobile Equipment Kalmar Australia notes that Quality Marshalling has two new Kalmar terminal tractors on order. In addition, AB Equipment is retrofitting Kalmar's SmartFleet remote equipment monitoring and reporting solution to Quality Marshalling's other reachstackers to enable detailed measurement of their fuel consumption and emissions.
The decision to purchase the Gloria reachstackers with K-Motion technology was reached following a procurement process during which other suppliers were also invited to submit proposals and costs.
Quality Marshalling initially considered acquiring an additional DRT450 in Tauranga, explains Price. "The existing DRT450 had been operating successfully for around 14 months, but when it became clear that the K-Motion system could help reduce fuel consumption by up to 40%, Quality Marshalling started to examine the technology in more depth."
K-Motion technology, improved ergonomics and handling features were the key drivers for the acquisition of the Gloria reachstackers, recalls Jenkins. "We were looking for reduced fuel consumption per hour of use and improved operator comfort and controls, as well as environmental benefits, such as lower emissions and reduced operating noise."
Fuel savings exceed expectations
The saving in fuel costs is exceeding Quality Marshalling's expectations, with the Gloria reachstackers with K-Motion technology consuming less than 14 litres per hour. "To put that figure into context, other similar machines, including the DRT450, are consuming between 18 and 20 litres per hour," says Jenkins.
As a demonstration of its confidence in the K-Motion system, Kalmar Equipment Australia has provided a fuel usage guarantee stating that the machines will not consume more than 15 litres per hour under normal conditions.
Feedback from the operators has also been positive, says Jenkins. "They particularly appreciate the stability of the machine, the ease with which the electric arm rest and steering column can be adjusted, and the positioning of the mirrors, as well as features such as wide walkways/steps and a smaller steering wheel."
Price notes that at one site with a K-Motion unit, the younger operators arrive early to make sure that they can use the machine rather than an older unit.
Quality Marshalling's General Manager is equally complimentary about the partnership with AB Equipment. "They have been very professional and supportive not only through the commissioning stage, but also with ongoing back-up and service," he concludes.
To ensure customers get the most from K-Motion, Kalmar Training Academy - the global technical training department for Kalmar mobile equipment - has designed a number of courses to help technicians and machine operators optimise performance and maximise fuel savings. For more information or a quote contact your local Kalmar support team.
Text: Paul Golden, Photos: Wayne Tait