15 August 2017
Reading time 3 minutes
Fits like a glove
Pekka Kiili takes charge of the new Kalmar ESC440 electric straddle carrier.
Time for a break! Pekka Kiili, a straddle carrier driver at the Port of Kotka, has just finished a shift of two hours and sixteen minutes at the controls of a brand-new Kalmar ESC440 electric straddle carrier.
"The ergonomics are better than in the old machines. The controls and user interfaces are also positioned very well," says Kiili, who has been happy with Steveco Ltd's newly acquired straddle carriers.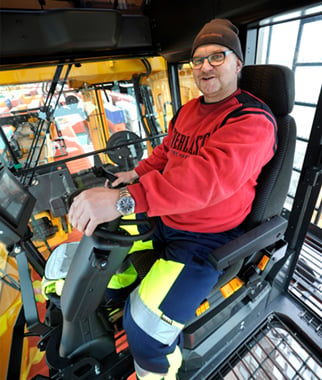 The terminals of Mussalo and Hietanen in Kotka, Finland, recently took delivery of four new Kalmar straddle carriers, ten terminal tractors and four eight-ton forklift trucks. Additionally, Steveco's subsidiary Saimaa Terminals received two new 18-ton forklifts in nearby Hamina. The extensive equipment upgrade enhances the availability of the port's equipment, ensures maximum productivity and enables improved sustainability of terminal operations.
"It was great to get into the brand-new straddle carrier for the first time and tear the protective plastic off the seats. The better the machine, the smoother the work goes," says Kiili.
Practice makes perfect
Towering 17 metres over the quayside, the Kalmar ESC440 electric straddle carrier has its cabin at a height of just over 15 metres. Kiili admits that he is still perfecting his skills in handling the new machine. "The view down is quite different between various models. Using the straddle carrier also involves learning some new software."
The Mussalo container terminal in Kotka uses straddle carriers to move containers to and from the quayside, transport containers to storage facilities within the terminal, and for road truck loading. The new straddle carriers are four-high stackers, which means they can move and place containers over a stack of three containers.
"It takes two or three weeks to get the feeling that the new machine really fits your hand," says Kiili.
Major emissions reductions
The oldest straddle carriers at the Mussalo terminal are already over 20 years old. "We are still using these machines daily, though to be honest they have become slightly outdated. The new straddle carriers help improve the continuous availability of the terminal," notes Kiili.
"The better the machine, the smoother the work goes."
In addition to Steveco and its subsidiary Suomen Satamatekniikka, which operates the straddle carriers, the significant equipment investment also benefits port customers and the machine operators.
"The new machines are safer, and now there are hardly any noise issues when we are working," says Kiili, who also appreciates the eco-friendliness of the new machines. "A urea solution is used to reduce exhaust byproducts to water and nitrogen, which significantly cuts emissions."
Pekka Kiili (57)
Port equipment driver, Steveco Oy, Kotka, Finland

Lives in the village of Huutjärvi, Pyhtää, near Kotka
Worked as a stevedore since 1981; for the last 12 years as crane operator, straddle carrier driver and trainer.

Hobbies: volunteer fire department work and ice hockey