50 minutes
No more unnecessary stops! Did you know that the safety positioning in automated yard cranes provides flexibility for your operations while ensuring employee safety? This safety rated feature is just one example of how automated cranes can help you continue handling containers by safely segregating an area where people need to move.
It's an often repeated phrase that safety and automation go hand in hand. But how exactly do safety features help you ensure smooth operations? You're warmly welcome to join our webinar on 22 October, where we will walk through the recent industry trends and legislative regulations related to automation and safety, and give concrete examples on how you can make the most of the safety features available for your terminal while ensuring smooth operations and high customer satisfaction.
In this webinar you will learn:
How automation safety connects customer needs, legislative requirements and safe working environment.
How Kalmar involves our customers into designing safer terminals.
How to make container handling equipment safer without compromising productivity.
The webinar aired originally 22 October.
Your webinar hosts
Reetta Jokinen, Senior Safety Manager has been with Kalmar since 2008. Reetta has focused on Product Safety and Standardization throughout her career. Currently she is leading Kalmar's Automation Safety and Standards team that focuses on ensuring safe customer operations especially in automated terminals. During her Kalmar career Reetta has been the Safety Manager in many Automation Projects around the world. Reetta is also a member of the National Machinery and Crane Standardization committees and has CMSE (Certified Machinery Safety Expert) Certification.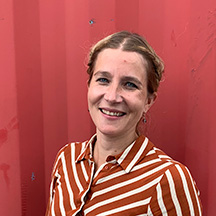 Oskari Tähtinen, Product Safety Engineer is responsible for identifying and managing safety requirements and functionalities of Kalmar crane products. Oskari has a background in machine automation and experience on leading the safety work of various different automation projects. During his career at Kalmar he has specialized in the technical aspects of implementing safety functionalities in accordance with international standards.