11 November 2021
Reading time 4 minutes
Kalmar Expert Roundtable, part 3: How to evaluate the cost-saving potential of eco-efficiency investments
In this final part of the Kalmar's LinkedIn Live roundtable discussion, Timo Alho, Jason Gasparik, Christopher Saavedra and host Pilvi Tähtinen-Sfakiotakis go over the practical steps that terminal operators can take when evaluating various equipment options and beginning their eco-efficient journey. Read part 1 and part 2 of the discussion.
As you pointed out in this discussion, investments in eco-efficient solutions are complex projects that must not only address stakeholder requirements but also present a compelling business case for the terminal. How can terminal operators evaluate the cost-saving potential of these investments? What needs to be taken into account when comparing different equipment options?
Christopher Saavedra, Manager, Terminal Design Services, Kalmar: If you are a traditional RTG terminal running on conventional diesel engines, you basically have two options. You can go into a hybrid solution. You will certainly reduce your fuel consumption due to the smaller engine and also reduce your CO2 emissions. Or you have the road to a full electric solution that can be based on a busbar or cable reel design, this road will enable zero local emissions. It all depends on your way of working, investment limits and environmental targets.
Obviously, once you make this business case, it again depends on where in the world you're located, because you need to factor into your business case the full electricity costs, the grid, and all these other items that need make sense. So that's why there is never a "one size fits all" solution.
Timo Alho, Director, Product Management, Kalmar: You just need to put the numbers side-by-side. Calculate all the scenarios using your parameters. Then you can start to think, what would change if instead of diesel power, I would run the same operation with hybrid machines? Getting a rough number is quite easy.
Jason Gasparik, Director of Sales, Ports & Terminals, Kalmar: Take maintenance as an example. A conventional diesel-electric strad has a 13-litre engine in it. A hybrid has a 4.5-litre engine, so that engine is literally less than half the size, and it runs approximately half the amount of time compared to a conventional straddle carrier. So it's burning significantly less fuel. And, when you do preventative maintenance, the smaller engine uses half the amount of oil, and the oil change interval will be twice as long.
If you start doing this math, you find some low-hanging fruit very, very quickly, and you can add up some pretty substantial cost savings on just the maintenance. And this is just the diesel engine – we're not even talking about all of the other spare parts and the electrical components that last much longer than, for example, hydraulic pumps. So the maintenance cost savings are quite considerable.
You know, we sometimes kind of put sustainability into this little box of electric batteries, right? Like, my car or my machine runs on a battery, so I'm sustainable, wow. Well that is kind of right, but it's not the whole story. There's much more to this than just putting batteries into a piece of equipment. Sustainability is also about using less oil on a less frequent basis. So you're creating less waste that we need to figure out where to put it.
But as Chris said, don't try to solve it all with one silver bullet, because it's impossible. It's a journey that needs to be mapped out. You're not going to have all the answers today, but you can at least start, address some smaller items right away and start moving forward on the journey.
Christopher Saavedra: One more point is that there are very few greenfield terminals projects worldwide. Most of the projects are brownfield terminals, which is a totally different challenge. And it's very challenging due to the current footprint, ongoing operations and many other factors.
Sometimes the customer will say they have a really high utilisation in their yard, so there is no way they can pull out a piece of it in order to revamp the whole infrastructure, so we need to find a way to do it together and be as less disruptive as possible. That's why I always say this is co-creating a solution. Both sides are learning during this process.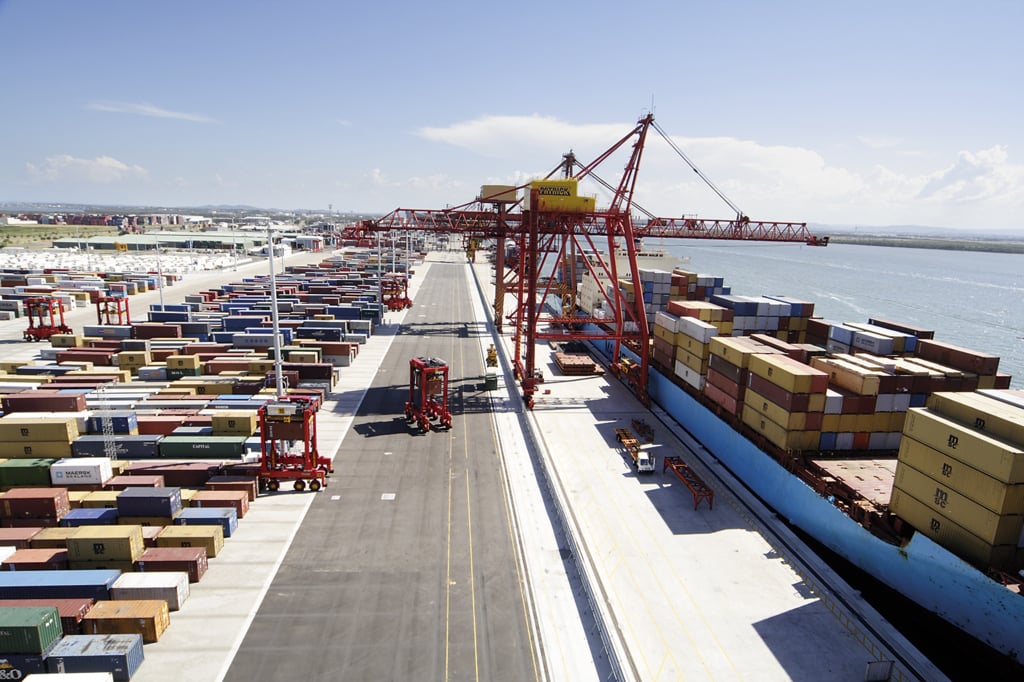 How can terminals actually get started on this journey towards more eco-efficient operations?
Jason Gasparik: I'd like to believe there is a solid reason why 50% of our straddle and shuttle deliveries over the last several years have been hybrids. First and foremost, people understand that they don't need any special infrastructure to deploy these machines. There is a return on investment right there. Sometimes the ROI is accelerated due to grant funding and things like that, but it's there and it makes sense. And this relates directly to the next concept, which is that for RTGs, strads and shuttles, if you go from a diesel-electric to a battery hybrid, the next logical step in the journey will be all-electric.
The great thing about a hybrid is that you can equip that machine now with certain components so that the conversion to all-electric in the future will make more financial sense and be more economically viable. It's easier to do because the machines are already equipped with certain pieces and parts to enable that future move.
Chris works with some customers on the terminal development side who may already be building or planning a terminal with some FastCharge stations in certain areas, but they're not actually deploying those stations today. Now, they might be using them maybe 10 years down the road, whereas we could deliver the strads and shuttles and cranes today with certain components in them. So that in two, three, five years down the road, when the move to all-electric becomes timely, you don't have to invest so much in the machines themselves in order to convert them to all-electric.
So it's really about proper planning. I might spend a little bit of extra money right now, but if it helps me significantly down the road in this journey and the move to all electric, it will make a lot of sense to invest now to be futureproofed.
It's similar to what we've been talking about on the AutoRTG side of the business for many years. Typically, you first start with remote control, then you move into some supervised moves, and there's this stepwise journey towards higher automation levels. You could do the same thing when it comes to moving from diesel electric to battery hybrids, to full electric. You can very easily run a mixed fleet if it's planned and thought out properly both on the machine side, as well as in the infrastructure aspects.
Timo Alho: I think it's very important to repeat that this should be seen as a journey, where you set the target and analyse where you are now, and then start step by step towards that goal. Because it might be that the first step may not have an immediate financial payback. You might need to make additional investments in infrastructure or something like that. But the further you go, then the more it will pay back, because all your equipment is starting to use that infrastructure that you've invested in once.
This is also why you can't think of this as being only about buying equipment. Every step needs to make sense, but together they will form the future state towards which you are moving.
Kalmar offers a ten-day terminal design sprint service, which is a tailored feasibility study that examines the options of electrification and automation deployment for your terminal. To learn more contact Christopher Saavedra directly at christopher.saavedra@kalmarglobal.com.