11 March 2021
Reading time 5 minutes
Yard crane solutions that span every intermodal need
The intermodal business in Europe and the US is booming, and Kalmar's yard crane solutions have been moving cargo between ships, trains and trucks for over five decades. How do we help customers to make every move count in this diverse and critical part of the global cargo value chain?
Whether moving around on rubber tyres or on rails, Kalmar's flexible, eco-efficient yard cranes can be seen in operation at all different kinds of intermodal and rail terminals. These terminals handle everything from containers to semi-trailers, tanktainers and more. They vary massively in terms of their size and mode of operation. Many include a rail yard, some might also be located along a waterway and handle cargo from barges too.
A long history of making every intermodal move count
The predecessor to today's rubber-tyred gantry cranes (RTGs) and rail-mounted gantry cranes (RMGs) – the mobile gantry crane (MGC) – was Kalmar's first product specifically developed for the intermodal market market. In fact, the first ever MGC delivery was to an intermodal customer way back in 1968, for transferring containers between trains and trucks.
Kalmar's first RTG cranes were introduced in the late 80s to address the limitations of the MGC in terms of span width and lifting height. Depending on their mode of operation, this enabled intermodal terminals to expand the number of truck lanes, railway lines or container stacks under the crane's span, boosting their throughput capacities.
Yard crane solutions for every mode of operation
"We've been delivering cantilever RMGs to intermodal terminals since the 1970s, and our latest-generation, automation-ready RMG was introduced in 2017," explains Mikko Asikainen, Product Manager, RMG/ASC at Kalmar. Kalmar's RTG cranes are serving a wide variety of different applications at intermodal terminals and railway hubs in Europe and the US. These include railhead cranes, which move containers between trains and trucks. These cranes typically require a very wide span covering several railway tracks and often a truck lane too.
RTGs can also be used purely for stacking duties in the yard, similar to how they are typically employed in seaports, with a truck lane and several container rows under the crane's span. "Another common application combines these modes of operation, with the crane spanning railway tracks, container stacks and a truck lane all at once. In this case the crane is moving containers between trains and trucks, stacking them in the yard and loading them back onto trains or trucks," says Marko Rasinen, Product Manager, RTG at Kalmar. "We have delivered wide-span RTGs and RMGs for these types of applications to a variety of intermodal customers around the world."
"It's important to remember that in the intermodal world it's not all about standard ISO containers," says Kaarlo Veräväinen, Sales Director at Kalmar. "In North America Kalmar's yard crane solutions are commonly configured to handle wide twistlock position (WTP) containers, while in Europe pallet wide containers are a typical sight. When lifting loads on and off trains, the crane needs to be able to rotate the load 180 degrees – another specialised functionality that we can offer. Lastly, the special loads that intermodal terminals might need to handle, such as semi-trailers can be heavier than standard containers and therefore might require a crane with a greater lifting capacity. Our offering also takes this into account," Kaarlo explains.
Which solution is right for my terminal?
RMGs can be fitted with a rotating trolley and RTGs with a rotating spreader, enabling them to serve rail lines. RMGs can include cantilevers, which make it possible to position, for example, truck lanes outside the crane span area. This increases safety and saves time by removing the need for trucks to cross the gantry travel path.
RTGs are a good choice when an intermodal terminal needs operational flexibility. For example, an RTG's wheels can turn 90 degrees when the crane needs to move to a different working area. This capability is very useful for quickly moving cranes performing stacking area duties from one container block to another, for example.
Another consideration is infrastructure investment – while it may be the ideal or indeed only choice in many applications, an RMG requires solid foundations for its rails while an RTG's load is spread across up to 16 wheels, meaning the ground pressure can be quite low and it therefore requires less complex civil works in the yard.
In terms of drive options, RTG cranes are available in diesel-electric, fully-electric and hybrid configurations. Electric drivelines typically provide a very cost-efficient solution for terminals and come with the added advantage of zero emissions.
Eco-efficient, flexible and customisable
Kalmar has been successfully serving the intermodal market for over 50 years with its yard crane solutions, which today provide the high levels of flexibility needed in these types of applications. In terms of driveline options, our eco-efficient RTG range includes both hybrid and fully electric options that help terminals to cut emissions, noise and operating costs.
"What sets our RTG and RMG offering for intermodal customers apart is that we have developed our RTG and RMG platforms to take into account the needs of the intermodal segment. They combine the high level of flexibility that intermodal operators need and the possibility for customisation according to the needs of each individual terminal," says Kaarlo. "Our RMG offering covers the full range of crane functionalities needed in intermodal applications as well as a complete automation portfolio to help terminals improve efficiency and increase safety," Mikko highlights.
"Our RTG offering is no different, with the opportunity to fully customise the crane's physical dimensions, optimise its weight, and include the required functionalities for the application in question," says Marko.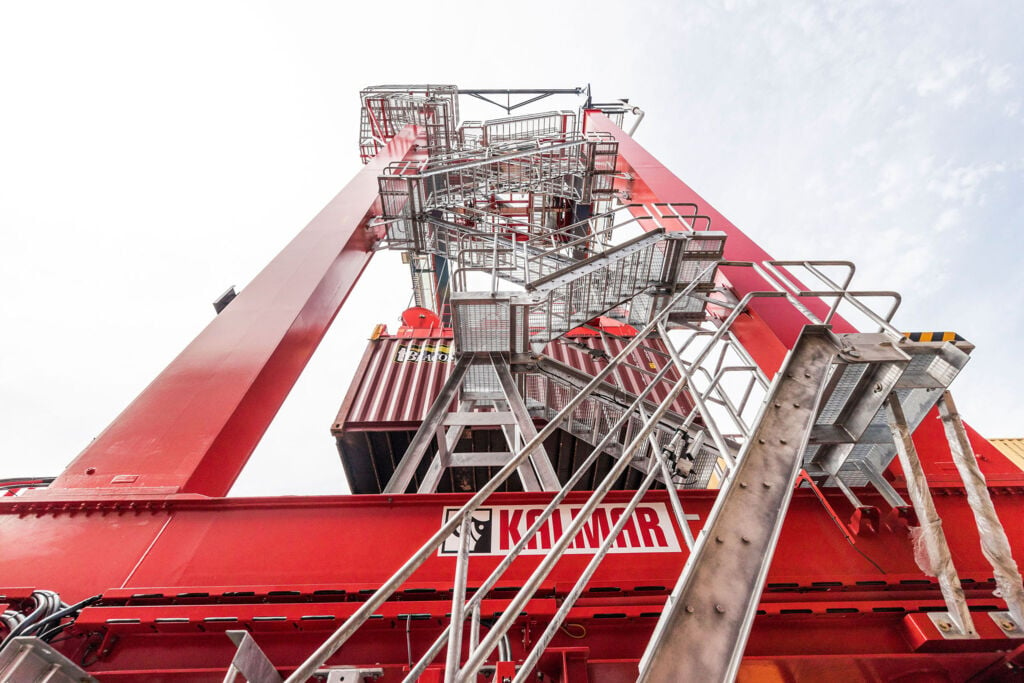 Automation ready solutions
As an industry leader in automation solutions for cargo-handling equipment, Kalmar is well placed to assist intermodal operators who are looking to implement some degree of automation in order to improve the safety and efficiency of their operations.
"We offer automation modules for both our RTG and RMG platforms, and we are involved in ongoing projects that feature, for example, remotely operated and automated RMGs," explains Kaarlo. Intermodal operators seek proven, reliable solutions that are low risk and offer a quick return on investment. "This is where standardisation with modular concepts like the Kalmar One automation system can help," Kaarlo continues. Kalmar also offers a variety of process automation and operator assistance features for its yard-crane solutions.
Regardless of the operational model, in the intermodal market the key to success is maximising capacity and throughput – safely, intelligently, efficiently and optimally. "We believe that our flexible yard crane offering answers all these needs", the team concludes.