20 May 2021
Reading time 4 minutes
Kalmar training services – raise your people and your assets to new heights
The assets you invest in are only as good as the people who operate and maintain them. Whatever kind of equipment and systems you operate, comprehensive training from Kalmar's dedicated, experienced team can help you increase safety, improve efficiency and cut your operation and maintenance costs. In this article, we take a closer look at Kalmar's broad training offering and the people behind it.
"I love that moment where you can almost see the lightbulb going on above people's heads when they work out how to solve a problem or understand a concept together," says Kimmo Forsman, Manager, Training & Documentation at Kalmar.
Kimmo heads up Kalmar's training services function, a close-knit team of highly experienced experts whose job it is to help Kalmar's customers get the very best from the equipment and systems they have invested in – and the people who operate, maintain and manage them.
Training is a crucial part of the process that ensures that customers know how to use Kalmar equipment and systems correctly, efficiently and safely. Kalmar's training services cover the full range of products and solutions it manufactures and delivers to customers.
Training ensures that customers know how to use Kalmar equipment and systems correctly
"When a customer purchases a piece of equipment or a system, our job is to plan, prepare and deliver all the mandatory training that they need to operate and maintain it," Kimmo explains. "We also want to keep up a dialogue with the customer so we can identify how to help them to maintain the right level of competence going forward, as their needs change and their operations evolve."
Kimmo explains that the training function provides training for customers on the Kalmar equipment and systems they purchase, internal training aimed at enhancing the competence of Kalmar personnel, and separately arranged customer training courses on request.
A comprehensive training portfolio
The training courses offered by the team at Kalmar cover the following areas:
Automation training

focuses on Kalmar's solutions and equipment for automated terminals to ensure that they can be operated safely and efficiently.

Service, or, maintenance training

helps maintenance personnel to ensure that equipment is maintained to the highest possible standard at all times.

Product and solution training

provides participants with basic knowledge and understanding of the components and systems of a product or solution.

Technical training

courses combine theory and practice to ensure technicians are properly prepared to perform their daily work.

System training

provides a deeper level of knowledge on individual systems – hydraulic systems, control systems, electrical systems and IT – conducted by specialised internal or external trainers.

EcoDriving training

teaches operators new techniques that can make a valuable contribution to reducing fuel consumption, extending component life, reducing wear and tear and minimising maintenance costs.

Operator training

teaches people how to operate equipment in a safe and efficient manner, whether manually or remotely, and also covers basic technical skills and daily inspection procedures.
Tailored training based on close customer collaboration
"We are able to offer training to people at all levels of the customer organisation, from the operators and maintenance personnel on the ground right up to top management and anyone else who wants to learn more about our equipment and solutions and how they work," Kimmo says.
"We work together with the customer to identify which stakeholder groups should attend which training sessions and create a training package based on what we are delivering and what the customer has told us about their needs," he continues.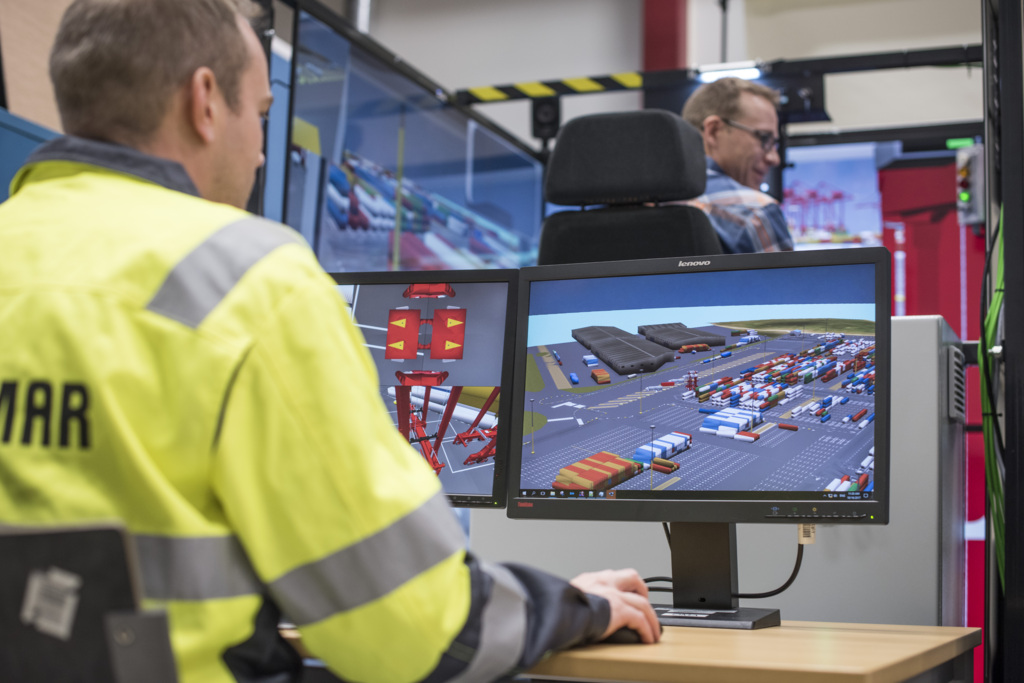 For larger customers and more complex project deliveries where there may be hundreds of personnel who need training in one form or another, Kalmar has had great success with a 'train the trainer' approach. "This is becoming more common with bigger projects and long-term customers," explains Kimmo. "Instead of the hassle and expense of sending a large group to a single training event, we can provide intense in-depth training for a handful of people who then become training ambassadors for the customer. We have seen excellent results from this type of training delivery, and it also helps us to build a really strong relationship with the customer right from day one."
A key forum for learning and continuous improvement
Kalmar has many customers around the world who, while they may have been using the same equipment and systems for many years, can gain a tremendous amount of value from refreshing their knowledge of how to operate, manage and maintain their investments.
"Training sessions are not only a way for customers to brush up on their skills, but are also a valuable source of feedback in terms of how we could approach things differently based on their experiences of using our products and solutions in the real world."
Kimmo is also keen to emphasise the value of training for Kalmar's frontline staff: "That one training session could be the only chance someone working in one of our frontlines has to ask questions and get answers directly from the people who have designed and developed a product. It might also be the only time they have the chance to interact with colleagues from around the world who do the same job."
No news is good news
While the ongoing global pandemic has had a significant impact on the way that Kalmar has been able to provide its training services, it has provided an opportunity for Kimmo and the team to focus on innovative new ways to approach training in the future.
"We have developed excellent self-study packages, delivered online training in a wide variety of formats and broken down courses into shorter chunks to make things easier to digest when we're doing everything remotely," Kimmo explains. "It's forced us to be more inventive, but also to really think about what and how we communicate during training."
Kimmo uses his favourite sport, ice hockey, to explain how he knows when the training services he helps to create, deliver and develop are successful: "When you're watching a hockey game you know that the referee is doing a good job when the commentator hardly mentions him or her. The same thing applies to training - the less we hear from the customer the more successful we have been because it means their personnel are well-prepared, confident and happy working with our products and solutions. No news is good news!"