30 March 2021
Reading time 3 minutes
Empowering logistics: Thirty years with the family
There's not much Kirsten Früchting hasn't seen during her thirty-one years at Kalmar in Germany. And she can't wait to see what's around the corner.
Interest in technology and a keen curiosity to learn new things have served Kirsten Früchting well. Since she joined Kalmar in 1990, she's worked with service, sales, and used equipment. Since 2000, she's been the marketing manager at Kalmar Germany GmbH.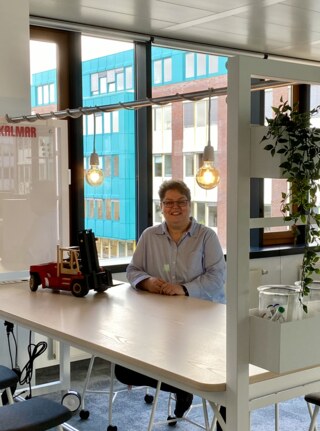 "I've always been interested in knowing how things work and even when I did an apprenticeship at the office of a small electrical company early on, I used every free moment I had to learn more about electricity, its functions and circuits," Früchting said.
And when she joined Kalmar, it was the machines that first impressed her.
"I've always been proud of our products and what they can do," she says.
"Our machines are custom built and to me, that shows what a special company Kalmar is. I think that's unique. I've been here for thirty years, and when I joined I got the feeling I was joining a family. Back then, Kalmar Germany wasn't a big company, but even now that we have over 150 people here, we've still retained the family feeling. We're a true team, and it's really wonderful."
Back to school
Five years ago, Früchting went back to school to add new tools to her toolbox, even though she had been working in marketing for about a decade.
"I took some marketing classes at the Hamburg Chamber of Commerce to get a better foundation to stand on. I wanted to make sure that I understood the modern world. I know how to run trade fairs, but there were other aspects of modern marketing, such as social media, that I needed to learn," she says.
"I've always been proud of our products and what they can do."
Früchting 's area of responsibilities covers a lot of ground: organizing events and trade fairs, manning them, managing the website and social media presence, handling print material from brochures to business cards, coordinating press relations, designing flyers, creating advertising material, and of course, communicating with customers and colleagues.
Not unexpectedly, the pandemic has turned the last bit upside down. All the events Früchting had planned for 2020 and 2021 have been cancelled, which gives her pause. It has not only been a professional challenge. She also misses the close contact with customers.
"I used to travel quite a bit in Germany visiting customers, and that's now impossible. Every job has areas that appeal to you more than others, and for me, it was always the fairs and meeting with people."
"We have to find new ways to connect with our customers, so we've started doing webinars and newsletters, but we have to be careful not to overload our customers with information," she says.
Good days ahead
For someone who likes to "make the impossible possible", the pandemic is just another challenge to overcome. Früchting has seen Kalmar Germany grow, and she's confident that good days are still ahead.
And why not? During her career, Früchting has seen the demands grow significantly: There's a need to be more efficient, environmentally friendly, and lower energy costs – and Kalmar has answered the call every time.
"There is no world economy without logistics."
"We have specialized further, we always focus on customer needs. Of course, the changes in the group have had an impact because every employee contributes an important component to the big picture.
"We are perhaps just a cog in the global economy, but there is no world economy without logistics," she emphasises.
Even though Kalmar has been a part of Früchting's life for decades, it's not her whole life, she says with a smile.
"My work-life balance is important, too. I like to be outdoors with my camera, sew and work with paper. There's always something to do," she concludes.