3 March 2021
Reading time 4 minutes
Choosing the right service partner helps customers look the part
Working with a spare parts vendor is a necessity, but working with a service partner is a key to success. It is not always possible to predict when a specific part will be required. However, by working with the most appropriate service partner, customers have a much better chance of anticipating parts requirements beyond those required for scheduled maintenance and service.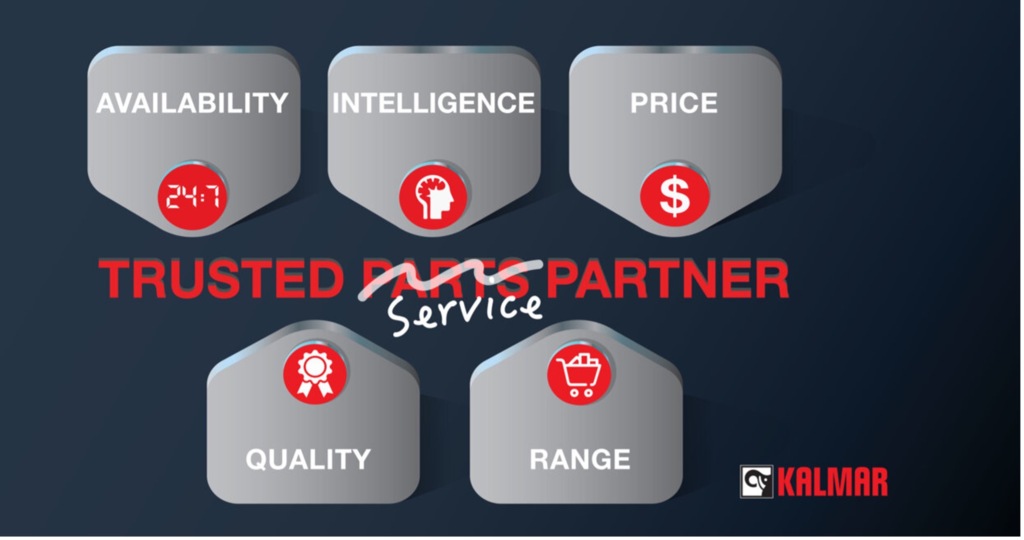 Choosing a spare parts vendor is a multi-faceted process. The reward for those companies that get it right is less downtime of their equipment, and timely access to the components they need to address both predictable and unpredictable events.
Efficient spare parts management is a crucial element in maximising operational efficiency. Maintaining large spare part inventories is a costly process, not just because of the expense of storing these items but also because some of the parts purchased may not be used. Even the most organised company can encounter stockouts or out of stock parts if there are delays in their supply chain. By working with a proactive service partner, companies can develop a better understanding of how to maintain their equipment strategically.
Kalmar devotes considerable resources to ensuring that customers have access to the parts they need when they need them, ensuring their machines experience minimal downtime, says Peter Berndtson, VP Services Supply Chain at Kalmar.
"We maintain approximately 400,000 items across our spare parts business," he explains. "If we did not have an efficient geographical footprint or utilise the best suppliers, we would not be able to offer a cost effective spare parts service to our customers."
"But more importantly, thanks to the intelligence in our systems, data assets collected from several thousands of machines on the field and our highly skilled workforce, Kalmar goes beyond just selling spare parts and helps increase productivity for our customers. That's what a true partner should be all about."
If Peter had to identify five elements to consider when deciding on a spare parts vendor they would be...
1. Availability, the starting point
This is the most important consideration since without the right parts equipment cannot be repaired or serviced. Kalmar Parts Care provides end-to-end visibility over the spare parts process to help create a plan that will improve parts availability while freeing up working capital. In fact it guarantees that whatever parts the customer needs according to the contract during the agreed scope of time will be on site within 24 hours - or free of charge.
2. Intelligence, or no predictability
Kalmar believes purchasing parts should not be an entirely reactive process. Our customers have access to the Kalmar Pulse maintenance planning concept, a service that utilises data from connected machines to improve parts demand predictability and therefore optimise maintenance. This ensures the customer has the right parts in the right place at the right time. A top performing e-commerce with all the customers' equipment information and parts number is also available for the best possible customer ordering process - finding the right parts couldn't be easier.
3. Price, from a holistic perspective
It is impossible to ignore the fact that cost is an important consideration when making any purchasing decision. Companies should partner with a spare part vendor that will help them minimise their total cost of ownership by optimising parts management over the lifetime of their machine.
4. Quality, what goes in comes out
It is vital that customers use high quality parts when servicing their machines. Sourcing parts from Kalmar means customers can be assured that every part is an original item that will maximise the operational lifespan of their machine, eliminating the risk of failure, and not jeopardizing their warranty, from using suboptimal parts and minimising total cost of ownership.
For more information on genuine parts quality:
Using OEM filters cost 58% less than using alternative filters
Over the lifetime of the machine, OEM/reference brake discs will provide savings of 15% compared to the alternative part
OEM cables are 2.7 times more effective than alternatives.
5. Range
Because time is money: It is vital to work with a vendor that is able to supply any part required, not only to save time and administrative work, but also to maximise equipment uptime.Kalmar has the complete set of parts needed for its equipment available at all times, especially parts not easy to source elsewhere. Customers can be assured that Kalmar will continue to be the one partner in the market which keeps all their equipments' parts available.
"Many of our customers hold few if any spare parts in stock, so inventory management is vital," adds Berndtson. "Customers depend on us to have the parts they need in stock. By using genuine Kalmar parts they get the right part for the job every time."
"They also have assurance that any parts sourced from or developed by Kalmar have been produced to the highest standards and gone through careful assessment."
For customers operating in demanding environments where the cost of downtime can be considerable, this level of certainty provides considerable peace of mind. For more information on Kalmar's service and how to increase your logistics productivity, contact your local Kalmar representative.