17 February 2021
Reading time 3 minutes
Empowering logistics: Vandana goes that extra mile to keep Indian container terminal traffic flowing
Mumbai based Vandana Chimote, is one of many Kalmar employees delivering above and beyond all expectations as to create new work practices to meet the demands of Covid-19 pandemic restrictions.
The Kalmar team in India have had their hands full this year managing the Kalmar Complete Care contracts and commissioning of new machines at the largest ports in the world's second most populous country. Keeping operations running smoothly is complicated by the global COVID-19 outbreak.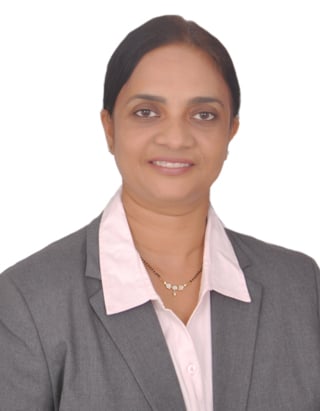 Vandana Chimote, General Manager of Service Operations, explains that even though the machines handed over immediately after the contract ended, it took nearly two months to close the site because of the pandemic restrictions.
Coronavirus has inevitably affected the way she and her team work. "We created two separate teams in order to maintain social distancing and prevent our technicians from contracting the virus, yet, we delivered full service even with our reduced manpower. "The duty rosters have been reorganised so that the members of the first team do not interact with their colleagues in the other group."
New challenges every day
India has become an increasingly important market for Kalmar in recent years. In 2019 a deal was agreed to supply 15 rubber-tyred gantry cranes (RTGs) for the Nhava Sheva International Container Terminal, India's first public-private partnership project and part of the country's largest port.
Responsibility for managing this project lies with Chimote, who has been with Kalmar since 2008. This is not the first time she has found herself in charge of a major project.
"During my time with the company, I have also had responsibility for marketing on a pan-India basis and was in charge of sales support for mobile equipment in India as well as handling production planning for the multi-assembly unit in Bangalore," she explains.
"The great satisfaction comes from having a happy customer."
Chimote's typical working day includes co-ordinating activities with her team members and liaising with customers, project teams and local support functions, including purchasing, logistics and finance.
"Every day is different," she says. "There are always new challenges to face when you are dealing with demanding customers. Achieving our key performance indicators keeps everyone on their toes, and working with a very busy terminal, which is also the most efficient in the country, requires high performance and efficiency. The great satisfaction comes from having a happy customer."
Understanding customer needs
Chimote describe her relationship with her customers as cordial and professional. "I have always tried to understand their concerns and the difficulties they face in the execution of their work, and I am deeply supportive of their requirements," she says.
When asked for an example of going the extra mile to help a customer, she cites a project where a lock-out tag-out system was implemented on a customer's RTG to minimise the risk of accidents and improve safety for service engineers.
"The customer supplied the hardware for modification as this was not in our scope of supply," she says. "Our team also helped the customer modify the programmable logic controller (PLC) programme for reverse interlock to avoid toppling containers and damage to employees or property."
According to Chimote, the great care the company takes of its employees and its willingness to understand customer needs distinguishes Kalmar from its competitors.
Outside of work, the fact that her spouse works in the port sector as well gives her an even deeper understanding of customer needs. She adds, "I also enjoy travelling - visiting different places with different cultures and languages always fascinate me."