23 September 2020
Reading time 3 minutes
Why modularisation and standardisation are the key to straightforward yard-crane automation
In our June webinar we discussed the benefits of Kalmar's flexible, modular solutions for automating your yard-crane operations. This article summarises the key takeaways from the webinar, including how modular solutions make automating your equipment easier and faster.
Regardless of whether your terminal operates rubber-tyred gantry cranes (RTGs), rail-mounted gantry cranes (RMGs) or automatic stacking cranes (ASCs), Kalmar's flexible, modular automation solutions provide the opportunity to improve health and safety, reduce operating costs and increase operational efficiency.
When we speak about automation in this context the scope includes everything from remote operation, where cranes are controlled by operators using remote consoles, to full automation where the cranes are fully autonomous and operators take on a purely supervisory role or intervene in the case of exceptions.
Safe, economic and efficient yard crane operations
Introducing automation provides the opportunity to increase safety by reducing the number of people who need to be physically present in the yard. Controlling the cranes via a remote console means that operators can be taken out of the cabin and into a safer, more comfortable and more ergonomic working environment without compromising crane performance.
As the level of automation increases the number of operators per crane can be reduced, which translates into cost savings in terms of both personnel and from the perspective of health and safety too, with potentially lower insurance costs due to the reduced risk of accidents and other incidents.
In terms of operational benefits, automation enables more consistent performance, provides the opportunity for 24/7 operation and enables accurate tracking of containers in the yard. Operational agility is also improved because it is far easier to react quickly to unexpected peaks or troughs in demand by deploying additional equipment or taking machines offline temporarily. Finally, with automation in place terminal operators can gather a huge amount of valuable data that can be used to create KPIs and dashboards to improve visibility and better optimise operations.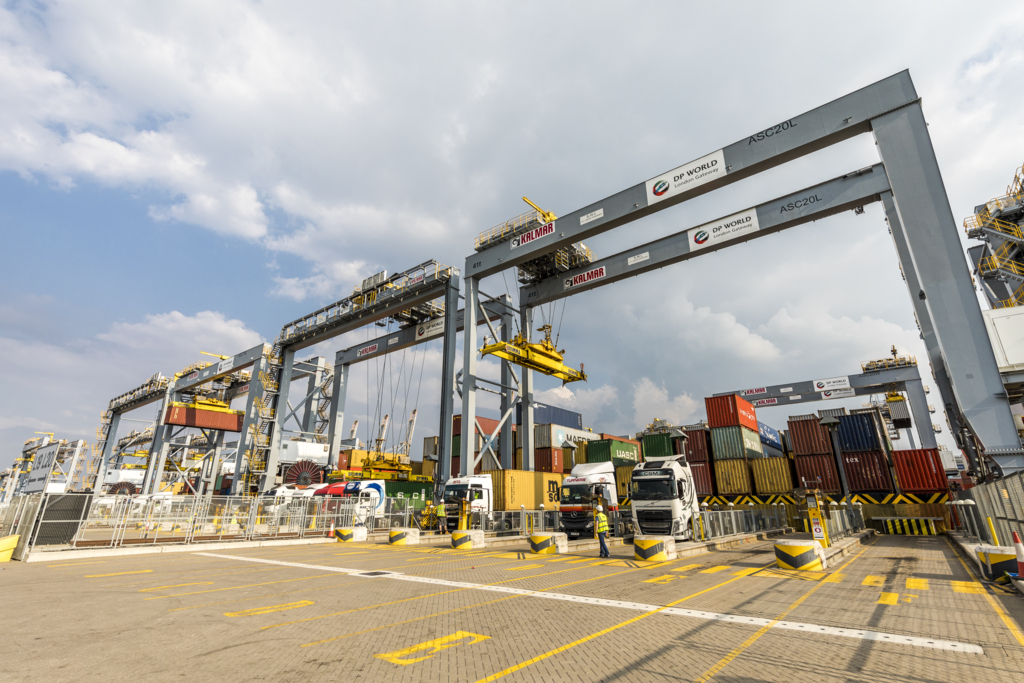 A full-service offering
Kalmar's offering encompasses the yard cranes themselves – RTGs, RMGs and ASCs – plus all the automation systems relating to each crane type. Our AutoRTG system is available with various levels of automation and supports the typical horizontal transport modes such as terminal tractors and external road trucks as well as straddle carriers. Kalmar can deliver new equipment that is fully automation ready and can also implement automation for RTGs on both Kalmar and third-party cranes as a retrofit project.
The next-generation Kalmar RMG was launched in 2017 with automation capabilities built into the design and is available with automated solutions for stacking, intermodal and even some vessel applications. The proven Kalmar ASC system has a long and distinguished track record stretching back over 30 years and with this setup the entire yard operation including road truck handling is typically fully automated.
Standardised solutions for many different applications
With yard-crane automation there are several different components involved: automation systems, yard and safety systems and then the cranes themselves. The Kalmar AutoRTG, AutoRMG and ASC systems are all built using a set of common solutions under the Kalmar One automation system concept: the equipment control system and remote console; transfer points, access control and yard utilities; and finally the onboard automation systems and crane modules.
Stepwise automation and flexible, efficient implementation and maintenance
At Kalmar we have a set of predefined automation levels for RTGs, moving from traditional manual equipment up through remote and then supervised operation, and finally to semi automated operation with automated picking and grounding of containers in the stack and supervised gantry movements.
Kalmar One is the foundation for all our yard-crane automation solutions, with the same core components used for all equipment types, standardized modules and a clear upgrade path towards full automation. By using existing modules with proven functionalities to build each individual system we can avoid reinventing the wheel with every project, which minimises risk and ensures a smooth delivery and implementation process.
This modular approach also provides a high degree of flexibility when it comes to implementing automation in your yard. We can deliver fully optimised solutions for greenfield sites and step-by-step or block-by-block automation paths for brownfield conversion projects.
Because Kalmar solutions are based on standardised hardware and software they are easier and faster to maintain and upgrade to take advantage of the latest functionalities.
Everything you need from one trusted partner
In summary, the Kalmar offering encompasses everything you need on your yard-crane automation journey: fully automation-ready solutions for all types of yard cranes and automation solutions built with standardized modules that make deploying, maintaining and upgrading your equipment and systems straightforward.