10 March 2020
Reading time 2 minutes
Eco-efficiency and cost-efficiency: Pick both
An online poll to Kalmar's customers indicates that CO2 regulation, eco-efficient cost savings and optimising current operations are at the top of the agenda when building future-proof container terminals.
Last November, Kalmar conducted a webinar on the topic of Future-Proof Container Terminals. During the online event, Kalmar's customers had an opportunity to weigh in on the pressures that container terminals face to reduce their carbon footprint. 90 terminal operators and other industry experts submitted their views on two questions:
What kind of pressure does your terminal face for the reduction of CO2 footprint and emissions?
A third of respondents (33%) named the potential regulation of CO2 emissions as their most pressing concern, followed closely by the need to maintain an overall green image for the company (26%).
23% of respondents indicated that eco-efficiency needed to go hand-in-hand with cost savings, while 7% specified that questions from customers were the most important pressure for CO2 footprint reduction. Only 9% of respondents stated that they faced no pressure at all in this area.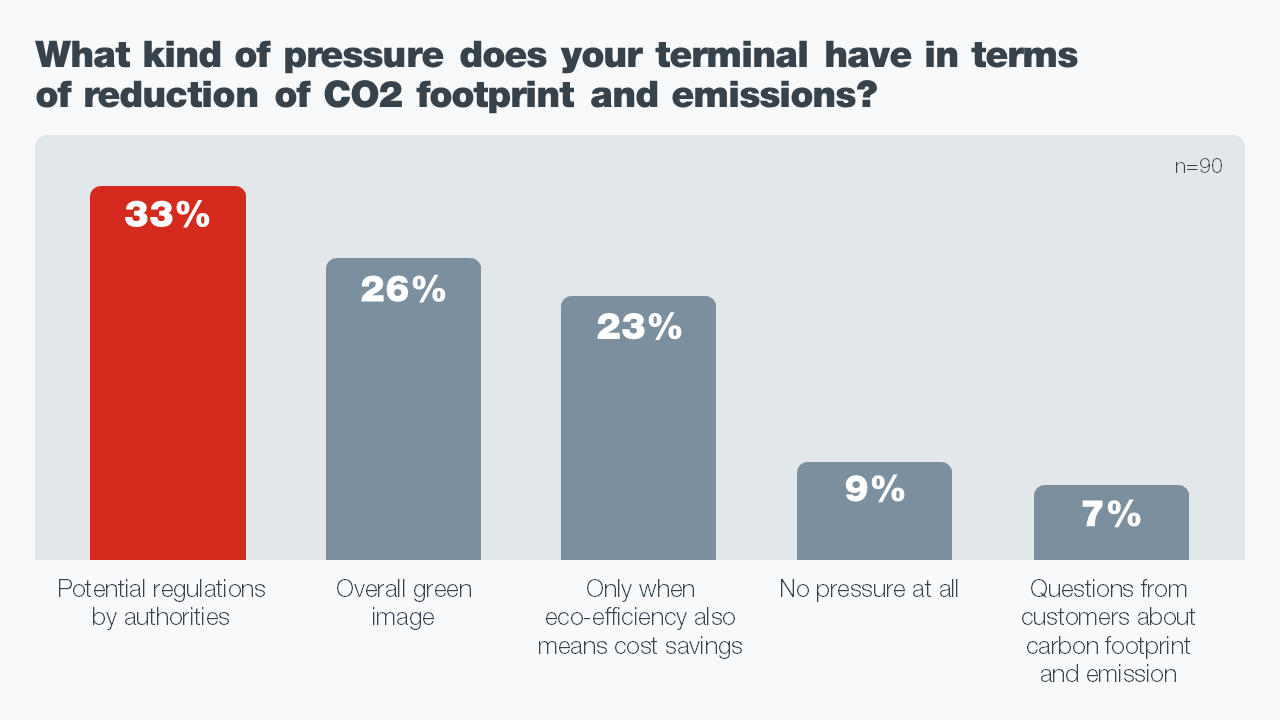 What kind of measures do you intend to take to make your terminal future-proof?
For this question, by far the most common answer was the optimisation of current operations (40%). Investments in new automated equipment and the electrification or automation of existing machines was picked by 22% and 21% of respondents, respectively. 10% prioritised investments in new eco-efficient equipment while 10% indicated that they were not taking any particular measures to future-proof their operations.
As the poll results show, more than 90% of respondents are experiencing some pressure to move towards lower CO2 reductions, which comes from various directions: government, customers or surrounding society. Moreover, internal pressure to reduce operating costs is pushing the industry in the direction of green solutions. The poll also shows that 90% of respondents are making plans towards investing in the areas that will increase the eco-efficiency or automation level of the terminal.