17 March 2020
Reading time 3 minutes
Terminal tractors keep it cool at Buffaload Logistics
From humble beginnings with only a single used terminal tractor seven years ago, chilled transport and storage provider Buffaload Logistics has seen its partnership with Kalmar grow as its business has expanded.
Buffaload Logistics operates the largest independently owned double-deck trailer fleet in the UK. Founded in 1995, the company has grown from operating two temperature regulated vehicles from a family farm in the Cambridgeshire Fens into a complex collections and cross-docking logistics organisation with a fleet in excess of 240 vehicles and with storage capacity of 236,000 square feet.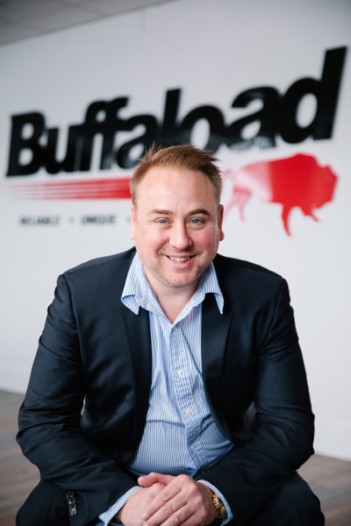 In addition to its head office at Ellington in Cambridgeshire, the company has strategically located main depots at Crewe, Newark, Avonmouth, Chichester, Ely and Skelmersdale.
Ross Taylor, CEO of Buffaload Logistics, explains that the company has been using Kalmar equipment since 2013. "We were a much smaller company then so our first purchase was a used terminal tractor that had already done 15,000 hours," he recalls. "Because it was a used machine, Kalmar's service offering and the availability of spare parts were important factors in our purchasing decision."
As the business expanded, so did its fleet of terminal tractors. "We now have seven Kalmar terminal tractors," says Ross.
Uptime is crucial
Buffaload Logistics operates around the clock, seven days a week so uptime is absolutely critical. "We operate within very tight time frames and as well as being very reliable, the Kalmar terminal tractors are much better suited to the job than the standard trucks we used in the past," says Ross.
One of the main disadvantages of using road trucks was that they are not designed for multiple trailer changes at all hours of the day, which meant running costs were much higher.
The terminal tractors are also safer and more comfortable for the drivers to operate. The company's drivers are operating within busy and relatively confined spaces which can be negotiated more efficiently in a terminal tractor. This improved mobility also minimises damage to goods, which makes the job of yard and site management easier.
The company has used tractors from other manufacturers in the past. However, Ross observes that the Kalmar machines are not only easier to operate, but also more efficient in terms of fuel consumption and emissions.
The Buffaload Logistics' CEO says that the fact that his Kalmar sales contact comes from an engineering background means he understands how the machines work and what they are capable of. "Kalmar has been extremely helpful and quick to react as our needs have grown," he adds.
"We operate within very tight time frames and as well as being very reliable, the Kalmar terminal tractors are much better suited to the job than the standard trucks."
The high pallet capacity facilitated by Buffaload Logistics' investment in double-deck trailers not only reduces road miles. It also minimises vehicle requirements and fuel consumption – all of which contribute to lower CO2 emissions.
The company aims to become the leading – and most environmentally-friendly -- chilled distribution company in the UK and plans to become carbon neutral by the end of 2020. "The operational efficiency of our Kalmar terminal tractors will play a vital role in achieving these targets," concludes Ross.