26 May 2020
Reading time 3 minutes
Keep cargo on the move at exceptional times
With a strong commitment to meeting our customers' needs and a can-do attitude, Kalmar teams in south China delivered on that promise in spades at height of the coronavirus outbreak in China.
The crisis
A few days after returning from their Chinese New Year holidays, workers at Sinotrans Guangxi Wuzhou Warehouse and Terminal found their reachstacker puffing white smoke and coming to a full halt. It was mid-February of this year. The port was already piling up with cargo after the long holiday break and the failure of this critical equipment put even more pressure on their operations. Wuzhou is the largest river port in Guangxi Province in southern China and vital to keeping cargo moving. The port management turned for help to Liu Zhanxiang, a supervisor at the Kalmar Service Centre in Zhongshan, Guangdong province.
"After special phone and video technical support with the client, it became clear that the problem could not be solved remotely," explains Liu.
Emergency response
Liu turned to his colleague Qin Wenjian, a technician located in Qinzhou (Guangxi province). Together they mapped out a plan for Qin to go to Wuzhou to inspect the machinery as soon as possible.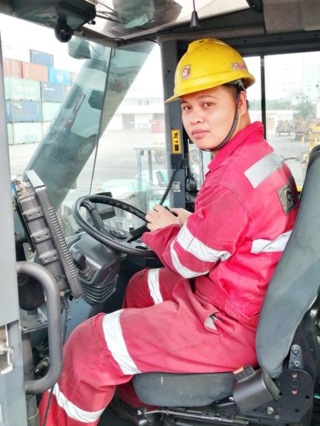 "Driving my own car to Wuzhou was the only option to complete the 400 kilometre journey," Qin recalls.
"As a technician, my priority is always to reduce the equipment downtime, but with this project, I felt something special. The process was complicated. I had to secure special travel authorisations, followed by tedious health checks in order to access the Wuzhou port terminal."
Qin reflected on his opportunity to help in this critical time. "On the long drive to Wuzhou, I thought about the doctors and nurses mobilised in Wuhan. And here I was, presented with a chance to contribute to the fight against the epidemic. Despite the unknown, I did not feel scared, but sensed additional responsibility to complete this assignment."
Diagnosing the problem was not quite as straightforward as they might have expected. "We finally managed to identify the equipment failure at the end of the day. It took time, but we felt proud of our achievement." The one downside was trying to find a hotel and restaurant in Wuzhou.
"We are so grateful for Kalmar's high efficiency and fast response to fix our problems in these hard times."
Delivering essential spare parts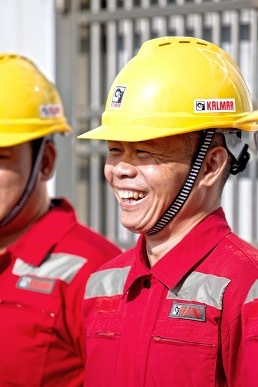 In the meantime, local authorities all around China were tightening travel and work conditions. Access to Kalmar's closest warehouse had just been blocked. With Qin in quarantine, Liu sprang into action. He tapped into Kalmar's extensive inventory system, spotted that replacement parts were still available in the Tianjin warehouse - some 2,000 kilometres away - and arranged for air shipment. He himself made the 450-kilometre drive to reach Wuzhou port. He repaired the machinery. While he was there, he also provided maintenance training to Sinotrans Wuzhou operators.
The client receives first class service
Despite the epidemic, it took only three days for Kalmar to get the machine back up and operational again. Kalmar has been working in close partnership with Sinotrans Wuzhou, helping them to expand their cargo handling business for over a decade. But this crisis truly revealed Kalmar's deep dedication and commitment to deliver even beyond its clients' expectations.
"Cargo piling up at the port is a nightmare for us," commented Liu Zhuangji, General Manager of Sinotrans Wuzhou. "We are so grateful for Kalmar's high efficiency and fast response to fix our problems in these hard times. We are very impressed with the flexibility and solidarity Mr. Liu and his team have displayed."
Reflecting on this crisis, Liu expresses his pride at having provided this level of service in such difficult times. "Our daily work is never short of challenges, which I enjoy tackling. We just need to be more creative and practical to be able to handle the new challenges brought about by this epidemic." In keeping valuable cargo on the move under these critical circumstances, he and his team played their part in fighting the coronavirus. It is this commitment and ingenuity that keep Kalmar at the top of its game.
Liu Zhan Xiang
• Age: 48
• Education: Engineering college
• Primary working experience: Supervisor of Service site in Zhongshan, Guangdong, China, joined Kalmar 16 years ago
• Family: wife and two kids studying at university
• Hobbies: badminton, running, calligraphy

Qin Wenjian
• Age: 34
• Education: Automobile repair, vocational school
• Primary working experience: Technician of Service site in Qinzhou, Guangxi, China, joined Kalmar 11 years ago
• Family: wife and two kids
• Hobbies: running, badminton