13 February 2020
Reading time 5 minutes
Industry Voices: The Future of Automation
At the Explore Automation event in Tampere Finland in October 2019, Kalmar brought together a diverse group of industry professionals to a panel discussion on the future of automation.
The panel was hosted by Mikko Mononen, Vice President, Sales, EMEIA, Kalmar, and joining the discussion were Stefan Wiech, Partner, Hamburg Port Consulting, which is a global port consulting specialist with extensive automation experience; John Alvarez, Assistant Vice President, Automation Excellence, TraPac Los Angeles, a port automation pioneer from the US West Coast; Antti Kaunonen, President, Kalmar Automation Solutions; Timo Alho, Vice President, Terminal Development, Kalmar Automation Solutions; and Michael Houen, National Automation Manager, Patrick Terminals, which is Australia's leading container terminal operator.
Automation pioneers paving the way
Mikko Mononen, Kalmar: It's hard to even remember what a company like Kalmar was like around 2007 when I joined the company. Our automation department literally started in a single closed room in a basement, and look at where we are now. Understanding the impact of these solutions in the industry makes me really humble and proud. How well has our industry progressed with automation and what are the greatest concerns in the field right now?
Michael Houen, Patrick Terminals: It's a mixed bag. Automation has been a very positive experience for us at Patrick on all metrics from productivity and safety to financials and reliability, so at this point everything for us is an upside, but it has been a difficult journey. Someone who is just starting out will be dealing very much with change management and it's not necessarily an easy challenge.
John Alvarez, TraPac: Honestly, if we compare ourselves with other industries, we are not yet where we should be. Everything that you are doing now with Kalmar Key and enabling connectivity with vendors is already very common in other industries. But I think you are heading on the right path so we appreciate that.
One of the biggest concerns in automation, especially with ASCs, is that power distribution becomes very critical. It's not so much about the power being down but even small brownouts can create issues, so you need to plan and be prepared for that. As for the benefits of automation, I think everyone is very aware of them. Everyone thinks first of cost savings, which it does bring, but safety is also very important. Since we've automated in Los Angeles, we haven't had a single accident involving people. That's probably the most important factor in all. And now with everything being electric, the sustainability of the company is also at a whole different level.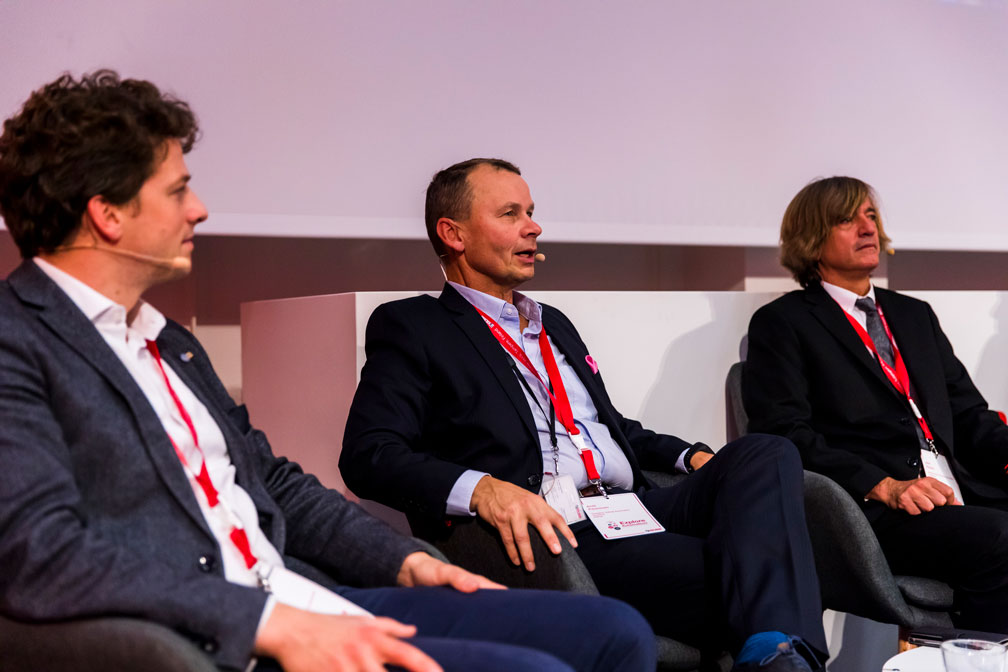 Stefan Wiech, Hamburg Port Consulting: I think it's a proven technology. Automation means having driverless transport of containers as well as process automation, but the core part of it has already become a kind of standard. There are local differences around the world but the core benefits remain the same. It's not only about the productivity boost, but having reliable, constant productivity.
The challenges are still the interfaces between the manually operated and automated areas. This is a common concern everywhere, and if we think of further automation solutions, ensuring the safety of people in the terminal remains the key question.
From baby steps to wider strides
Antti Kaunonen, Kalmar: I would like to take an extended view and get out of this industry for a moment. I have seen this happening in other industries so we are – sorry to say – still taking the first baby steps and learning. It will be a long road with a lot of blocks, but to go forward we need to be able to copy with pride. Don't always try to make something new in a different way. If something has been tested and it works, start with that instead of a clean slate, because that will speed up the execution.
In terminal automation, Australia is already very close to what we have seen historically in other industries. Once the first operators utilise automation and get the safety and cost benefits, the only question for the others becomes whether to invest in it or stop business altogether. Because the competitive benefits are so huge that you won't be able to compete. That's the reality.
The next point has already been mentioned, but safety is a megatrend and there's no question that when you do it right, automation will improve your safety.
Safety is extremely important for me. At Kalmar, we have been able to improve the safety of our own operations, but we also need to improve the safety of our employees who work at customer sites. We still see too many accidents at customer locations. We don't want to be difficult towards our clients, but we really need to make sure that there is always a safe way to work - both at our own sites or at our customers' terminals.
Timo Alho, Kalmar: I'd like to elaborate a bit on the productivity aspect. We often hear the statement that automation hasn't been delivering in terms of productivity in this industry, but what I've seen is that there are a number of terminals utilising automated stacking cranes and shuttle carriers that have really been reaching very high performance for their quay cranes. Some of the highest-performing terminals in the world are using ASCs and shuttle carriers. So this kind of automated concept is proven in terms of high productivity.
Another benefit that hasn't been highlighted so much is the comfort of the operators. We have heard a lot from our customers that when the operators have a chance to get out of the crane cabin into the remote operator centre, working with their colleagues and having access to amenities, it's a huge advantage. But on top of that, it's also a major timesaver compared to having to get transported to the cranes in the middle of the yard.
Electrification and automation go hand in hand
Mikko Mononen, Kalmar: Next question: Is electrification a prerequisite for automation?
Antti Kaunonen, Kalmar: I would state first that even the machines we would classify today as manually operated are actually pretty sophisticated. It is possible to automate a port with diesel, hybrid or fully electric machines.
Timo Alho, Kalmar: There are two different things here: Electrically powered and electrically controlled. It really doesn't matter much how you generate the power to the equipment, but all the movements and actuations have to be electrically controlled, which is not always the case with conventional equipment.
My view is also that when automating, you want to minimise the amount of hydraulics on the machine, as hydraulic systems are often problematic due to possible leakages and their detection. So this aspect should also be taken into consideration. The connection between electrification and automation is most relevant for RTG automation, since when you electrify the crane you already connect it and tie it to a single block. When you then take the operator out of the crane into a remote control centre, your need to move the cranes in the yard between blocks actually decreases since any operator can operate any crane from their desk. Also, when combining electrification and automation projects as one, you get a lot of synergies in terms of project execution and cost.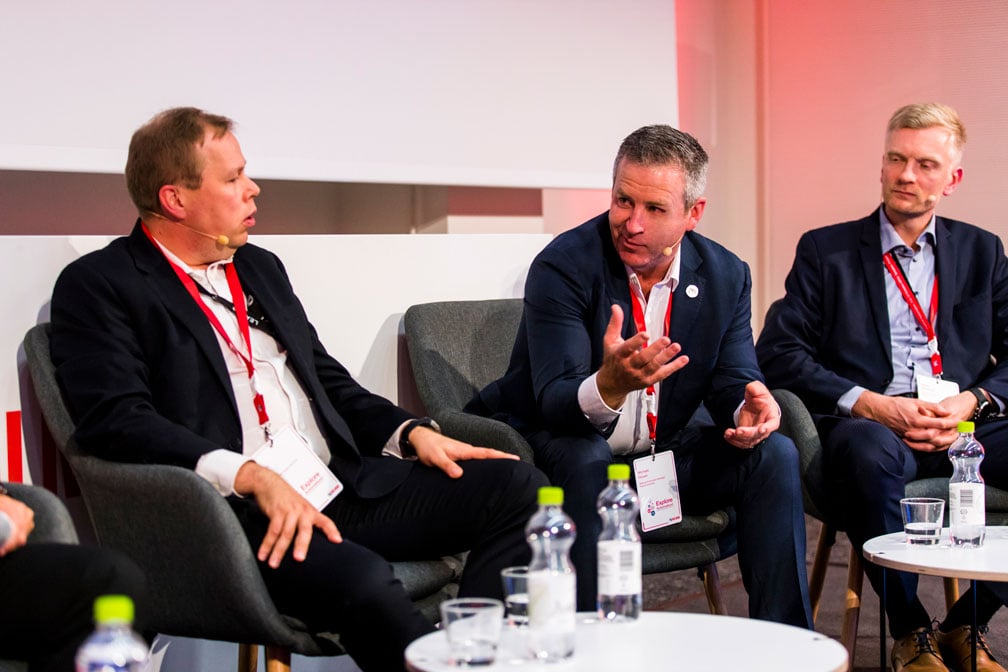 Integration from day one is the key
Mikko Mononen, Kalmar: Integration across technologies and suppliers is a key area in any successful automation project. How do you deploy these different pieces smoothly together and make sure the entire chain of processes doesn't stop?
John Alvarez, TraPac: Obviously, the way to minimise the risks in putting everything together is to try to minimise the amount of vendors. Ideally, if you can have one, two or a maximum of three, that would be fantastic. This eliminates a lot of the potential fingerpointing that you might get with different vendors. And you are in the middle trying to solve the issue. When you have just one or two vendors, it's you and me, and no fingerpointing. So that would be my recommendation.
Michael Houen, Patrick Terminals: I would agree with John, as integration is the biggest challenge in building a new system as well as in brownfield implementations. Do you have the skills in your organisation to manage this integration? What really makes it work is to be able to do it as an end-to-end process that is seamless and doesn't involve handoffs at every point along the way.
Antti Kaunonen, Kalmar: It's a huge amount of work. You really need to ensure that someone has the responsibility for the full integration. Just buying the pieces from different suppliers for the lowest price and hoping for the best is not a strategy.
This also ties into the idea of performance-based contracts that we have recently announced at Kalmar. It's really about who is in charge of the integration needed to reach these kinds of performance and availability guarantees. If we as a supplier increase our own risk by being more responsible for the integration, it will make your life easier when you are running your first automation project and don't yet know all the pitfalls.
Stefan Wiech, Hamburg Port Consulting: Our experience as an integrator is that the integration cannot start too early. It needs to start at day zero, and defining the responsibilities is a key success factor. And it doesn't only cover the project phase but it's more about terminal lifecycle management.
Antti Kaunonen, Kalmar: Absolutely right. So many times in other industries we have seen situations where the consultant leaves after the project phase, and then no one is really responsible. Because you have provided the startup skills and then you are suddenly out of the picture.
Towards new business models
Mikko Mononen, Kalmar: Antti already touched on this, but Kalmar has raised discussion on performance-based contracts that are already in use in other industries. What are the key benefits and why could this be the future of container handling?
Antti Kaunonen, Kalmar: The big issue is China, Inc. We are not able to compete with manual machines forever based on the price. If it's only a cost-based competition, we will not be here for long. That's the reality. So what do we want to do strategically? Of course we want to increase the automation level, develop the products and do all the basic things. But the real question is, how can we change the earning logic and use our strengths. I want to provide more availability, more performance guarantees, and even performance-based contracts.
I know there are huge risks but it's a way for us to compete, to have something different and value-added for you. We can start with small projects and go forward from there. Do we have the capability yet? No. Are we building up the capability? We are working on it. It will be a continuous process because you need the acceptance from both parties.
I'm a strong believer that this is the way to go. I want to shape the industry and that is what gets me to the office in the morning and to meetings with customers.
Michael Houen, Patrick Terminals: If you came to me and said, "Look, we can guarantee and improve these performance metrics, this machine will do this many paid moves per hour, we're here and will get you to there, and understand the financial impact of that," then, yes, I can understand we all benefit as a result. The difficulties are, as you said, how to prove it. With so many variables, the model to calculate it would be complex.
John Alvarez, Trapac: I think it's a good idea. Obviously for the energy consumption or any other part of the contract, you need to specify all the variables. But as a model I think it's a very good idea.
Antti Kaunonen, Kalmar: We have to begin with small steps. For some of our electric and hybrid machines, we can already give guarantees on energy efficiency. This is how we need to start, and then build up from there. But we want to set the bar high enough and lead the way for the entire industry.