9 January 2020
Reading time 4 minutes
Boxing clever – boosting terminal efficiency with smart process automation
A typical modern container terminal might be home to a huge variety of complex technologies and equipment, but its ultimate goal is simple: get boxes off a ship or railroad car, through the yard and send them on their way as quickly as possible. Process automation offers tremendous benefits in terms of gathering the right data to make this process run as smoothly and efficiently as possible.
"Terminals basically process containers coming on and off vessels and get them in and out of the yard via truck or rail as quickly as possible – you can add in all the complex machinery and software you like, but that's it in a nutshell," says John Scott, Vice President, Automation Sales, Americas, Kalmar. "Where process automation comes in is helping terminal operators to be more efficient, to see the big picture, think on their feet, reduce complexity and make smarter decisions that boost efficiency," he continues.
The 'brain' of a terminal, the terminal operating system (TOS), is only as smart as the data it's given. Human error, extra steps in the process, manual input – all of these waste time and can negatively impact the quality of information in the TOS, meaning the 'brain' isn't thinking as clearly or smartly as it could.
Smoothing the flow from gate to vessel and back again
One of the early examples of process automation in action is at the terminal gate. While in the past there would have been a person in each entry lane manually checking in road trucks as they arrived, we now see multiple lanes managed by a single clerk. Kalmar SmartTruck enables a terminal operator to go one step further to track and control the road truck beyond the gate as if it were an internal yard truck.
Terminals are keen to move beyond the gate and implement process automation throughout the rest of their operation. Customers come to us with a list of pain points, bottlenecks essentially, in the container's journey from gate to yard, vessel to yard or rail to yard, and it's our job to see how we can help them work smarter to remove these."
Kalmar's suite of process automation solutions includes:
SmartMap

for real-time and historical visualisation of equipment location and container routing in the yard

SmartLift

for automating the job-selection process for lifting equipment like Reach Stackers, Top Loaders, RTGs and RMGs

SmartTruck

for automatically identifying road trucks and tracking their movement around the terminal

SmartStack

for creating an automatically updated real-time stack container inventory
>> Visit our SmartPort virtual showroom to take a closer look
When it comes to taking things to the next level, gathering more and better quality data is the key, because unless you know where your containers, terminal equipment and road trucks are, you're working with one hand tied behind your back. SmartTruck is an important differentiator for Kalmar's process automation offering as it provides a terminal operator with real-time visibility and control over road trucks as if they were internal yard trucks.
"Terminals are becoming busier all the time, so with tools like SmartTruck, SmartLift and SmartMap what we want to do is give operators the visibility they need to enable them to improve equipment utilisation, reduce turnaround times and congestion, and provide better service to their customers," Scott says. "Whether we're talking about gate operations, lifting equipment or vessel loading and discharge, the point is to remove the manual steps that are holding up the process and gather data that will help customers optimise their processes," he continues.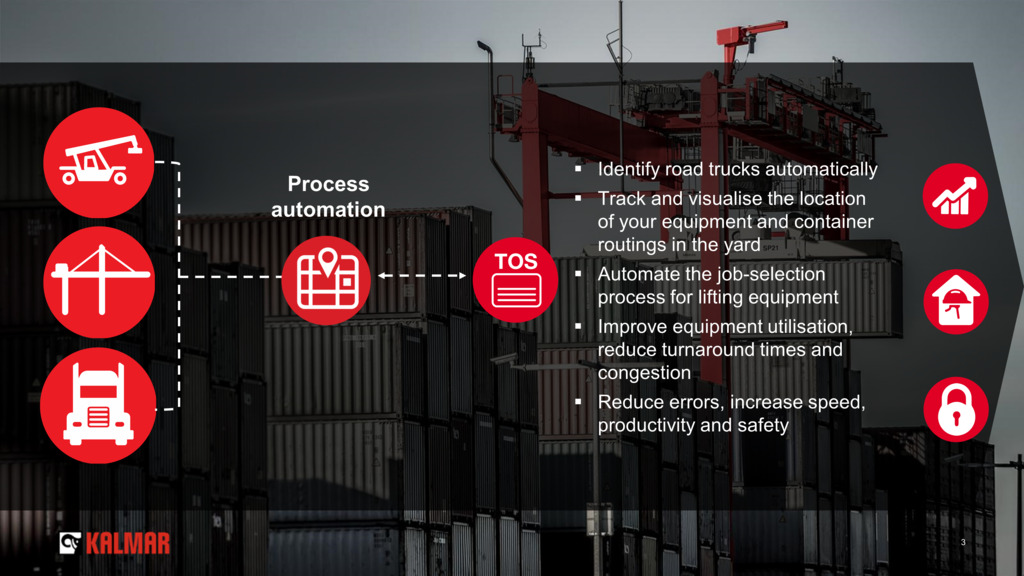 Complementary technologies that lay the groundwork for automation
Kalmar process automation solutions work seamlessly with Kalmar equipment automation and the technologies complement each other. For example, in an automated RTG operation where you don't have an operator in the cabin to identify the trucks to be served, external road truck tracking with process automation helps you get the most out of the technology.
Process automation can also be the first step towards semi or fully automated operations. The launch of the Kalmar One automation system brings even greater synergy between these different automation technologies. With Kalmar One customers can combine solutions according to their unique needs and develop their operations gradually from process automation towards full equipment automation.
Safer and more secure operations
Process automation isn't just about streamlining terminals to make them as efficient as possible – it's also about protecting people from risk and improving security.
For example, SmartLift allows the equipment operator to focus on moving containers as opposed to spending valuable time identifying trucks and scrolling through a job list to determine which container to deliver. SmartTruck provides the same visibility to external road trucks as to internal yard trucks, meaning the TOS has real-time visibility to when a road truck arrives at its point of work and can better optimise turn times without the driver having to leave the cab.
"Our ultimate aim is to give the customer the tools they need to make the next leap in terms of smart decision-making, operational efficiency and safety, says Scott. "Process automation is all about smoothing the flow, and with our technologies and experience we've helped all kinds of terminals around the world to do just that."