24 October 2019
Reading time 3 minutes
One small step for AutoStrad™, one giant leap for terminal automation
The automated picking and placing of containers onto road trucks has long been a reality for yard cranes, and now this time-saving, safety-enhancing feature is finally possible for terminals that use an automated straddle carrier system too. With the launch of automated truck handling for Kalmar AutoStrad™ terminals, the last step in a container's journey from quay to truck can now be automated.
The advantages of automation are no secret – streamlined operations and lower operating and maintenance costs to name just two. And straddle carriers, the reliable workhorses of container terminals the world over for decades, haven't been left behind by their bigger yard-crane brothers when it comes to advances in automation technology.
The Kalmar AutoStrad™ is a proven solution for automating quay, stack and landside operations. It is ideal for medium-sized and large terminals where high equipment flexibility, safety and minimal labour costs are key requirements. The flexibility of the Kalmar AutoStrad™ makes realising an automated terminal simple, low-risk and achievable within a relatively short timeframe.
"In many respects we're not reinventing the wheel here," says Ville-Pekka Kärki, Director, Automation at Kalmar. "Rather, we're bringing proven automation technology from our yard-crane solutions to our horizontal transportation offering to automate the last step of the process," he explains.
We're bringing proven automation technology from our yard-crane solutions to our horizontal transportation offering to automate the last step of the process
Proven in the yard
Kalmar first introduced automated truck handling (ATH) for yard cranes in 2013, and it's in use in several terminals around the world, including DP World's London Gateway and Brisbane terminals as well as at TraPac in Los Angeles. At both these terminals the system has been implemented for automated stacking cranes; Kalmar has since deployed ATH for rubber-tyred and rail-mounted gantry cranes too. The ATH system uses a truck lane laser measurement system (TLMS) that pinpoints the exact locations of the truck trailer's twist locks, chassis or container, and the measured target is then automatically fed to the crane. Lifting and grounding of containers is fully automated. The Kalmar system works with trailers with twistlocks, internal chassises and cassettes of up to four TEU.
One of the biggest advantages of ATH is that it completely removes the need to have terminal personnel present at the truck interchange zone where the road trucks pick up the containers. This capability has now been extended to Kalmar AutoStrad™ straddle carriers. By moving personnel away from the interchange zones the feature improves the safety, predictability and cost-efficiency of terminal operations.
"As well as the obvious safety benefits, automating the final step of landside operations in an AutoStrad™ terminal adds even more flexibility for our customers because they are no longer limited by things like shift-pattern restrictions. With a fully automated flow from quay to truck, they can potentially operate 24/7," says Kärki.
The feature will be available in all future Kalmar AutoStrad™ deliveries and it can also be retrofitted to existing machines.
"Implementing ATH is fairly straightforward: we just add some sensors, scanners and cameras to the straddle carriers and the truck lane, and then make the related configurations. We also install a kiosk where the truck driver waits while the AutoStrad™ loads the container and confirms that it has been loaded correctly," Kärki continues.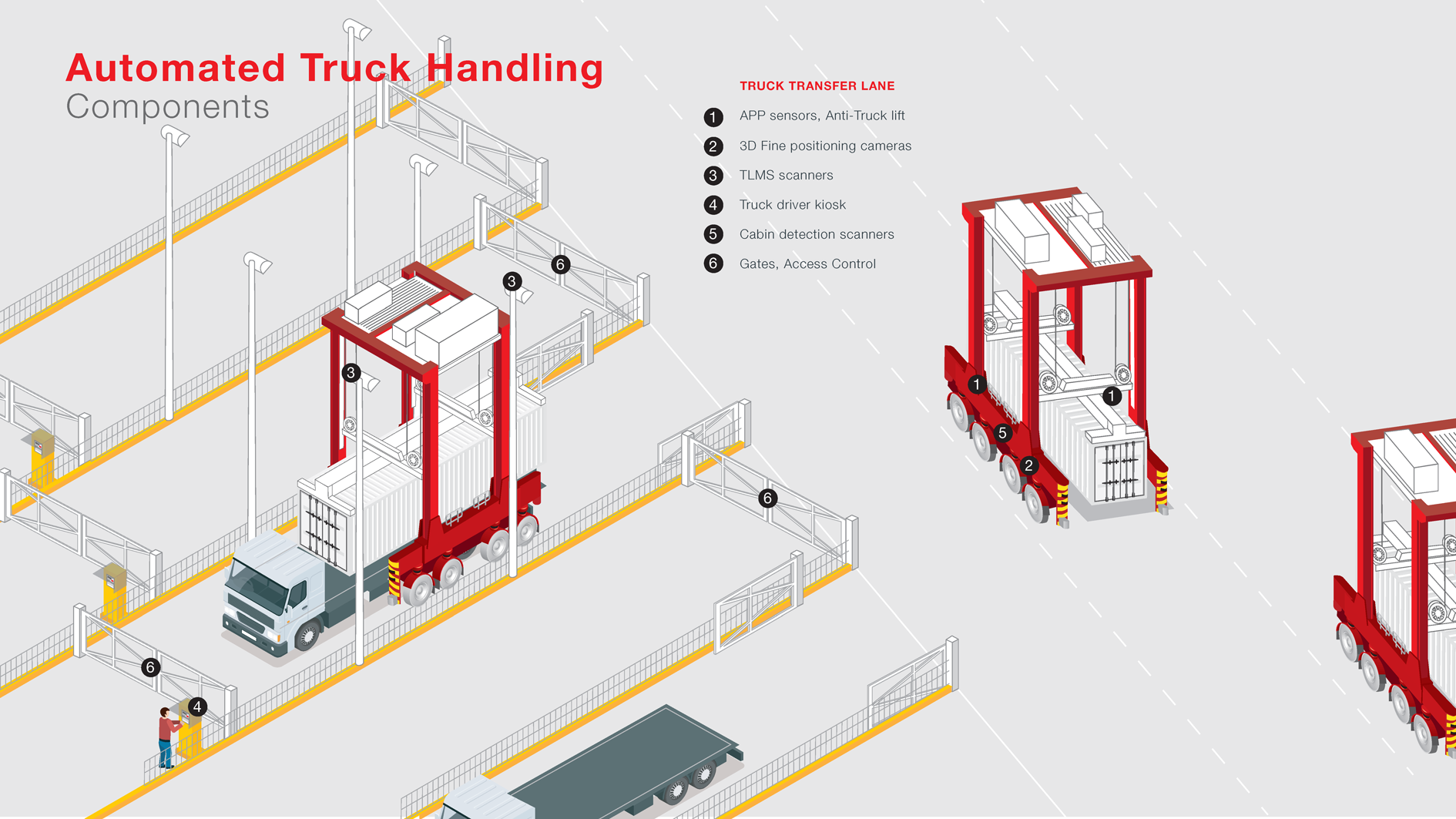 Save costs, save space
In addition to increasing the safety and flexibility of the final placement of containers, implementing ATH in an existing AutoStrad™ terminal also has the potential to deliver significant financial benefits.
"With a typical AutoStrad™ terminal, savings can be even hundreds of thousands per active truck lane per year," Kärki highlights. "What's more, terminals can potentially save on space too because the truck grid size is marginally smaller than that required for manually operated container placement."
Are you looking to reap the rewards of automation fully and provide safe, dependable services to your customers day and night, seven days a week? Kalmar AutoStrad™ with ATH is the answer.