16 April 2019
Reading time 4 minutes
Kalmar intermodal solutions – putting you on the fast track to success
The key to success in intermodal operations is maximising capacity and throughput – safely, intelligently, efficiently and optimally. With Kalmar as your partner, you have access to smart services, eco-efficient equipment solutions and support from some of the best minds in the cargo-handling business, helping to get your business on the fast track to success.
Intermodal transport has come a long way since its origins in the 1780s, when it meant loading wooden boxes onto barges and then transferring them to horse-drawn wagons. Today, intermodal is part of the mainstream and growing at record levels.
For intermodal terminal operators, success is all about providing the highest level of service by maximising capacity and throughput – shifting the highest possible volume through their rail network and terminals, and doing it safely, smartly and with minimum impact on the environment. To do this requires the optimal combination of eco-efficient equipment, intelligent services and expert support – all areas where Kalmar is an industry leader.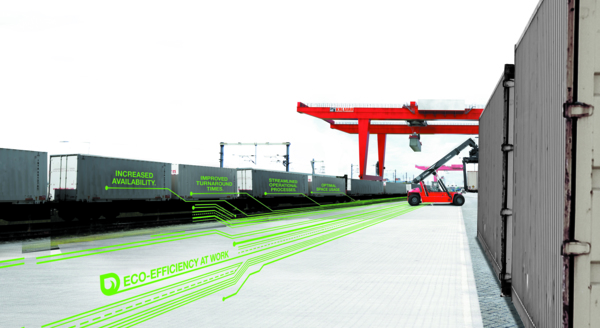 "The technology integrated with container handling equipment needs to follow the changes in global container demands," says Thomas Graef, Manager; Ports and Intermodal Products, Kalmar. Our vast portfolio of automation, technology, equipment and services provides a proven formula to meet and exceed these demands."
"Container ports around the world are continuously adopting new technologies and lifting equipment to increase the productivity and safety of their on-dock rail yards. Just like waterfront ports, intermodal rail terminals are increasingly deploying automation technology and automated equipment in order to adapt to changing container traffic demands," Graef highlights.
Cargo handling that's intelligent by design
Terminals of all types are increasingly looking to automation to gain a competitive edge in a fiercely competitive business environment, and the intermodal segment is no exception. By partnering with Kalmar, customers can unlock their full potential with an automation platform that can adapt and grow as their business needs change.
Kalmar Key provides a common system architecture for building end-to-end, customised automation solutions and extending the Kalmar Terminal Logistics System (TLS) Smart Port suite of products. With Kalmar Key, customers have complete freedom to choose the partners they want to work with and can progress on their automation journey at their own pace.
And whether customers are looking to incorporate automation into a brownfield operation or starting from scratch at a new terminal, the Kalmar Terminal Design Services team can offer expert support from day one. With their help customers can optimise the terminal design to ensure maximum capacity and throughput, getting the most from the space available.
Eco-efficient equipment that cuts emissions and fuel bills
Along with capacity and throughput, cutting fuel costs, noise and airborne emissions is becoming increasingly important as intermodal terminals face up to the challenges of increasingly strict regulations and rising fuel costs.
Kalmar offers an extensive range of electrically powered equipment, including rail-mounted and rubber-tyred gantry cranes, automated guided vehicles, shuttle and straddle carriers and terminal tractors – all of which produce zero emissions at source as well as significantly reducing noise pollution.
The Kalmar portfolio also includes eco-efficient diesel-powered reachstackers, cranes and horizontal transport equipment that can reduce fuel consumption by up to 40% in comparison to traditionally powered equipment.
Smart solutions for optimised operations
At Kalmar we are committed to helping intermodal customers continuously improve their operations with a range of smart solutions that help to cut costs, improve turnaround times, increase visibility over fleet performance and ensure maximum availability and uptime.
These smart solutions include:
Kalmar SmartPort – a set of process automation modules and digital services that improve productivity, safety and utilisation rates by tracking, routing and managing containers automatically.
Kalmar Insight – a cloud-based solution that helps customers optimise performance based on data collected from cargo-handling equipment and operations. The solution provides a real-time, holistic view of site and equipment performance, turning data into actionable insights that will have an immediate, positive impact.
Kalmar Lifetime Services – a full range of services to help customers secure maximum availability and uptime for their equipment fleet and operating systems.
The fast track to success
"Intermodal customers around the world are already benefiting from our world-class equipment, services and expertise to help take their operations to the next level," says Thomas Graef.
"For example, we are delivering a state-of-the-art automation system for the Qube Moorebank Logistics Park in Sydney, Australia that breaks new ground in the intermodal container handling business," he explains. "At Noatum Bilbao in Spain our remotely operated RMG cranes will help the customer improve safety and efficiency, while six Kalmar SmartPower RTGs with a suite of process automation solutions will extend capacity at two of Norfolk Southern's intermodal terminals in the USA. And when it comes to cutting fuel bills and improving environmental performance, our Kalmar Eco Reachstacker has helped Cabooter Group in the Netherlands cut fuel consumption by 35% and annual CO2 emissions by 140 tons," he concludes.
A flexible end-to-end automation system that can adapt to your business needs, eco-efficient equipment that cuts costs without compromising productivity, and the smart services and expert support you need to plan, maintain and improve your day-to-day operations – with Kalmar as partner, customers in the intermodal segment have everything they need to get on the fast track to success.
Read more about our intermodal offering.