8 April 2019
Reading time 3 minutes
Keeping customers' businesses running
From online availability and rapid delivery of spare parts to a comprehensive service offering, Kalmar makes it easy for customers to continue operations even after the initial warranty period has expired.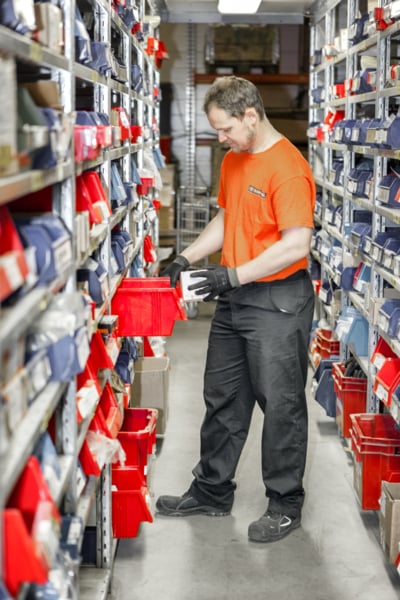 Warranties are a key factor in the purchasing decision for many equipment users. With machines deployed in critical business environments, the guarantee provides assurance for a fixed period or number of running hours.
Kalmar offers a range of services to help customers keep their machines operational beyond the expiration of the warranty without compromising performance or overheads.
The right part for the job
Easy access to genuine spare parts is imperative to minimise equipment downtime. Kalmar is constantly reviewing and updating its global web shop to provide a streamlined purchasing experience.
Customers who use Kalmar MyParts can be assured that they will receive a genuine Kalmar part that has been designed specifically for their machine. More than half a million items can be searched and the system will automatically recommend the correct replacement part when the part needs changing or an upgrade. Most orders are dispatched on the same day the order is received, and for more urgent parts Kalmar offers even faster delivery options.
An ounce of prevention saves the day
It is often clear when a replacement part or service is required, but in some cases an issue that might reduce the performance of a machine– or even take it out of service - can be difficult to identify.
Kalmar provides expert analysis for customers who need to assess damaged or underperforming equipment. Depending on the conclusions of the inspection, we can provide guidance on repairs, refurbishments or spare parts needed.
Our preventive maintenance packages contain all the parts needed to complete interval servicing, reducing the time needed to order the parts, avoiding the risk of ordering the wrong parts and making sure that only Kalmar genuine spare parts are used.
Time is of the essence
When a machine develops a fault, every minute counts. Our technical support experts are available via phone or email and our on-call service covers corrective and preventive maintenance as well as spare parts supply.
Our spare parts distribution infrastructure includes a worldwide inventory network, and presence and demand planning to ensure customers get what they need.
Kalmar Care provides everything customers need to maintain their equipment with customised agreements and visibility of current spare parts processes that improve parts availability and the efficiency of parts management processes.
Optimised performance with visibility
Our performance management and optimisation tool, Kalmar Insight, provides a real-time view of productivity and performance, analysing and sorting the vast quantities of data generated by daily operations.
The solution aggregates data from equipment fleets, terminal operating system and maintenance management systems into an accessible and understandable format, delivering a holistic view of operations at all times.
Ready for the future
To ensure that Kalmar equipment continues to meet customer needs, we offer a wide range of upgrade options, optimising operations where customer requirements change as a result of new processes or new use cases.
Upgrades are categorised into four main areas – safety, productivity, eco-efficiency and regulation – and are proactively monitored to ensure users derive maximum benefits from their upgrade. They are also designed to be easy to implement.
Approximately 40 upgrade kits are available, ranging from speed limiters that restrict the speed at which equipment can be operated, to a solution that helps meet SOLAS requirements with equipment that automatically measures the precise weight of a container.
The demands placed on port, terminal and industrial equipment are considerable. We understand the importance of supporting customers through the lifetime of their equipment - whatever the requirements, Kalmar has the right solution.
To find information on service contracts, upgrade options, support contacts and links to Kalmar MyParts or to request an inspection please go to https://go.kalmarglobal.com/after-warranty-support