31 May 2018
Reading time 3 minutes
Solid foundation for success: Kalmar semi-automation solution for straddle and shuttle carriers
For many container terminals, the path to automation can seem like a tricky route up a mountain – and a big leap into the unknown. Kalmar's semi-automation solution for straddle and shuttle carriers aims to change this perception by enabling a structured approach that allows a terminal to establish a solid foundation for automation by progressing through a set of clearly defined steps.
Straddle and shuttle carriers keep container terminals around the world moving. These highly versatile machines can be used for a wide variety of applications and terminal operating modes. With an increasing number of operators looking to take advantage of the benefits of automation – particularly in terms of cost reductions, safety improvements and more efficient utilisation of equipment – our goal is to make the process as smooth and flexible as possible for straddle and shuttle carrier fleets.
Making the mountain easier to climb
To make the journey towards straddle and shuttle automation simpler, we introduce it as a series of levels, with each step up adding a new layer of intelligence. At ground level, level zero, we're talking about fully manual equipment, while at the top of the staircase at level four there's fully automated equipment. Semi-automation for straddle and shuttle carriers covers the journey from ground level through levels one to three – which are the semi-automation levels.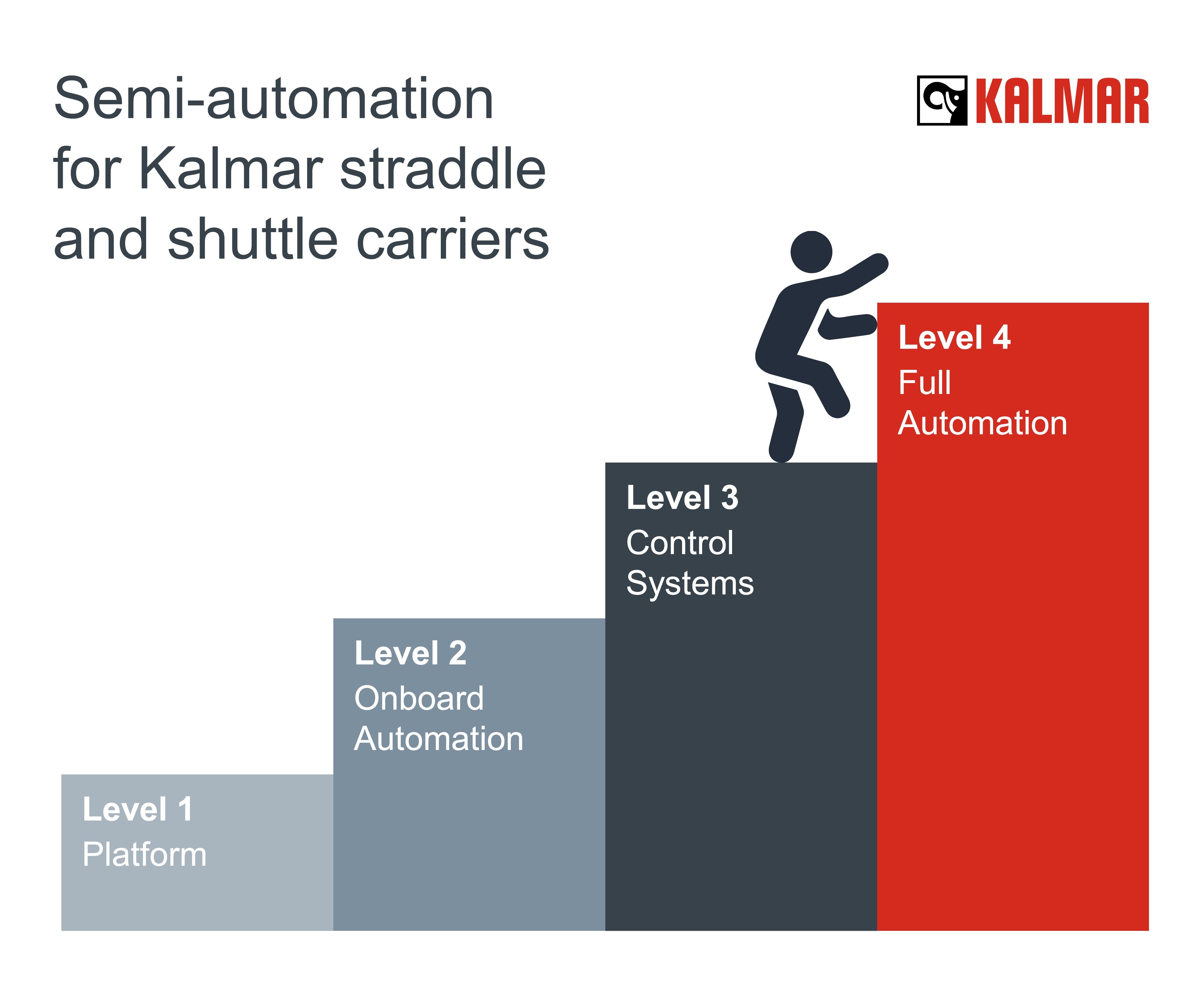 Level 1 – building a solid platform
The first step is to establish a platform for automating the equipment, build the onboard system architecture and implement the information management system and user interfaces for operational and maintenance purposes. This foundation platform is then built on in layers as the level of automation is ramped up. A big part of building the foundation is setting up the capabilities to gather data from the machines and store it for online and historical analysis.
Level 2 – introducing on-board automation
The next step is to add the control system layer on board the shuttles and straddles. This means rolling out hardware such as positioning technology, an in-cabin graphical user interface and other driver-assistance features. The user interface combines the equipment data with the Terminal Operating System (TOS) job orders and automatically reports container events to the TOS.
Level 3 – implementing off-board control systems
Once the on-board control systems are in place, the focus can shift to rolling out the server software layer that is used to control and optimise terminal operations. This layer takes care of activities such as job management, transfer area management, route planning and loading lane selection. Here we introduce the server layer between the equipment and the TOS, and start running the terminal as if it was already fully automated. This level also involves preparing the overall terminal infrastructure for fully automated operation. This means planning and implementing the safety infrastructure and systems, which can include things like gates, fences and airlocks as well as collision prevention sensors and cameras.
Small steps bring big results
Kalmar semi-automation solution for straddle and shuttle carriers provides terminals with the opportunity to iterate and improve in small steps and at a comfortable pace – without impacting existing operations. It combines a system architecture that is modular and scalable with technologies that extend the capabilities of your machines and systems rather than limit them. We can help terminals with every aspect of equipment automation, working closely with them to clearly define targets and processes, plan how to achieve goals and mitigate risks, simulate and emulate end-to-end scenarios and perform thorough testing.
Kalmar's semi and fully automated straddle and shuttle carriers can be seen in action at some of the world's most advanced container terminals, including DP World London Gateway, TraPac Los Angeles and the Patrick Terminals Port Botany terminal.