28 March 2018
Reading time 3 minutes
Kalmar proves its mettle
Manager and operator of outsourced industrial services for heavy industry, Heavymovement, continues to benefit from putting its trust in Kalmar. We help the customer reach its goal to become a role model for its use of technology and the safety of its operations.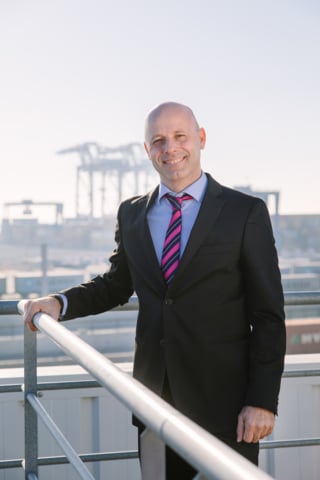 Barcelona-based Heavymovement provides warehouse management services, scrapyard management and transportation of iron and steel products to steel mills and others in the metal industry.
Over the last 15 years the company has built a global customer base, improving productivity, ensuring the quality of processes and guaranteeing maximum operational safety.
During that time Heavymovement has been a regular Kalmar customer, most recently taking delivery of five DCG160-12 forklift trucks and two T2 terminal tractors. The company now has more than 30 Kalmar heavy duty forklift trucks, 20 terminal tractors and three reachstackers, which are used for container transportation.
The DCG160-12 forklift trucks can handle loads of up to 17 tonnes and are being used to transport materials such as billets, coils and profiles. Heavymovement uses specialist equipment for the transportation of coils and profiles and for functions such as container emptying.
The two Kalmar T2 terminal tractors have a gross combination weight of 95 tonnes and are used to transport steel from production plants to the warehouses.
A superb level of safety
Toni Llinás, who has served as CEO of Heavymovement since the company was established in 2002, says that he is very happy with the performance of its newest Kalmar machines.
"The T2 terminal tractors are the latest generation of Kalmar tractors and they provide an incredible level of safety for the operator. The cabin is very large and well-lit, with perfect visibility, and the ergonomics are also excellent for the operator."
"In addition, all the machine's elements are visible, allowing the operator to perform daily maintenance of the tractor in a very short time frame," adds Llinás.
Trust is the key to Heavymovement's relationship suppliers, says the company's CEO. "Over the last 15 years we have almost exclusively procured machinery from Kalmar and the company's representative in Spain has become part of the team. We have a longstanding relationship with Kalmar and have always appreciated their flexibility to adapt to our needs."
"We have always appreciated Kalmar's flexibility to adapt to our needs."
Effective management via SmartFleet
Llinás feels that securing customer contract renewals demands a commitment to innovation and ensuring the highest levels of safety for employees and the machinery they use.
"Kalmar machines have enabled Heavymovement to reduce our running costs and improve the safety of our operations," he says. "The new forklift trucks give our drivers much better visibility when working and we are able to accurately track their performance using the SmartFleet remote monitoring system, which can be monitored online by our technical director from anywhere in the world."
Global partner for growth
The long-term objectives are for Heavymovement to become a global role model for safety and technological innovation in the metal industry. From a business perspective, the company is looking to consolidate its presence in Europe where, in addition to Spain, it has operations in Poland, France and Romania.
"We would like to expand into other European countries and the same goes for Latin America," concludes Llinás. "We are already present in Chile and we plan on expanding into Peru, Mexico, Colombia and Brazil. To achieve this, we need business partners like Kalmar, which is working alongside us globally and will continue to do so to enable us to grow and expand."