16 August 2018
Reading time 3 minutes
Many career paths start at Kalmar
Every summer Kalmar and other Cargotec business areas offer exciting opportunities for students and young professionals just starting out their careers. Trainees work in all parts of the organisation, and after the summer, many of them continue working while writing their thesis, or as part-time trainees or as permanent employees. In 2017, Cargotec topped the list of the 10 most responsible summer trainee employers. This summer, over 35 trainees have been working for the Kalmar business area in Finland. Let's meet three of them and hear their thoughts about working with the industry leader.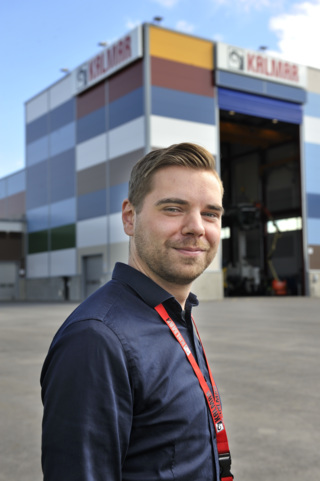 Janne Siltanen, 24, engineering student majoring in automation technology
"It was at a recruitment event at Tampere University of Technology (TUT) where I bumped into Kalmar, and an acquaintance of mine highly recommended the company. I applied for a summer job online and was hired as a software development trainee for the SW team. The team welcomed me warmly and immediately invited me to join a large project. In fact, I was quite surprised when on my third day my new colleagues invited me to a project meeting and wanted to know my opinion about some issues. They said that as a new employee my opinions are very valuable since I am not familiar with Kalmar automation systems and I can see the problems from a customer's point of view. It was really neat!
During my time here, I have been working on remote control solutions for container terminals. All the projects feature a lot of Industrial Internet, matching my recent courses at TUT. This job has really allowed me to put my knowledge into practice. If I encountered any challenges, my colleagues willingly helped me. All SW team members have been really nice to me and treated me as one of them.
Once this three-month internship ends, I will return to my studies much wiser. I have learned so much about information retrieval, projects, teamwork, communication and decision-making, to cite just a few areas. They all are things that you learn only hands on."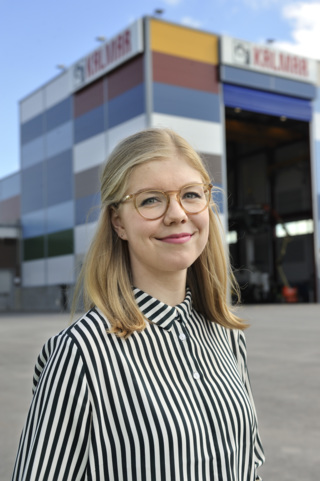 Ida Dietrich, 24, recently graduated Master of Science in Economics and Business Administration
"Kalmar may seem like a company full of engineers. So, I was surprised to notice how many opportunities it offers people who have studied business, too. Since the summer of 2016, I have worked as a trainee both with the local human resources team in Tampere and at the Kalmar headquarters in Helsinki.
My tasks in local HR included employment life cycle management, support for leaders and employees in employment matters, and co-operation with payroll administration. While I took courses in employment and contract law at Tampere University, I was at the same time drawing up work contracts and certificates of employment. This allowed me to see business law as it is applied in practice.
Now at the headquarters, I have been involved in HR development, performance and rewarding and workforce analytics, among other areas. I am, along with other HR trainees from all Cargotec business areas, currently working on a project to improve the global group-wide employee onboarding process. We will present our ideas to the Cargotec HR management team.
Kalmar has allowed me to combine my studies and work by offering full-time employment during the summers and part-time work during study semesters. I greatly appreciate this.
"Back in 2016, I had no specific direction for my future career. The time with Kalmar has shown me what an interesting and versatile field HR is, and has provided me with invaluable work experience. This time at Kalmar has opened new doors for my future career."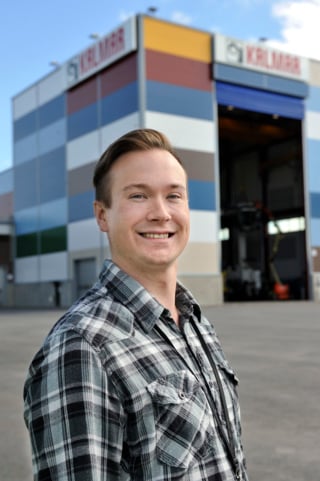 Jarno Inkinen, 26, engineering student majoring in information and knowledge management
"This is my third summer with Kalmar Services, and I have also worked here part-time during my study of information and knowledge management at Tampere University of Technology. The extent of the company's international operations has impressed me.
I am working as a trainee in the digital tools team in a truly global business environment. Our job is to develop and update digital tools, such as the MyParts online shop for spare parts and the Kalmar Pulse maintenance planning concept. Earlier, I was involved in spare part pricing.
My internship has been highly motivating since I have been able to participate in large projects for the first time in my working life. It has been great to learn how they are carried out with all the detailed planning, meetings and collaboration with Kalmar's global frontline operations. Especially with the MyParts online shop reporting, I was able to benefit from my studies in business intelligence and analytics. It has been nice to see how well Kalmar treats its trainees and provides us with responsibilities and meaningful work assignments.
I am hoping to write my thesis on Kalmar. Who knows where my career path will lead after graduation, but I am interested in this global work environment. As this company offers a wide range of career opportunities both in Finland and elsewhere in the world, it would be a good choice."
Kalmar is always looking for new talent. For all current job opportunities and internships visit https://www.kalmarglobal.com/about-us/people-careers/