7 August 2018
Reading time 3 minutes
A software engineer applies psychology with winning results
In her work in terminal automation software development, Eveliina Vuolli, Software Process and Quality Champion at Kalmar, combines her passion for engineering and for psychology to great effect.
Vuolli's colleagues call her the mother of the software team, a nickname that positively surprises her. It's a well-earned moniker, as she 'mothers' and guides her team to success. "Maybe it is due to the fact that there are not very many women in our department. Or because my work is to some extent to oversee what is going on," she says.
As a child, Vuolli wanted to become either an engineer or a psychologist. She started her studies in in psychology, but later switched to computer science. Today, her work embraces both fields. "Although I am in no way a psychologist, my role here is very people-orientated." Here is where her previous study and interest in psychology is an asset. This is a department that relies on teamwork and an understanding of customer needs, so her insight into human psychology and how to motivate people is a definite plus.
Vuolli is responsible for Kalmar's software development processes and procedures. A lot of her time is spent facilitating the work of software developers and testers. "If there is a problem, it is great to get the right people together and watch them find a solution, and then witness them experience that 'aha' moment. This is what motivates me the most in my job."
Kalmar's software development has taken huge steps since Vuolli joined the company in August 2016. Until then, a lot of it was done by external suppliers and partners. Today, there are some 100 people in Kalmar's software and automation development department, including software developers and testers, product managers, simulation and emulation tool developers, people running test yard operations, and a research team."
"Modern methods enable us to provide concrete solutions for our customers faster. We avoid waste and increase visibility during our work."
Lean and agile software development
In its software development processes and procedures, Kalmar has opted for agile product development methods rather than the traditional waterfall method that involves long projects and a sequential workflow at various stages. The target is to create a minimum viable product that can be tested. According to Vuolli, this adds flexibility in an industry sector where automation is relatively new and situations change both in the business environment and the technology.
"Everything is based on a customer's needs, which we break down into smaller parts and define the features needed in a cross-functional team," Vuolli explains. "Modern methods enable us to provide concrete solutions for our customers faster. We avoid waste and increase visibility during our work, too."
Some of these teams use the Kanban method, which Toyota introduced as part of its lean car manufacturing. Kalmar's software development department has a wall covered with colourful post-it notes to list ideas and show their progress. Other teams prefer time-boxed sprints during which certain tasks or activities are completed and then reviewed.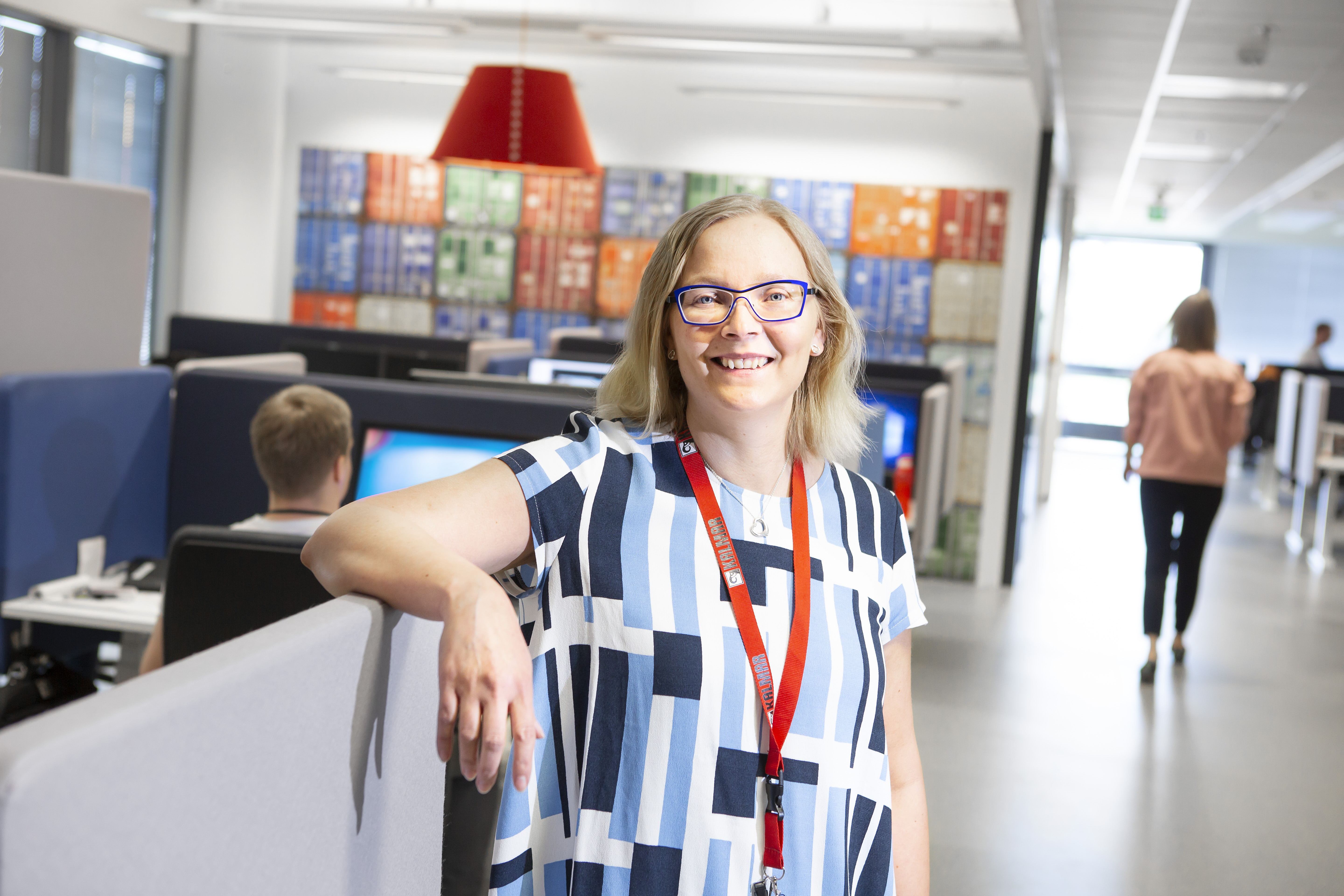 Solving customer problems
In addition to developing new software features, the department solves problems that arise in customers' terminal operations. Our department co-operates closely with Kalmar's automation testers working on the port automation testing and development platform to optimise the equipment and software with real and virtual analysis based on real data provided by the customer.
"All this work and the changes taking place in automation, digitalisation and services are really inspiring. Software is increasingly important to bring about these changes, and for Kalmar. My job is to try to make us even better in software development, and my very personal target is to infuse our work with positive energy," says Vuolli.
Age: 43
Education: Master of Arts, Computer Science, University of Tampere
Primary working experience: Nokia Networks for 19 years in software development
Family: husband and two teenagers
Hobbies: running, gym workouts, choral singing, reading detective stories