24 July 2018
Reading time 3 minutes
Childhood dreams become global innovation
Sometimes, an early childhood passion remains with us throughout a lifetime. So it has been for Matias Mäkelä, Manager, Pricing and Market Analysis, Kalmar Services.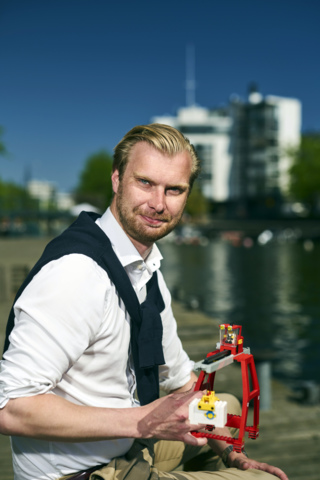 In the science fiction adventure film Jurassic Park, the character Dr. Ian Malcolm memorably says, "Life, uh, finds a way". This would be an apt description of the trajectory of Mäkelä's life and career. And, as in many adventure stories, it begins in childhood
As a small boy growing up in the 1990s, Mäkelä loved playing with Legos. Of the thousands of Lego pieces and various Lego structures, it was the Container Terminal set that particularly intrigued him. With its large vessels and cranes, it had an alluring international appeal to the young boy. He could envision how the containers traveled the world to arrive at his own personal Lego port, handled quickly and then whisked away to the next exotic destination. The Legos were a window through which his imagination glimpsed a wide world with its daily trade and mercantile buzz.
Mastering global complexities
"I didn't think of it back then, but it's obvious now that the same appeal an international atmosphere held for me as a kid has stayed with me throughout my life," Mäkelä reflects. As Pricing Manager for Kalmar's Pricing and Market Analysis Team, the now grown Mäkelä's daily work deals with complexities. He manages hundreds of thousands of international titles in dozens of different market areas, while understanding fully the needs of their individual markets and various operating models. If it sounds like a tall order, it's because it is.
"Currently in 2018, our major focus is the APAC area. We are also continuing our development work on value based spare parts pricing models, along with the implementation of new pricing and market analysis practices in the markets," he says.
Circumnavigating the world
Prior to taking the position at Kalmar, Mäkelä's interest in doing international work led him to London where he read political science and economics at The London School of Economics, earning a Master's in European Affairs. After finishing his studies, he joined Cargotec in 2015, and has been with Kalmar since autumn 2017
Mäkelä's position at Kalmar gives him a unique vantage point from which to view the entire global cargo handling industry. He says that every day throws up something new, whether it involves learning the technical qualities of a particular machine part, or the fine points of Asian business culture.
"I'm happy to say that my dream of working across the globe is very much a reality at Kalmar. Quite often my workday starts with phone calls to Asia, followed by taking care of our European affairs, ending the day with assisting the US market. One day can literally span the entire world."
A playground of innovation
Looking back at his childhood Lego passion, Mäkelä admits that he has always been drawn to infinite solutions. "What I love about Kalmar is its pioneering mindset. Here, there is an all-encompassing support for innovation – we develop things together with our stakeholders, and with a passion for learning new things. It feels like we're all on a mission," Mäkelä concludes.
Matias Mäkelä
Manager, Pricing and Market Analysis, Kalmar Services
Age: 30
Education: Master of Political Science, London School of Economics; Bachelor of Social Science, University of Helsinki
Primary working experience: Finnish Ministry of Employment and the Economy
Family: Girlfriend
Hobbies: Darts, tennis, motorcycling, sailing