15 January 2017
Reading time 3 minutes
Supporting expansion at the Port of Genoa
As the world's second largest operator of ro-ro container vessels approaches its 100th anniversary, Kalmar is playing an increasingly important role in helping Gruppo Messina manage expanding volumes at Italy's busiest port.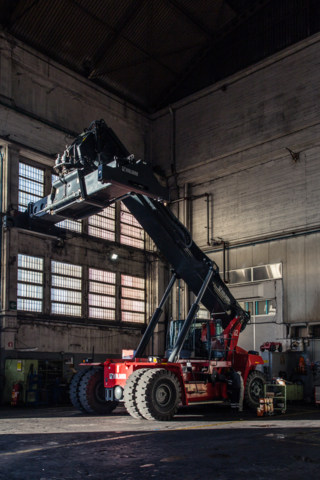 Ignazio Messina & C has come a long way since ship owner Giuseppe Messina passed his business to his son Ignazio, who started regular services under his own Italian flag tonnage in 1921. By the 1960s, the company had transitioned from a traditional ship owner into a carrier specialising in ro-ro container services, and in 1975 a Messina ship became the first to cross the re-opened Suez Canal.
The company's fleet now consists of eight new ro-ro container vessels in addition to chartered lo-lo vessels.
Ignazio Messina & C made a considerable investment in logistics in the early 1980s, opening four inland terminals in strategic industrial centres of northern and central Italy that transport some 100,000 trucks and more than 2000 block trains to and from the Port of Genoa every year.
For the last 20 years, the business of Messina Line (Ignazio Messina & C) has been concentrated in the Intermodal Marine Terminal in Genoa. The terminal is located near the motorway network. It is equipped with a dedicated railway siding and gateway, and has with its own custom section and excise office.
Messina's terminal is the largest in terms of containers and general cargo handled in the Port of Genoa, extending to more than 250,000 square metres, including approximately 11,000 square metres of covered warehouses and a similar area dedicated to marine and vehicle workshops.
In 2015, Ignazio Messina & C took delivery of the world's largest ro-ro container vessel – the Jolly Cobalto - part of a series of container ships commissioned in the second stage of a $500m development plan.
Long-term relationship
The company also took delivery of seven new Kalmar RoRo Forklift truck DCE330 units in 2015. Kalmar worked closely with Messina to adapt the specifications of the machines to fit the physical constraints within the new ships' holds. The mast had to be less than 5350mm and capable of lifting 33,000kg, so the forklifts were equipped with an extra-low triplex free lift mast.
This was the second major forklift order Messina Line has placed with Kalmar. In 2011, the company took delivery of eight dual purpose heavy forklifts, specially adapted Kalmar DCF420 models designed to be able to operate in the restricted space on board ships, as well as handle and stack containers in the terminal yard.
The Kalmar Forklift truck DCF420 order was the culmination of more than 12 months of co-operation with Cargotec Italy to develop a machine with a maximum lifting capacity of 42,000kg for use on board Messina's ro-ro vessels.
For yard operations, the model specified needed to be able to handle up to 35,000kg and stack four containers high, criteria that were met by fitting the Kalmar Forklift truck DCF420 with inverted forks and a 20/40 top lift spreader.
The relationship between Kalmar and Messina goes back even further. In 2009, Cargotec's ro-ro business line was involved in the design and supply of tailor-made MacGregor cargo handling equipment for the first of four new ro-ro/container ships ordered by Messina.
"We have always required – and received – the full co-operation of Kalmar staff."
Ambitious plans
Roberto Ferrari, who was appointed Chief Executive Officer of the Intermodal Marine Terminal in March 2016, explains that Intermodal Marine Terminal is a multipurpose terminal located in the port of Genoa that handles both general ro-ro cargo and lo-lo vessels with a yearly throughput equivalent to approximately 200,000 TEU. The terminal – in its three berths - is able to accommodate vessels up to 5000 TEU.
Messina's Nino Ronco facility was the first terminal in Europe to obtain 18.001:2007 - OHSAS Occupational Health & Safety Management System, as well as ISO 14001:2004 – Environmental Management System certifications. It was the first terminal in the port of Genoa to gain ISPS (International Ships and Port Security) approval. While Messina Line is its primary client, Intermodal Marine Terminal is not a captive terminal.
"Ship to shore container movements are performed with four ship to shore cranes and one mobile crane, while the ro-ro cargo is handled with a fleet of 30 terminal tractors," explains Ferrari, who leads a team of around 150 full time and outsourced staff. "Reachstackers and front loaders are dedicated to the yard storage, together with two rail mounted gantry cranes."
He acknowledges that the terminal faces considerable challenges relating to the acquisition of a new client portfolio and increased volumes as a result of a renewal of the terminal handling equipment and an enhanced space in the quay and yard.
"Our medium term ambition for the terminal is that it will be able to handle vessels up to 14,000 TEU with new ship to shore cranes and a new yard layout, focusing on new automatic stacking cranes," he says. "In the longer term, we expect yearly throughput to increase from 200,000 TEU to one million TEU."
To support this expansion, Intermodal Marine Terminal decided to order nine Kalmar DRG450-60S5 reachstackers. "The reliability of the DRG450-60S5 – which we checked from the feedback received from neighbouring terminals and the evaluation of the performance on the data sheets - placed Kalmar on the short list of suppliers," says Ferrari. "Pricing and local availability of the service workshop provided the added value for selecting the equipment."
Minimising downtime
As part of the reachstacker purchase, Intermodal Marine Terminal opted for Kalmar's complete care package. The terminal signed a full service contract for preventive and corrective maintenance and repairs with full assistance during working hours.
"The policy of the Intermodal Marine Terminal is to outsource all services and maintenance activities to the equipment supplier or its authorised dealers, in order to receive the best results in terms of availability and reliability, minimising downtime during cargo operations," explains Ferrari.
The main benefits Intermodal Marine Terminal expects to achieve with the combination of DRG450-60S5 reachstackers and the complete care package include reduced maintenance costs and fuel consumption, increased container handling performance and an enhanced working environment for operators.
"We are confident that the local Kalmar service provider will meet our objective of having the reachstacker fleet available during working hours and provide the necessary and requested feedback for the most appropriate utilisation of the equipment," says Ferrari. "Feedback from drivers and supervisors has to be fully taken into consideration in order to achieve the best outcome."
From the outset, Intermodal Marine Terminal wanted a relationship with Kalmar where it was a partner in its operational activities, providing objectives and meeting expectations directly related to the performance of the equipment, concludes Ferrari. "We have always required – and received – the full co-operation of Kalmar staff, both in relation to day-to-day problem solving and long term.
Messina is the second largest roll-on roll-off container operator in the world. With more than 1,000 employees operating across the Mediterranean, Africa and the Middle East, it has an annual turnover in excess of €300m. Gruppo Messina is the holding company for Ignazio Messina & C and Intermodal Marine Terminal.
Kalmar Care consists of four different contract types that are standardised globally. The contracts are modular and fully scalable and cover everything from day to day support to meeting entire servicing and maintenance needs.