12 December 2017
Reading time 4 minutes
The man who could not find his way out
Long-time Kalmar employee Kauko Autio supervised the construction of the Kalmar Technology and Competence Centre in Tampere, Finland. Every time he enters the building, he feels like a proud father.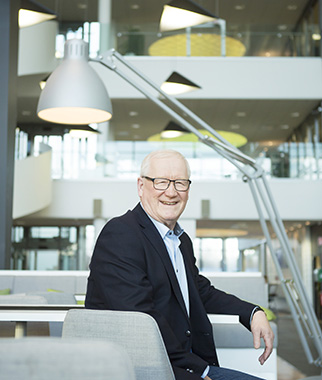 Autio's long list of accomplishments in Kalmar is very impressive and he has had a hard time saying goodbye. He calls himself, with a wry sense of humour, The Man Who Could Not Find His Way Out in reference to his over 37-year history with Kalmar and its predecessors.
If Autio were ever to write his memoirs it would be a colourful account of many milestones spanning four decades. The arc of his career at Kalmar runs from 1980 when he was a design and project engineer in Valmet's Railway Divison to his retirement in 2016 as Director of Real Estate, Safety and Security. His extensive experience at Kalmar has taken him from human resources, purchasing, product support, quality and environment to general management, to cite just some of his contributions. And even now after his retirement, Autio continues to work part-time as a real estate specialist for Kalmar.
The highlight of his distinguished career is without a doubt the construction of Kalmar's Technology and Competence Centre (TCC) which was inaugurated in 2013.
"I was very proud when we brought the TCC project in under budget and eight months ahead of schedule. It gives me great joy to see how happy employees have been with the new facilities. The Good Building Award presented to us by the city of Tampere was a nice bonus, too," he says.
In the city outskirts but on the main street
With an over 75-year history on the previous site in the Härmälä district, it was challenging to find a new location. One stipulation was that it be situated close to Tampere University of Technology and the competence cluster in Hervanta. Autio says there were some pretty wild ideas floating to achieve that. One suggestion was to build a cableway from the campus to the new site so students would have easy access and could work at Kalmar after the day's university lectures ended - not to mention getting some exercise as well.
Although TCC is located some ten kilometres from the city centre, it lies on one of the main streets of Tampere. "The crushed aggregate under the building and test field was brought here from the city centre where an underground parking garage was being excavated," Autio says with an impish twinkle in his eye that a plot of land where moose once roamed is now the site of a state-of-the-art terminal equipment facility.
Be open and keep your promises
Over the years one of the most important things that has kept Autio going has been his strong commitment to Kalmar. "My jobs have been both varied and challenging. I have had to go deep into them and learn new things. Also, the company's international atmosphere has always fascinated me. People around the world are the same everywhere. You can get along with anybody by being open and keeping your promises," he remarks.
Autio is deeply appreciative of all the opportunities Kalmar offers its employees. Everyone has doors opened to them to learn and acquire new skills and expertise. "The best boss is one who raises the bar high."
In the past nearly 40 years, the company has undergone an immense transformation. What was once a factory manufacturing machines is now an industry forerunner in terminal automation and energy-efficient container handling. The focus has shifted from equipment to customer needs and finding the best solutions for them.
"To succeed you need to respond rapidly and you need to be hungry."
"The future for Kalmar looks bright. We listen carefully to our customers and we understand where the world is headed. To succeed you need to respond rapidly and you need to be hungry. It has been a good decision to develop new products based on bold ideas, too," Autio adds.
This familiar and welcome face plans to stay at Kalmar's disposal at least until 2018. "The company continues to have some obligations on the old site in Härmälä. Most of the old facilities have been demolished, and our task is to replenish the soil."
Kauko Autio
Part-time Specialist, Real Estate, Kalmar
Age: 65
Education: Master of Science in Technology
Primary working experience: Various positions in Valmet, Transtech, Sisu Terminal Systems and Kalmar since 1980, retired in 2016 as Director, Real Estate, Safety and Security
Family: A wife, three children and seven grandchildren
Hobbies: horse riding (he has his own horse named Luumu, which is Plum in English), travelling and chauffeuring his grandchildren to their activities.