24 January 2017
Reading time 4 minutes
Sharing 30 years' experience in automation
Kalmar's new president Antti Kaunonen knows automation inside out, and he wants to draw on that knowledge to boost terminal operations and improve performance worldwide. Along with his professional expertise and zest for applying automation to future terminals, Kaunonen is a happy family man taking delight in his grandchildren.
After taking over the presidency of Kalmar in July 2016, Antti Kaunonen has travelled more than ever. He is constantly on the move around the world to meet with customers to discuss their challenges. "I am very customer-oriented and love to visit them without a filter standing between us. In this way, I can hear the truth and nothing but the truth. The most important thing is to understand customers' worries before the concerns become problems and develop the right solutions for them," he says.
Kaunonen has over 30 years' experience in global industrial business and automation in Finland, the US, China and Germany. He wants to show the customers the benefits that automation offers them.
"The port and terminal industry is 10-15 years behind other industry sectors in leveraging automation and software. Raising the level of automation is the common target of both our customers and Kalmar. It will happen, the only question is when," he points out.
Close eye on megatrends
A few years ago in Tampere, Finland, Kalmar made the bold strategic decision to turnfrom a manufacturing-intensive into a knowledge-intensive company. At the same time, Kalmar acquired Navis, a California-based software company. Today, Kalmar is the industry leader in automation and software, keeping a sharp eye on industry megatrends. "For example, how will terminals cope with megaships whose 22,000 plus containers have to be handled as efficiently as possible? It will no longer be possible to keep track of them manually on paper; automation and digitalisation are a must," Kaunonen explains.
Demands for ever increasing efficiency, ships continuously being built larger, and new environmental and safety requirements all put increasing pressure on today's terminal operations. Kalmar believes that automation is a solution to all these needs: efficiency, safety and sustainability.
Kalmar's mission for the port of the future, states that by 2060, all ports should be running on renewable energy with zero carbon emissions and their productivity should be triple that of 2013 levels. "I know that this goal will be reached much sooner," Kaunonen says.
Improving service capabilities
Another growth area for Kalmar is in the services business. "Equipment maintenance is by no means terminal operators' core business. Their business is to make containers move as quickly as possible. Our strength lies in our global service network and closeness to our customers, which guarantees that our people are there when our customers need them," Kaunonen explains.
In automated terminals, service and maintenance play a critical role in ensuring efficient operations. If a terminal has a service agreement with Kalmar, its maintenance-related needs are handled well before any disruptions occur. Employing its remote control systems, Kalmar knows the equipment's operating hours and when service or new spare parts are needed.
"In the future, Kalmar can go even further and take greater responsibility for the customer's equipment maintenance. Let's say the customer wants to have 300 terminal tractors available at all times. Owning the equipment and optimising its maintenance, Kalmar can ensure the required equipment capacity and availability. We are increasingly going into the direction where we provide availability and performance instead of only equipment," Kaunonen says. "But we do not want to step on the customer's toes; we want to be a service and solutions provider, not a terminal operator."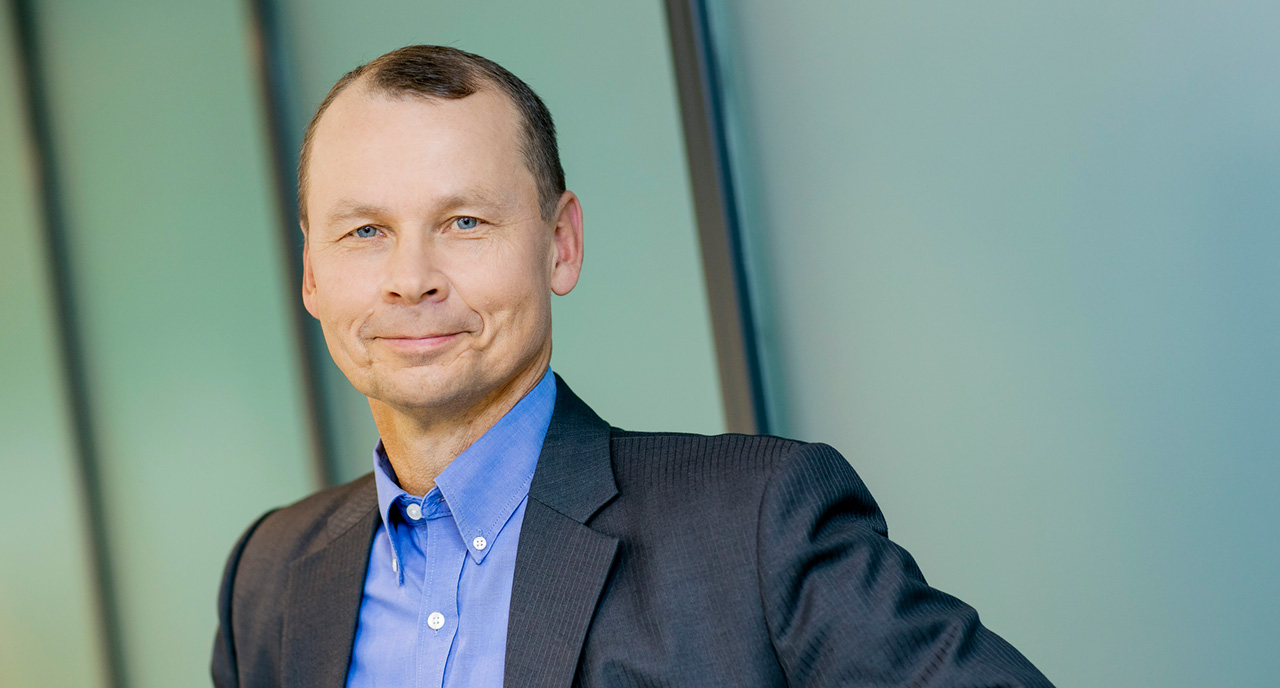 A powerhouse at the office, a family man at home
At home Antti Kaunonen lets down his hair and takes a break from his busy role as president of a major international company and becomes a family man. He's a doting grandfather to his four-year-old grandson and 18-month-old twin granddaughters, who have their powerhouse grandpa twisted around their tiny fingers. The kids were, in fact, the main reason for his return to Finland.
"Seeing them grow gives me so much pleasure. And I especially look forward to when my grandson is old enough to join his father and me for fly fishing in Lapland," Kaunonen says with a smile.
Antti Kaunonen, President, Kalmar

Age: 57
Education: Doctor of Technology and Master of Business Administration
Primary working experience:
Kalmar, Senior Vice President, Automation and Project Division, 2015-16
Voith, Germany 2007–2015
Metso, Finland and China 1999–2007
Tampere University of Technology, Finland, Professor 1998–2007 (part time)
Valmet, USA and Finland 1986–1999
Family: Wife, two children and three grandchildren
Hobbies: running, reading, fly fishing and golf
Text: John Schofield, Photos: Nathan Morgan