8 November 2017
Reading time 3 minutes
New online ordering service gets the parts
Kalmar has made it even easier for customers to get exactly the right part for the job, every time, with the launch of the Kalmar MyParts web shop where more than 500,000 different genuine Kalmar parts can be priced and ordered around the clock.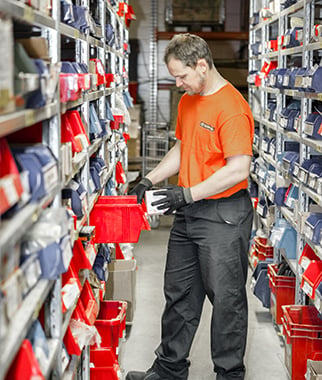 When it comes to keeping operations running smoothly, it is important to get exactly the right part – and get it quickly. Kalmar is committed to helping customers secure maximum availability and uptime for their equipment with fast delivery of all parts orders.
MyParts is Kalmar's new web shop, which is available globally and makes it easier than ever before to order genuine Kalmar parts online whenever they are needed.
Customers can enter the part serial number in the quick search field or access the part via their machine's online parts catalogue, as well as review past orders and update their company and delivery details. It is also possible to see availability of the parts in stock. Kalmar's global network of parts distribution centres can dispatch most orders the same day and even faster delivery options are available for more urgent orders.
Genuine Kalmar parts are essential to keep customers' equipment running as they are carefully designed and selected to fit each model of Kalmar equipment.
High Customer confidence
One Kalmar customer using the Kalmar MyParts service is Groundwater Lift Trucks. Based in Aberdeen, Scotland, the company is a leading supplier of materials handling equipment, including hand pallet trucks, warehouse equipment, reach trucks, forklift trucks, telescopic loaders, side loaders, multi-directional loaders, rough terrain forklift trucks and access platforms.
Established in 1973, Groundwater Lift Trucks has grown steadily, advising companies across the north of Scotland on the most cost-effective solutions for their lifting requirements. It also sources and supplies new and used forklifts and equipment to international locations through its dealership network.
"We pride ourselves on only using genuine Kalmar spare parts to keep customer satisfaction and confidence at a high level."
Prior to using the new Kalmar MyParts web shop, the company ordered through the C-Parts online system, as Dale Spence, Spare Parts Manager, Groundwater Lift Trucks, explains. "The new system is an improvement. It is more user-friendly with easier links to actual photos of parts on the site, reducing the possible risk of ordering incorrect parts, and shipment tracking is much easier."
Using Kalmar equipment is vital to the business, Spence says. "We are very close to the oil capital of Europe in Aberdeen and the Kalmar brand is strong. It is a good source of revenue both in terms of machine sales/hires and parts sales. We pride ourselves on only using genuine Kalmar spare parts to keep customer satisfaction and confidence at a high level."
MyParts overview:
More than 500,000 genuine Kalmar parts listed

24/7 availability

Customers can view their full order history and receive order and delivery confirmation

Access to a range of delivery options